Updates:
About the Liberty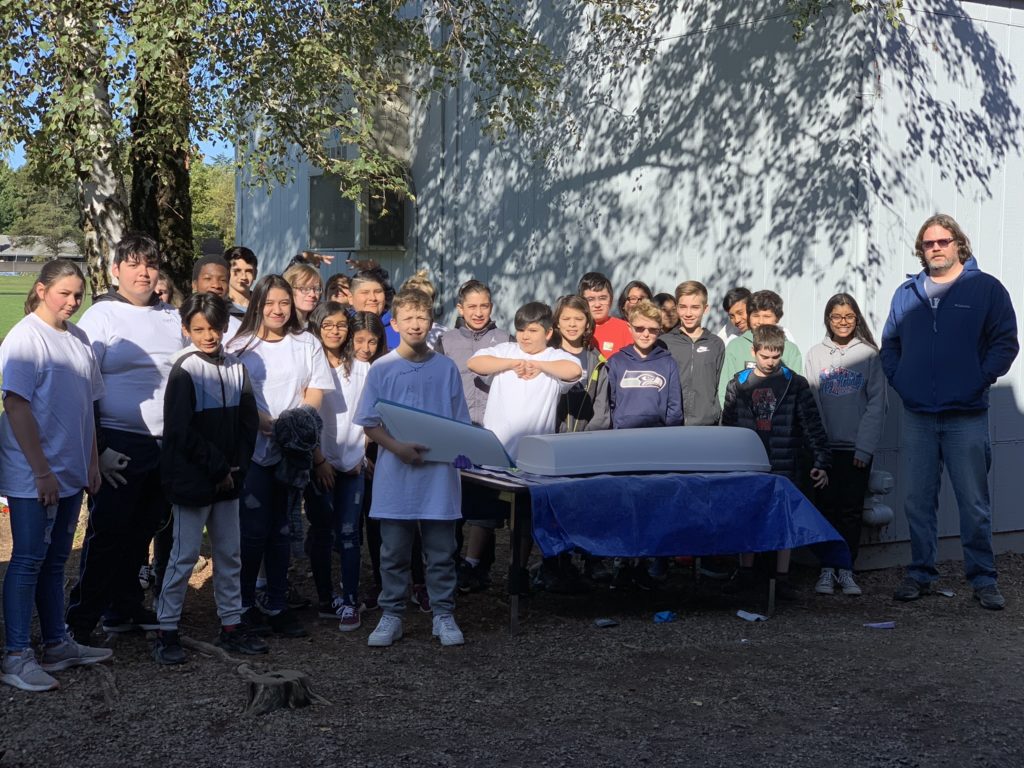 The Name

While Conflict is ever-changing, Liberty stands strong. We named our boat Liberty because Liberty is very important to have in a society, especially in our modern day society where we interact with people from far away, thanks to the internet. When Henry Kaiser built the first Liberty ships in World War II, they were a sign of hope to others in a time of conflict.

The second part of the boat's name was to honor Henry Kaiser, who built many of these ships all throughout World War II. Henry Kaiser gave all of his workers extensive healthcare and many rights, especially in a time in which blue collar workers had few rights, and we want to honor the equality he gave liberty to the working class.

Do you have healthcare? Is it provided by your work? Or maybe you have Kaiser Permanente? He provided his country with ships for World War ll and that was one of the biggest turning points for his country and the beginning of Kaiser.

Mini-boats Spark Major Learning at Wy'East Middle School

Building the Liberty
1st Voyage
January 21, 2020 - CRMM Miniboat Student Summit

On January 21, the very first CRMM Miniboat Program Summit was held at the museum where students from Wy'east Middle School, Warrenton Grade School, and Columbia City Elementary School brought their miniboats for a sendoff celebration. 

'To the sea, to the sailors before us' — Mini-boat Summit 2020

February 18, 2020 - Launched

The Liberty was set to sea on February 18, 2020 with a live stream on Facebook! Check it out:

It was launched along with a surface current drifter named Forgotten:

Where will they sail to? The students are tracking and plotting the locations on the cafeteria ceiling map:

February 24, 2020 - Rescued

The Liberty was rescued just as she washed ashore on Sunset Beach in Oregon. Check out the live rescue video:
2nd Voyage
Launch date set for May 29, 2020

The Liberty miniboat will sail again! On May 29, 2020 she will float down the Columbia River. Watch the LIVE LAUNCH on Facebook: https://www.facebook.com/events/172705187477176/

The idea for this river journey was inspired by a Wy'East Middle School teacher in Vancouver, Washington, whose class miniboat was recovered when it washed ashore this spring. He wanted to give the vessel a second chance and have his students follow its adventures on a river before it heads out to resume its voyage to Japan. Wy'East's miniboat—named "Liberty" in commemoration of the 1940s Liberty Ships built near their school—will officially launch near the still-standing Liberty Ship "skids" on the Columbia River.

Mighty Miniboat Float Events

No life-jacket required! Join the Columbia River Maritime Museum and Pacific Power for "The Mighty Miniboat Float," an online STEAM learning adventure created just for students and families at home right now.

Tune in to this three-part livestream event series to learn from educators, scientists and engineers from the Columbia River Maritime Museum, NOAA and Pacific Power, as well as the Columbia River Bar Pilots, Shaver Transportation tugboat operators, the U.S. Coast Guard, and student boat builders from local Oregon and Washington schools.

Our mini-adventure starts with a live miniboat* launch from a Shaver tugboat near the Port of Vancouver on Friday, May 29. We'll follow the pint-sized boat's journey to Astoria during two more online events on June 5 and 12. Along the way, we'll have live reports from the river, riveting science lessons, and lots of special guests.

How to watch these free events:
Visit the Museum's web page for all the details: crmm.org/mighty-miniboat-float.html

Series dates/times/topics:

Friday, May 29, 12-1 p.m.
Topic: A Miniboat's Big Adventure
Learn all about miniboats. Plus – witness a LIVE LAUNCH on the Columbia River.

Friday, June 5, 12-1 p.m.
Topic: Thar She Blows!
Learn about wind and currents, and how the two might impact the miniboat's voyage on the Columbia. Plus – we'll have a REPORT FROM THE RIVER, tracking the boat's progress after one-week.

Friday, June 12, 12-1 p.m.
Topic: The Mighty Columbia
Discover how a working river…works! Join us for a celebration of the industry and the communities that depend on our region's biggest river. Plus – our FINAL REPORT FROM THE RIVER to see how the miniboat has fared.

May 29, 2020 - Launched in the Columbia River

The Liberty was launched in the Columbia River at 19:19pm GMT without its sail so it can float down the river.

Here's the first GPS report from 19:26GMT!

Other reports will show in the map above once some updates are done on the website.
To see the track of the drifter named Forgotten that was launched with the Liberty, click here. 
The program was developed by the Columbia River Maritime Museum in partnership with the Consular Office of Japan in Portland, and Educational Passages and is supported by Pacific Power, the U.S. Coast Guard, Columbia River Bar Pilots and many others.
The Columbia River Maritime Museum's Miniboat Program provides a global, multidisciplinary STEAM learning experience for 5th – 7th grade students in the Pacific Northwest and Japan by empowering them to cooperatively design, build, launch, and track seaworthy, GPS-equipped boats on a journey across the Pacific Ocean.
Since the CRMM program start in 2017, more than 1,200 students on both sides of the Pacific Ocean have been involved in the launch of 24 miniboats (traveling a total of 53,469 nautical miles and counting). These boats are tracked daily, and students are still building on the skills they honed to launch them.