Updates:
1st Voyage
November 2018
Update from Japan
We got permission from Marine Safety Agency and secure the boat to get out of the coast. The boat〝Flipper" is for watching whales and dolphins.  The capacity is 40 people. On 21st November the Flipper will take us 30km (15miles) off the coast, because we want to place the miniboat on the ocean currents. The captain of the Flipper advised us that if we do not place the miniboat further than 30km offshore, it will increase the possibility of it coming back to Choshi or being crushed by cargo ships.​
October 2018
Some pictures of the students preparing their miniboat:
About Us
ABOUT THE CLASS
This is Naselle Elementary School in Naselle, Washington.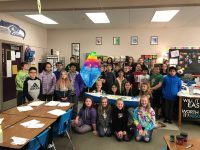 Teachers- Kendall Ford and Sandra Smith
ABOUT US
The Columbia River Maritime Museum's Miniboat Program was developed in partnership with Educational Passages and the Consular Office of Japan in Portland. Students in the Pacific Northwest build unmanned sailboats equipped with GPS transmitters, one to launch from the coast of North America and the other to send to their partner class in Japan for launching.
While the boats are at sea, students on opposite sides of the Pacific Ocean will track their movements. Using real-time data on ocean currents and weather, students will share their predictions on where the boats will go next, and hopefully create lasting friendships.
The mission: to get the boats to cross the Pacific Ocean.
The outcome: through hands-on activities and meaningful opportunities, students are enlightened and empowered