Updates:
1
This was apparently the 2nd attempt to get the Marlin Spike Miller offshore and headed out to sea back in the Spring of 2015.
After making it across the ocean, she was redeployed at least a few times including some time after April 2016 off the Basket Islands in Ireland.  In the words on Jaqui Degan, from CFCC corresponding to individuals who found her on the beach in Ireland "Mick Sheeran, of the Blasket Islands Eco Marine Tour company, found it and was talking about fixing it u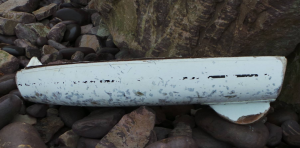 p and redeploying it again, but I heard nothing about it since the middle of April 2016. Just before I got your email this morning, someone just east of you around Minard found it on the beach and redeployed it. And then I received another email after yours from someone who said they saw the boat on Inch Beach, but it was now gone. What a traveller!!"
In any event, her story may continue for in late 2017 she was found and brought to a community college in the Dingle.
There may be more to the story of "Marlin Spike Miller" now in the hand of Rob Christiaanse.