Updates:
4th Voyage
November 2017
This is the fourth voyage of the Maurick. Along with her sister ship Kestrel, she has made many friends along the coast of Florida but is now, hopefully, on her way across the ocean! With the help of Jane Stevens from The Discovery School in Jacksonville Beach, Florida, the US Navy agreed to help get our miniboats back to sea. Leaving Jacksonville Beach aboard the USS Shamal on Nov. 1, Kestrel and Maurick 1 were released off of the coast of The Carolinas.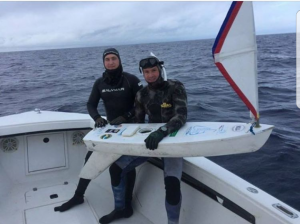 This voyage is being followed closely by two students Puck Werneke and SaraVerhulst .
A few days after being deployed, she was spotted and recovered by a few divers (see photo) but they sent her right back to sea after a quick photo-op.
3rd Voyage
Oct 10, 2017
This is the 3rd voyage of Maurick.  It was deployed by our friends from the Wild Ocean Seafood Company off Cape Canaveral.
Unfortunately,  this voyage didn't last too long either.  After sailing a good distance offshore, it turned around and landed on Playalinda Beach just north of Cape Canaveral and the NASA Shuttle Landing Facility.
Ad Brouwers from Maurick College got an email on Friday the 13th of October as follows:
My name is Russ Hansen, and I am a biologist at Canaveral National Seashore, Titusville, FL. I found the Maurick 1 on our beach today, 13 Oct 2017, and myself and the other biologists took a look at it. Attached is a photo of all the stickers put on it. Inside, there was a message from a supply transport ship from the Gulf of Mexico, some silly religious passage, and what looks like toys from a McDonalds happy meal. Don't know if your GPS tracker is still working, as we didn't see any solar panels. Anyway, feel free to contact me about the boat and if you do, please let me know where she departed from and the date.
Cheers,
Russ Hansen
Stay tune as we continue to find ways to get the Maurick out to sea.  One option is to reconnect her with the Kestrel which came ashore further north in Jacksonville.
2nd Voyage
September 30, 2017
The Maurick 2 was recovered by a shrimper working off Port Canaveral and brought into the dock.  After a few phone calls to a nearby Milliken's Reef Restaurant, they suggested a nearby business. We talked to Cynthia at "Wild Ocean Seafoods" who expressed interest in helping.  She contacted her captains and found the boat that apparently took little Maurick out of the water.  In the meantime, Ann Marie Sheilds, the lead educator associated with the sister ship Kestrel, also contacted Mr Dave German, the local harbor master who was equally helpful and offered to get her back out to sea.
As of this writing, it is not decided how we will proceed but we may be gathering the Kestrel_2 which washed ashore further north on Daytona Beach the following day and get them both well offshore after the set of easterlies subsides.
September 27, 2017
Maurick University with help from Saint Stephen's Episcopal School and International SeaKeepers Society DISCOVERY Yachts Program
The crew aboard R/V Angari have successfully deployed two mini sailboats from Saint Stephen's Episcopal School into the Gulf Stream as part of The International SeaKeepers Society DISCOVERY Yachts Program. The boats, named Kestrel and Maurick, are equipped with GPS trackers and will be used by students to study ocean currents and wind patterns remotely from the classroom.
September 26, 2017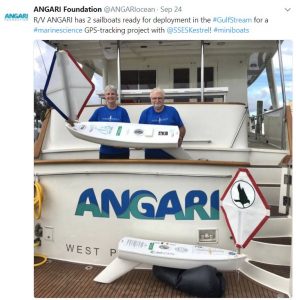 Kestrel and Maurick are ready for redeployment! Check out the post by Angari Foundation (@ANGARIocean) on Twitter: R/V ANGARI has 2 sailboats ready for deployment in the #GulfStream for a #marinescience GPS-tracking project with @SSESKestrel! #miniboats
September 9, 2017
Maurick is planned for re-launch later this month (this will be her second voyage).
1st Voyage
June 2017
The Maurick was evidently taken out of the water by a mariner just off the Lousiana Delta on 15 June 2017 and brought into the dock. Stay tuned for who that might be.
May 2017
This boat was launched off Florida (along with the Kestrel) by the CARTHE folks at U Miami on 15 May 2017 from the R/V Walton Smith but ended up going the wrong way into the Gulf of Mexico. Two students from the Netherlands, Amber Smeulders and Sabine van den Boer, communicated with Caitlin, a student associated with the Kestrel, via email and Skype before visiting the U.S. for the launch. Maurick College faculty advisor Ad Browers helped with logistics and transportation.