Updates:
Voyage 2 & 3
Voyage 3
January 31, 2018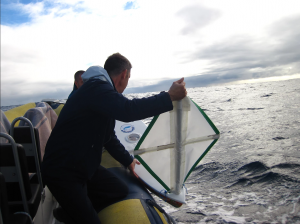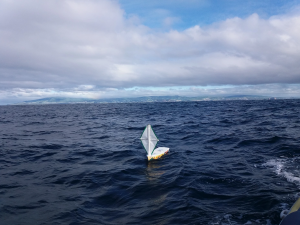 The Nada set sail again! Thanks to Luis Barcelos from Atlantiangra Whale Watching, she was launched off the Azores on January 31. This boat was worked by the students of Anselmo De Andrade school, Almada, under the project "take Portugal to the world", from DGPM in partnership with DSOR Group-Dynamical Systems and Ocean Robotics. The school received the launch event of the mário red award – oceanic generations.
March 28, 2018
The transmitter on NADA stopped reporting on March 28. Hopefully the miniboat still makes landing and is found again someday.
Voyage 2
November 2017
On November 13, 2017, she was deployed off Madeira with lots of fan fare alongside a few other boats that have had deployments in the past, the Crimson Voyager and the West.  A  broadcast of the deployment was streamed live from https://www.dgpm.mm.gov.pt/leva-portugal-ao-mundo.
December 2017
On the morning of  December 2 2017, we saw she had apparently made landfall on the island of Terceira.  After a series of emails and Facebook posts, Luis Sebastio and colleagues organized a successful rescue mission that recovered her from what appears to be a rough section of coastline. As seen from the photos,  she apparently suffered little damage. Stay tuned for the next episode in the life of Nada.
Voyage 1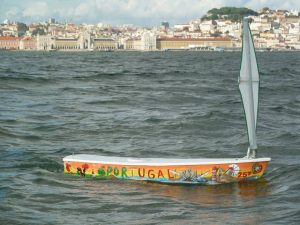 Fall 2016
The miniboat 'NADA' was symbolically released in the river Tagus by students from the School Anselmo de Andrade, in Portugal (Almada). These students worked on this small sailboat in order to launch it as part of the international regatta promoted by the Educational Passages Project.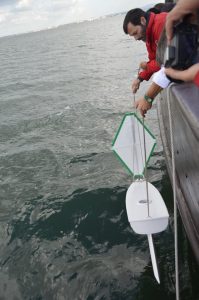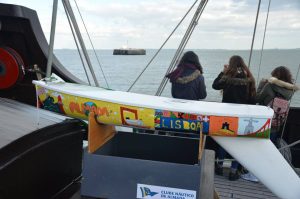 The students were engaged in the project "Take Portugal to the World", that is being developed in Portugal by the Portuguese Task Group for the Extension of the Continental Shelf (EMEPC) and two investigation centers from Instituto Superior Técnico: Institute For Systems and Robotics (ISR) and Marine Environment and Technology Center (MARETEC).
The symbolic launch of 'NADA' was made aboard the historic sailship Caravela Vera Cruz in the Fall of 2016.
January 2017
'NADA' was officially released at  Lat=36 08.025N Long=013 28.961W on 11 Jan 2017.
February 2017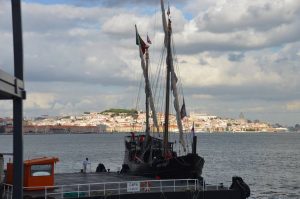 On Feb 6th, 2017,  after nearly a month long voyage to the west and back, 'NADA' came ashore on the sandy beach of Esposende, Portugal.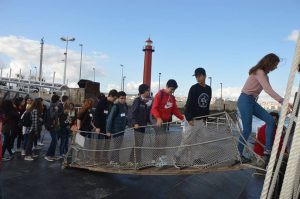 About Us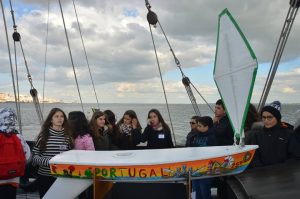 Get to know the whole story of nothing here.