Updates:
1st Voyage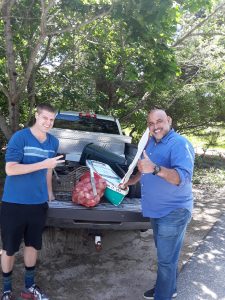 September 2018
The We-Ha Cruiser was refurbished and set to sea again. Check out that story here: http://educationalpassages.org/boats/thewehacruiser/
June 12, 2018
With assistance from multiple parties like Matt Hillman  (US Fish & Wildlife), Jamie Bassett (shellfisherman/aquaculturist), Jason Holm (Chatham Harbormaster), Jim Manning (NOAA oceanographer), Eric Rushby (Jim's nephew), and Ed Callahan (Sharon's fellow teacher's husband),  the We-Ha was recovered from Monomoy on June 10th and subsequently delivered back to Connecticut.  See pics below.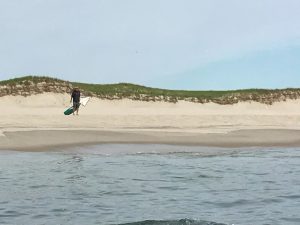 Unfortunately, the WeHa is badly damaged: missing a keel and a torn mast step.  We are not sure when it occurred but we see evidence of the WeHa having been recovered while at sea by the "F/V Liberty".  As seen in the photo below, the crew added their names to the sail so there is at least some chance, damage occurred during this recovery by pirates!
After close examination, the missing keel is not too surprising because the bead of epoxy on the hull shows no sign of contact with the keel itself (see pic).
May 28, 2018
After an unusually long stretch of easterly winds, The We-Ha Cruiser came ashore on Monomoy Island, a remote section of seal infested beach south of Chatham, Massachusetts.  Efforts were made to contact various parties that occasionally visit the island including the US Fish & Wildlife Rangers but no positive connection was made over the Memorial Day Holiday. Perhaps the school children can research the area and scheme other ways to get the little Wa-he back to the mainland?
May 23, 2018
Educational Passages staff received a phone call from Christopher Chase, a fishermen who spotted The We-Ha Cruiser south of Nantucket. The crew picked her up for a photo op, and set her back to sea.
May 18, 2018
The We-Ha Cruiser was launched off the F/V Terri Ann. Thanks to Marc Palombo and his crew for taking such good care of her!
Watch the launch video here:
May 14, 2018
The We-Ha Cruiser was delivered to the docks today and will be leaving aboard the F/V Terri Ann on Friday. Plans are to launch her later next week.

May 2018 – School Assembly
The students showed off The We-Ha Cruiser at a school assembly, check out the photos:
April 2018
The boat is almost ready for launching! What is left is to glue the GPS, seal the hatch, seal the mast, and tie the sail.