Updates:
2nd Voyage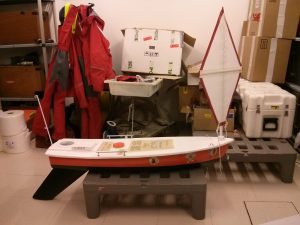 Thanks to non-profit consortium of oceanographic agencies and universities called RAIA in Galicia (NW Spain) and North of Portugal, she was repaired and ready for another voyage. The students at the School of O Pindo and Pedro Montero Vilar, who lovingly made it all happen, are excited about her return to the Atlantic fitted with a new transmitter. Thanks to Nicole Geason, the district's technology integrator in Maine, you can see one of their skype sessions here.
In June 2015, she was repaired and ready for another voyage (to be deployed by the Spanish Coast Guard SASEMAR) after having made the news several times in the Spanish press as follows: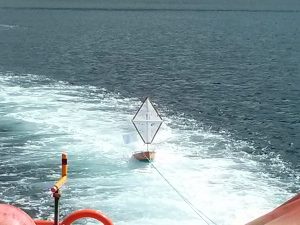 On Sept 8, 2015, she was found by Oscar Monterroso about a mile off the Canary Island of Tenerife. He was working for a consulting firm specializing in the marine environment. He was in the process of studying the local fisheries when they came across our "nice boat" and has arranged for the boat to go into the local schools.  So, the adventures of SS Scot continue!
1st Voyage
"SS Scots" is from the Bonny Eagle school district in Maine covering the towns of Standish, Limington, Hollis, and Buxton.  This boat was launched off Georges Banks in early December 2013 by Bro Cote, a Cape Cod lobsterman, along with 8 other boats in different areas around the Atlantic.  We are hoping it will completely circle the Atlantic Ocean making a couple of stops along the way.  We hope the finders will contact our school, fix her up, re-launch her, and that she might return to the United States.   We are learning about the ocean wind & currents as well as the old sailing routes to and from the new world.
On November 14, 2014, it landed on a sandy beach on the Costa de Dexo in the NW corner of Spain and was discovered by some locals who brought it into the classroom (see photo below). The story in the Spanish newpaper "La Voz de Galicia", is posted here.
 Report from the school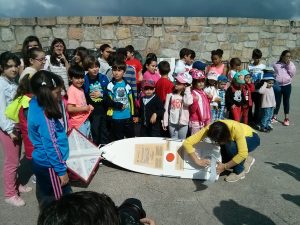 In 2013 Nicole Gleason, Technology Coach for K-5 students at Edna Libby, Steep Falls, H. B. Emery Jr, and George E Jack Schools, worked with Dick Baldwin creator of Educational Passages, to work on the iBoat project and purchase a boat.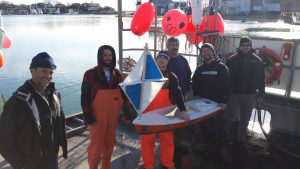 The SS Scots was launched from Boston, MA in November of 2013 and is currently located at Nuryana School in La Laguna, Tenerife, Spain.  Mrs. Gleason was contacted by an English teacher at the school this month letting her know the boat was there and students were excited about the boat and would like to Skype with students here in Maine.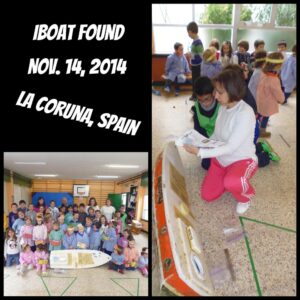 For more information on the iBoat project and to follow its travels, check out Mrs. Gleason's site at 
https://sites.google.com/site/sad6k5technology/Home
.