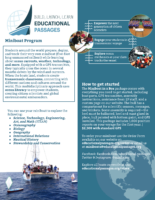 Students around the world prepare, deploy, and track their very own miniboat (five-foot long unmanned sailboat) while learning about ocean currents, weather, technology, and more. Equipped with a GPS transmitter, they typically cross the ocean in several months driven by the wind and currents. When the boats land, students create transoceanic classrooms, connecting with different nations and cultures around the world. This multidisciplinary approach uses ocean literacy to empower students, creating citizen scientists and global environmental ambassadors.
How to get started
The Miniboat in a Box package comes with everything you need to get started, including boat parts, GPS transmitter, assembly instructions, assistance from EP staff, and a custom page on our website. The hull has a compartment for scientific sensors, messages, and trinkets. Some assembly is required – the
keel must be ballasted, keel and mast glued in place, hull painted with bottom paint, and GPS installed. This package includes position reports for the first year. | $2,300 with standard GPS
Resources
Order
To order your miniboat use the Order Form available at educationalpassages.org/order
Build
Assemble your miniboat-in-a-box (complete instructions included).
Launch
Set your miniboat to sea by working with the maritime community.
Track
Follow the voyage on your miniboat's very own webpage. Check out other boat tracks at educationalpassages.org/boats.
Explore
Dive into oceanographic information in our new Path Analysis Tool (PAT) where you can overlay forecasts, currents, and temperature on top of your miniboat track.
Learn
You can use your miniboat to explore any of the following:
Science, Technology, Engineering, Art, and Math (STEAM)
Oceanography
Biology
Geography
International Relations
Nautical History
Stewardship and Conservation
Connect
Share your story and make connections around the world, especially if your miniboat lands and is brought to another school.
Relaunch
If possible, refurbish and deploy your miniboat again and again to keep it sailing around the world.