Students work together to prepare, deploy, and track their very own miniboat while learning about ocean currents, weather, technology, and more. Each 5-foot long uncrewed miniboat has a satellite transmitter, allowing you to track it as it sails across the ocean. Connect with the local school and community where it lands and learn about cultures around the world. Our Miniboat Program empowers students to become citizen scientists and global ocean stewards.
Download a one page flyer about the program here. Click the icons below for more information about each part of the program.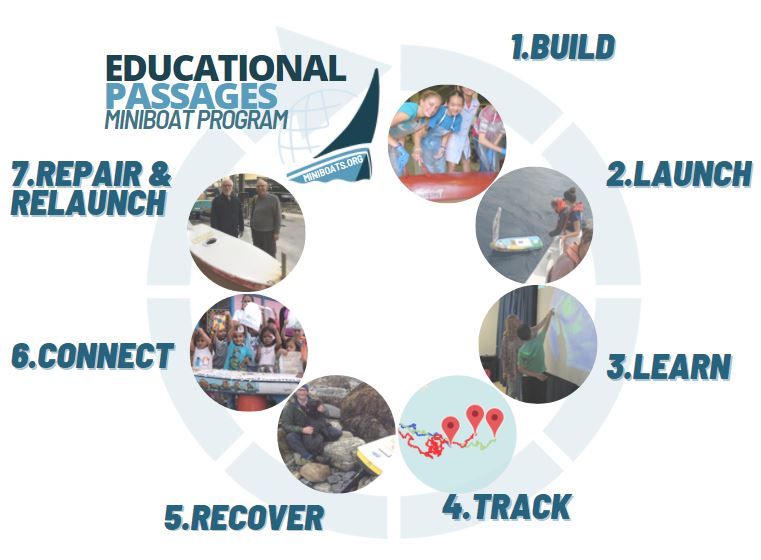 Review
Check out all of the amazing things you can do with your very own miniboat – click icon to download a one page flyer.
Order
Visit the order page for ordering options to get started on your very own miniboat adventure!
Build
Prepare and assemble your miniboat. Add things inside the hatch for the finder - your very own message in a bottle.
Launch
Set your miniboat to sea by working with the maritime community. Deploy with strong winds and currents for the best chances of global travel.
Learn
Create an interdisciplinary learning opportunity with STEAM, history, Oceanography, International Relations, Geography, and more.
Track
Follow the voyage on your webpage (educationalpassages.org/boatNAME). Make predictions and analyze data and forecasts in our Path Analysis Tool.
Recover
if your miniboat approaches the shore, contact the local community to help find it, recover it, and bring it to a nearby school.
Connect
Share your story and meet new people. If your miniboat lands, you can connect even further.
Relaunch
If it's possible, repair and deploy your miniboat again and again to keep it sailing around the world!