Includes boat parts, GPS and data for one year, supplies, comprehensive instructions and guidance, and a custom page on our website for tracking. The hull has a compartment for scientific sensors, messages, and trinkets. Some assembly is required – the keel must be ballasted, keel and mast glued in place, hull painted with bottom paint, and GPS installed. | Starting at $3,500 + shipping
CONTACT US to discuss options, timeline, and availability.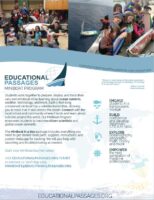 More about the program can be downloaded here and the process is further described on the "HOW TO BEGIN YOUR ADVENTURE" page.
One year of data for the GPS (from the date of purchase) is included in your kit. One additional year of data, website updates, and our support, is $300 (more for sensor packages).
CONTACT US to renew your Annual Plan.