Updates:
1st Voyage
The first voyage of APAK began when Chapman School students launched it into Kachemak Bay on May 11, 2022.
The APAK is outfit with a sensor pack that is recording air temperature, water temperature, pitch, and even has a camera on deck. Here is a picture from the boat as it was heading through Peterson Bay.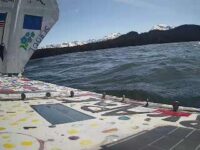 It sailed for an hour and 15 minutes before landing on the other side of Peterson Bay. It was soon recovered by Water Taxi Captain Garth who took it back out and relaunched it.
2nd Voyage
The second voyage of APAK was set to sea by Captain Garth in Kachemak Bay. It sailed for 4 hours this time before landing near Halibut Cove.
Henry Reiske, Chapman's Miniboat Captain, recovered the boat later that afternoon and brought it back to the school.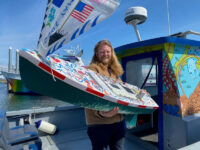 It's next voyage may be set out to the open ocean near the Aleutians!
Sensors
The boat has two GPS systems onboard. The reports from the main GPS are showing on the map at the top of this page here (which updates once per day with location reports every 6 hours). Here below is where you can see the data reporting from the second GPS which is connected to the sensor package. In addition to reporting location with a secondary GPS tracker, this system is also collecting air temperature, water temperature, and orientation.