Updates:
1st Voyage
This is another boat sponsored by Lisa Swanson and the Morristown-Beard School in New Jersey.
It was deployed off the Bermuda Island on 19 Dec 2016 along with another boat, the Shields Surfer.
While it stopped transmitting mid-ocean in Feb 2017, it was found ashore in the Shetland Islands of Scotland in August 2017.  Lisa got a series of emails and photos from the Falconer family who found it.  The first  reads: "Hi today 6 August 2017 we found your boat on rocks on the Island of Shetland located in the North Sea 220 miles north of mainland Scotland and about 150 miles east of Norway. We have retrieved the contents of the boat, unfortunately the written documents are ruined and we cannot open the flash drive. It would be really nice for the children to communicate and share the information. Best wishes from Shetland Jessica and John Falconer."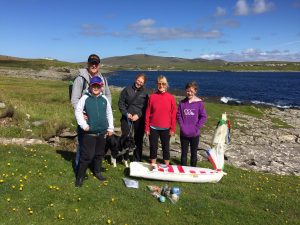 A few days later, the next reads: 'Hi Lisa I am Jessica and John's grandad and took the photo which I will send separately in a higher definition and keep our fingers crossed. Unfortunately the little boat had a lot of damage having travelled so far. We have already had a look at the journey through the tracking system and had hoped your boat had landed safely Western Isles of Scotland. The local news paper "The Shetland  Times " is going to carry a feature tomorrow so hopefully  we can send that to you also. The children here start school again on the 16th August. We will get John to take it to his class at "Bells Brae " primary school. Jessica starts secondary school on the same day and will ask them also, although I would imagine it will be the primary school who will "I hope" take on the project. John is 10 and Jessica 11. My wife and I are just here looking after them for two weeks of their summer holidays. I personally would like this to be successful but live on mainland Scotland (Perth) or I would really push for this kind of interaction which is so beneficial for all the kids. We managed to dry some of the letters although they are in poor condition but readable. Jessica has written to 3 of the girls – Madeline, Olivia and Ava which I posted yesterday addressed to yourself fingers crossed. We were all really pleased and excited at the find. Thank you and your class. Very best regards. Dave Falconer'.  The story quickly spread around the island and was reported in the Shetland Times as well as a in a local paper as seen in the photos below. A screen shot showing the location it was found was provided.