Updates:
1st Voyage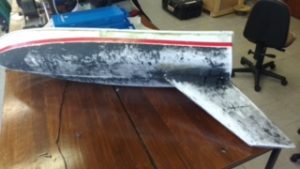 The Black Rock is currently at the University of Limerick and awaiting repairs, hoping to be relaunched in 2018.
November 2017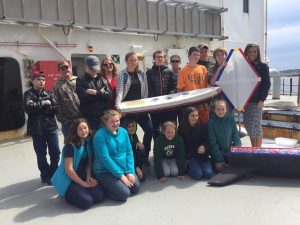 In early November 2017, we alerted miniboat enthusiast of Ireland that she was approaching and could make landfall soon.  On  the morning of  9 November she narrowly escaped the rocks of  Aran Islands and the following morning was reporting from the mainland in a fairly remote area a bit north of the village of Doolin.
We put out a few Facebook posts in hopes of her recovery. We heard from Fran Cross, a neighbor's daughter-in-law,  who operates a travel tours in the area. Michelle Whitman, the school teacher from Maine,  heard from Dr. Gerard Dooly at the Mobile & Marine Robotics Research Centre at the University of Limerick who later the same day forwarded an email from Petar Trslic who found the boat.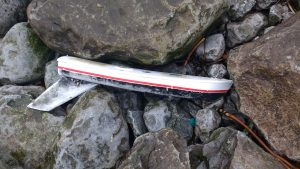 Peter writes: "We found the Black Rock safe and sound around 16.00 gmt, in the rocky area northern of Doolin after an hour of search. The mast is missing and there is a 2″ hole on the hull (where the must was attached). The hull was filled with the water but everything seems to be there. We didn't have time to check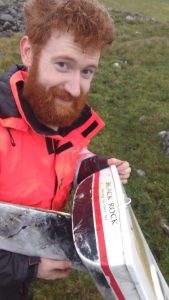 thoroughly what's in there since it was getting dark and the mini boat was located in quite remote location. We are going to take a boat to the Mobile Marine & Robotics Research Centre lab at University of Limerick, and will follow up in next few days.
Anyways we had great craic searching for it and we are happy to find the boat.  Greetings from across the ocean from the recovery team Cathal O'Donnell, Oran Dolphin-Murray and Petar Trslic and all MMRRC team." 
A week or two later, more news came from Petar and others with detailed photos of the little Black Rock indicating sections of the hull needing repair. They noted plans is to get local school involved in the project and the fact that Cathal, one of our PhD researchers,  is "interested in taking care of the boat and has some additional ideas about the project.  Give our greetings to whole class :)".
May 2017
In May 2017, Black Rock was launched alongside Patriot Pride and Dirigo from the State of Maine Training Ship into the Gulf Stream.