Updates:
1st Voyage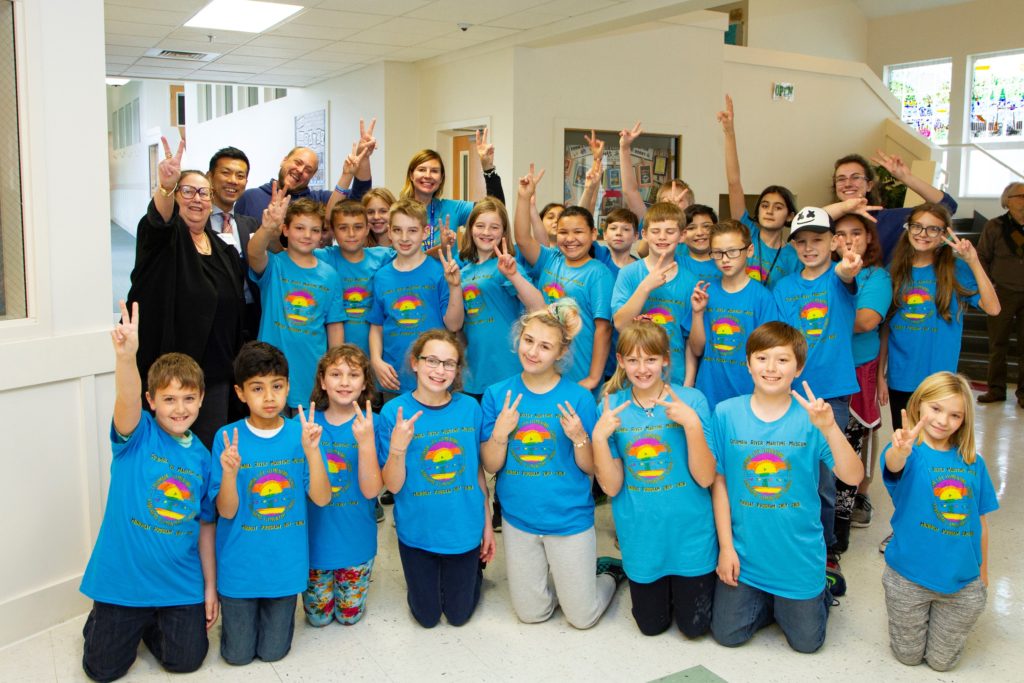 November 6, 2019 - Media Team video

November 13, 2019 - US preparations made

Today, the students at Columbia City made lots of progress preparing the GO GO Kanehama III with visits from Senator Johnson and Consul Sato for participating in our Boat Ceremony, and mentor connections with Dr. Barth from Oregon State University and Cassie Durette Stymiest from Educational Passages for meeting with our Quartermasters and Cargo/Technology Department.

Consul Sato later sent the following letter, which we just had to share:

"Dear Mr. G (name redacted) VIP/Media Relations Specialist,

On behalf of the Consular Office of Japan in Portland and the Japanese Government I offer you my sincere thanks for your gracious and informative tour of the Miniboat Project at Columbia City Elementary School.

Though I arrived in Portland in April and I have attended many receptions and events, my visit to your school has been one of the best experiences of my time here in Oregon.

I was born and raised in Hiroshima. Your project reminds me of our tradition of making small, floating lanterns of paper to release on the river each summer as a prayer for peace. Just as you all did yesterday, when we set a boat to sail it often carries a blessing, a hope or a prayer.

I am a huge fan of this project because of the connections it creates between American and Japanese students. Even when you are going to bed at night, students on both sides of the Pacific can think and wonder, "Where is our boat now? Who is waiting for it to arrive??" Of course, with something like Skype you can see each other's faces and hear each other's voices but a Miniboat is not just for a few minutes, it is something you can follow with excitement all year round.

Although they are boats, I truly hope that this program helps builds bridges between our two countries and that some of you at Columbia City Elementary School will take on that role as friends of Japan in the future.

Good luck and smooth sailing to all of your boats as they make their way across the ocean!

Sincerely,

Hiroaki Sato

Consul
Consular Office of Japan in Portland"

November 2019 - Preparations in Japan

Students at Kanehama finished preparing the boat for launch.

November 28, 2019 - Launch Day

The Columbia River Maritime Museum Miniboat Program hosted LIVE videos on Facebook for the launching of the 2019 Japanese Fleet of Miniboats from 20km off the coast of Hachinohe, Japan on Thanksgiving Day. Check out the event details here.

Arrival at the docks:

Student handoff to the boat:

Heading out to launch site:

February 2020 Update

On February 13, 2020, the CRMM Miniboat Program posted the following update, "It's with a heavy heart that we must report S/V Kanehama Maru III and S/V Kaeru Go Go!! are both feared capsized. They battled a fierce storm with waves over 27 feet tall and sustained winds of 40 knots. Let's hope the next storm flips them right-side up"
The program was developed by the Columbia River Maritime Museum in partnership with the Consular Office of Japan in Portland, and Educational Passages and is supported by Pacific Power, the U.S. Coast Guard, Columbia River Bar Pilots and many others.
The Columbia River Maritime Museum's Miniboat Program provides a global, multidisciplinary STEAM learning experience for 5th – 7th grade students in the Pacific Northwest and Japan by empowering them to cooperatively design, build, launch, and track seaworthy, GPS-equipped boats on a journey across the Pacific Ocean.
Since the CRMM program start in 2017, more than 1,200 students on both sides of the Pacific Ocean have been involved in the launch of 24 miniboats (traveling a total of 53,469 nautical miles and counting). These boats are tracked daily, and students are still building on the skills they honed to launch them.