Updates:
1st Voyage
December 2016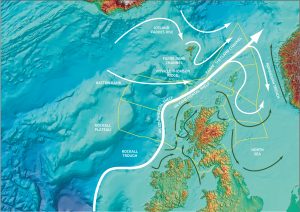 Just before Christmas, a little more than six months later, she made a close approach to the Galway coast of Ireland but then took a sharp tack to the north.  Just before New Years, within one day of the Isle of Skye Scotland, she went silent having apparently crashed on the rocks. It is hoped that someday, someone, somewhere on these remote shores will come across her remains and report back to the Radcliffe Creek School.
Mr Anthony, the teacher associated with this boat, reports he has ancestors from the Isle of Skye so the boat apparently knew where she wanted to land. On Jan 3, 2017 he put out an email to several of our Scottish colleagues as follows: "Our boat, the Radcliffe Creek Heron, is in currently in The Sea of the Hebrides and we would love for it to end up in the hands of other school children. Please let me know if you would enjoy helping with the recovery as our little boat makes landfall."
June 14, 2016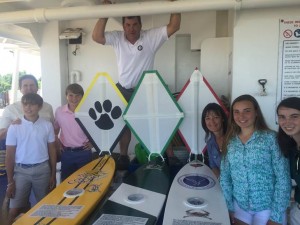 "Radcliffe Creek Heron" is from Radcliffe Creek School, Chestertown, MD. Gibson Anthony is the lead teacher. The model was launched with two other boats just east of the north wall of the Gulf Stream on June 14 from the MV Bermuda Islander, while in-route from Salem, NJ to Bermuda.
Pictured to the left are the three miniboats on MV Bermuda ready for launch. Radcliffe Creek Heron is the middle boat with green deck and sail.