Updates:
Voyages 1 & 2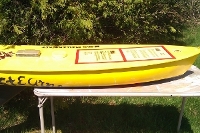 The Millinocket was launched by the Maine Maritime Academy with four other boats approximately 200 miles north of the Bahama Islands. Two major tropical storms blew all five boats across the Gulf Stream and "SS Millinocket" was found by NOAA turtle researchers on an uninhabited island off the South Carolina coast.
She was re-launched out of Charleston, SC, and sailed up the eastern seaboard then headed easterly towards Europe. As of January 3, 2013, she was approximately 50 miles north of the island of Flores in the Azores and appears to be on course to reach Europe. 
She last reported her position on May 4, 2013 after sailing 351 days at sea!