Updates:
1st Voyage
January 2019
After 299 days at sea, the Nequasset went completely silent. After a few intermittent reports in the fall we had hoped the boat was flipped over and would right itself, but we aren't really sure what happened and we haven't heard from her since December 3, 2018!
Story Map of the Nequasset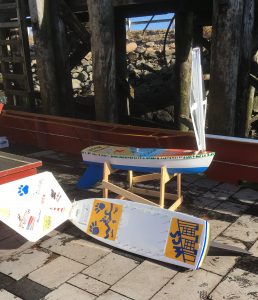 February 6, 2018
Thanks to Captain Marc Palombo and crew on the F/V Terri Ann, the M/B Nequasset was deployed at 0745 local on Georges Bank and videoed going over the side. Click here to watch the launch video on YouTube, or watch it here:

February 5, 2018
The Nequasset is now aboard the F/V Terri Ann and ready to be launched on February 6 off George's Bank along with another miniboat, the Midnight Moon.
January 2018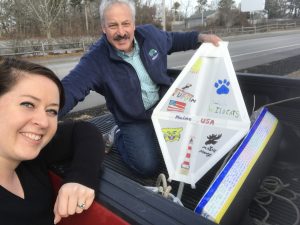 The Nequasset was delivered to Mark Palombo, the fishermen who will be deploying the boat soon.
December 2017
Woolwich Central School finished preparing their boat, Nequasset, for deployment. Dick Baldwin, Educational Passages Founder, visited WCS and gave a presentation to the students. The visit was highlighted in the Coastal Journal.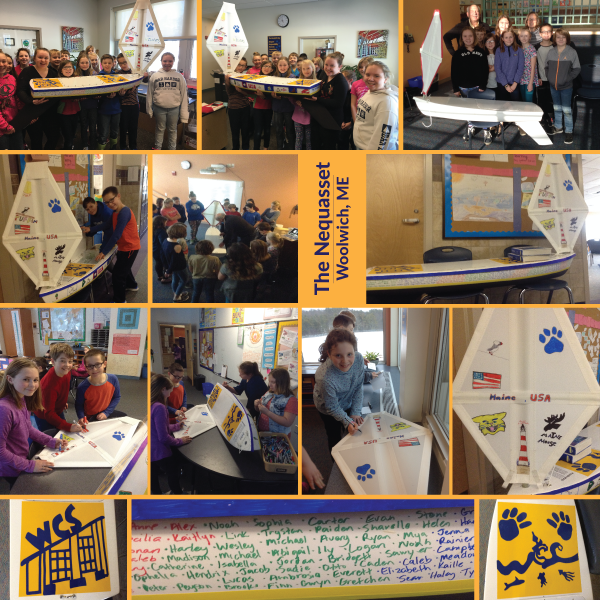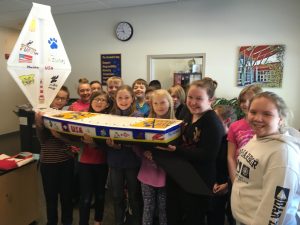 We are so excited about our schoolwide project The Nequasset Boat which will be traveling across the ocean with Educational Passages! The fifth graders have worked extremely hard to get this up and running and we can't wait to track her journey!
The Name
The town of Woolwich, Maine was originally called Nequasset. The Abenaki named it after the lake they called Nequasset, which is the water source for Bath now. In 1639, settlers near a chief (Mowhotiwormet) who lived near the falls (Nequasset Falls). Nequasset endured quite a bit during various battles throughout the 1600s, but still stood strong. It wasn't until 1759 when the Massachusetts General Court took control of the district and named it Woolwich after Woolwich, England.