Updates:
1st Voyage
​CRMM Miniboat Program Relaunched in 2023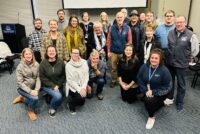 The Columbia River Maritime Museum Miniboat Program, in partnership with Educational Passages, is a free-to-schools multidisciplinary STEAM learning experience for 4th- to 6th-grade classes in Southwest Washington and Northwest Oregon.  The program was formed in 2017 and over the course of the initial five years the following organizations have assisted in development and/or financially:  Consular Office of Japan in Portland, Educational Passages, Pacific Power Foundation, Northwest Stem Hub, West Marine BlueFuture Fund, U.S. Coast Guard, NYK (Nippon Yusen Kaisha) Line, and individuals.  In the first five years the program launched 37 miniboats from the USA to Japan.

Following a year pause for evaluation this program relaunched in 2023 with a dedicated staff member and closer alignment with CRMM's mission. CRMM's Boat Educator visits one classroom for 10 weekly lessons covering general maritime learning, latitude/longitude, currents, traditional boat building (including Indigenous influence via the assistance of tribal members), and lots of kinesthetic learning. The 11th weekly visit is the christening ceremony with much pomp and circumstance then then boat is turned over to the launching vessel. In the following three months the class will receive monthly visits to continue learning about the Pacific Ocean and the abundance of cultures the vessel may sail past or interact with. Each launched miniboat is equipped with a GPS that classes can follow. For more information about CRMM's Miniboat Program please visit: https://www.crmm.org/miniboat-program.html and explore the adventures of miniboat PUFFINSTUFF on this page.
August-September 2023 Preparations

October 11, 2023: Deployed in the Bering Sea

On October 2, 2023, PUFFINSTUFF was delivered to NYK in the ship Sakura Leader with Captain Suzuki.

We had planned to launch south of the Aleutian Islands, but a weather pattern diverted the Sakura Leader into the Bering Sea. PUFFINSTUFF was launched on October 11, 2023 at 00:23 UTC and the crew shared details and photos soon after:

Date & Time: 1323SMT October 10, 2023 (0023UTC October 11, 2023)

Location:  54-38.9 N, 179-20.1 W

Weather Conditions

Weather: Cloudy

Wind: SW, BF6 (24 k'ts)

Swell: WSW'ly low swell (abt. 1.0 m)

Aneroid Barometer: 1013.0 hPa

Thank you to the crew!
The Columbia River Maritime Museum Miniboat Program, in partnership with Educational Passages, is a free-to-schools multidisciplinary STEAM learning experience for 4th- to 6th-grade classes in Southwest Washington and Northwest Oregon.  The program was formed in 2017 and over the course of the initial five years the following organizations have assisted in development and/or financially:  Consular Office of Japan in Portland, Educational Passages, Pacific Power Foundation, Northwest Stem Hub, West Marine BlueFuture Fund, U.S. Coast Guard, NYK (Nippon Yusen Kaisha) Line, and individuals.  In the first five years the program launched 37 miniboats from the USA to Japan.

For more information about CRMM's Miniboat Program please visit: https://www.crmm.org/miniboat-program.html