Updates:
1st Voyage
SECOND WIND was built by the students of Mrs. Lewis' 5th grade class at Columbia City Elementary School in Columbia City, Oregon. The Miniboat's name, S/V Second Wind, was suggested by student Izak Hanks. Mrs. Lewis said it's an appropriate name for a boat built during a year in which "we've all had to catch a second wind and keep moving forward." Izak said, "We were all having a tough time and we needed a second wind. It just came to me," he said.
Media Coverage: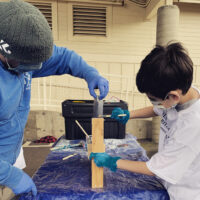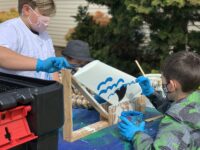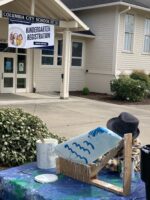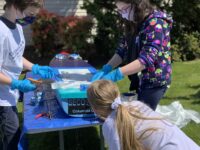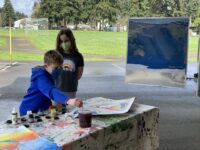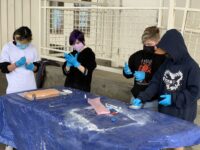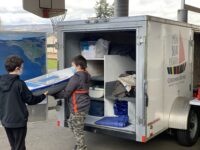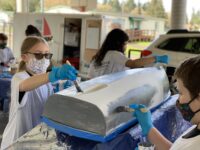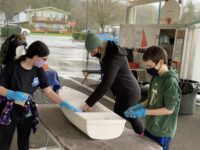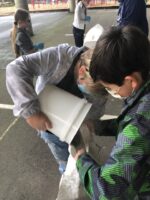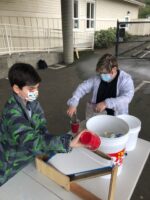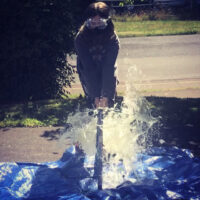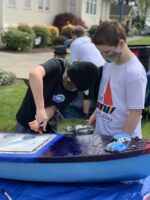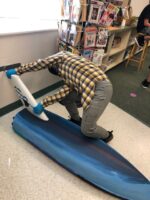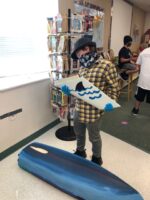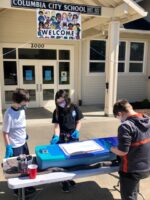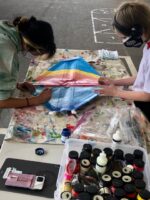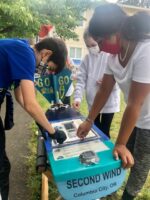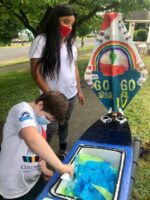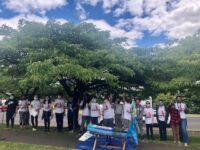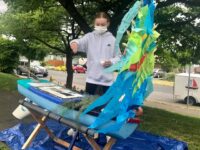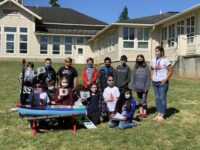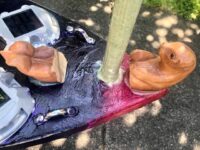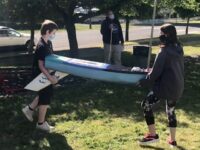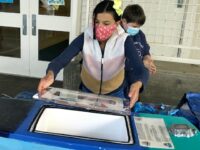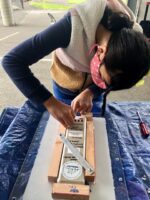 July 18, 2021 - Launched alongside Destiny

SECOND WIND was launched alongside DESTINY on 7/18/21 at 16:30 GMT.

Here is the launch video:

July 26, 2021 - Update after one week at sea

After one week at sea, Second Wind and Destiny had sailed over 400 nm.

August 2, 2021 - Picked up in California
2nd Voyage
Miniboats Visit Three California Bays in August

After a challenging year, the Miniboat Program's 2020-2021 fleet was launched 50 miles west of Garibaldi, Oregon on July 18, 2021.  The miniboats sailed as their Quartermasters predicted, hugging the coast of Oregon and Northern California for over 500 miles. However, instead of hooking west with the trade winds, the miniboats were caught in a sudden weather change and made an unscheduled promotional stop in San Francisco.

S/V Destiny in Bodega Bay

As soon as Destiny came ashore in Bodega Bay, we could tell the beach at Sonoma Coast State Park was going to be difficult to reach. We immediately called the state park to see if they could get eyes on Destiny, but they were unable to assist at the time. Our next phone call was to U.S. Coast Guard Station Bodega Bay. The station was eager to help, but unfortunately was in the midst of a search-and-rescue operation that day.

After asking for help on a local Bodega Bay Facebook page, it was suggested that the museum reach out to the Fire Protection Service in the area. The FPS assessed the situation from the top of the cliff where the miniboat had crashed and didn't see Destiny at all. They concluded that the area was technically accessible, but it would be difficult to go down and investigate.

Later, Bruce Francis Smith from the same Facebook group offered up his services to hike down to the area and do a little reconnaissance. Unfortunately, he wasn't able to lift the miniboat up the cliff. He made sure she would be safe until someone else could come get her by tucking her above the high water mark–and he also took some great photos for us as evidence!

Coincidentally on the Coast Guard's 231st birthday, Boatswain's Mate 2nd class John Schaefer reached out to us asking if S/V Destiny was still sitting on the beach. BM2 Schaefer took time out of his day off duty to search for the miniboat. With some difficulty, he was able to get her up the cliff and back to Station Bodega Bay.

On August 23rd, the Mobile Miniboat Makerspace (MMM) pulled through the gates of Station Bodega Bay and loaded up a battered S/V Destiny. Bruce Francis Smith met us at the station and both of our Bodega Bay Miniboat heroes got to tell their harrowing story of getting Destiny off the rocks. After a handover of some Fort George Beer and Astoria Coffee thank you gifts, the MMM headed over the Golden Gate Bridge and down to Hyde Street Pier at the San Francisco Maritime National Historic Park, where we were invited to set up our temporary workshop and miniboat display.

Over the next three days, middle and high school students from San Francisco came down to the pier after school to have some pizza and work until dark repairing Destiny. These amazing students were all members of the local Sea Scout Troop based just across the cove from the Hyde Street Pier and were suggested by educators at the San Francisco Maritime Museum as the perfect rescue team. Scouts got to learn for the first time how to mix epoxy, lay fiberglass and also got to do their least favorite thing… sand, sand, and sand. The amazing octopus mural painted on Destiny's hull was almost completely rubbed off by the rocks, but thanks to our expert painting team the livery was restored and a few new sea creatures were even added.

S/V Second Wind

Second Wind sailed past Destiny and continued south to Monterey, CA before turning north and sailing into Half Moon Bay. Commercial fisherman John Schulz, owner and operator of F/V New Krabmandu, and his deck hand Robert Gieskin discovered Second Wind about 100 yards from making landfall on a rugged beach with little to no access. That same morning, Schulz had taken a moment of reflection and hoped that he could be of service to someone that day. They spotted Second Wind on their way into the harbor, thinking that she was a marker buoy before realizing she was moving and had a name painted on the transom.

Scooping the miniboat from the water, Schulz placed her on his aft deck and returned to port. He was planning on relaunching her the next day, but when he returned from dinner, the miniboat had disappeared.

Second Wind had mysteriously vanished because when we realized the miniboat may have made landfall, we contacted the Pillar Point Harbor Patrol for their help. Wanting to keep the boat safe, the harbor patrol plucked her from the fisherman's craft and put her in their security yard. Thankfully, Captain Schultz contacted us per the instructions on the deck and was relieved to hear the harbor patrol had the miniboat. In our conversations, we learned more about Schulz's story.

Schulz uses a wheelchair after being injured in a snowboarding accident. After his injury, he decided to pursue commercial fishing full-time. He bought a lobster boat from the East Coast and brought it all the way back to Half Moon Bay. The lobster boat suits Schulz's needs perfectly because it has an open stern, which means that he can back it all the way into the dock and roll directly onto his boat.

When we arrived to pick up Second Wind from the Harbor Patrol, Captain Shultz was selling his day's catch off his boat, a nice load of halibut and rockfish. We had a nice visit with Captain Schultz and heard lots of great fishing stories. He said that Second Wind was the coolest thing he has ever found in the ocean and that says a lot—especially because last year, he found a watermelon with a note inside praying to the Watermelon Gods to "become famous in Hollywood."

Delivery to the USCG

The students of both classes were hoping to have a Coast Guard cutter relaunch their boats 50 miles off the Golden Gate.  Since our contacts were limited in the area, we reached out to our old friend and USCG Miniboat Mega-fan LT Stephen Atwell. He put out a plea for help to all of his Academy buddies aboard cutters in the Bay Area.  Within one hour, we had three vessels volunteer to do the relaunching. Students choose the buoy tender Aspen, as it was heading out that same week and could drop the boats in the water at the perfect spot.

After both miniboats had a chance to be on display at the San Francisco Maritime Museum, they were delivered to Sector San Francisco on Yerba Buena Island. The crew was very excited to see the two miniboats and happy to help. The Officer in Charge and the Chief assured us that they have "the perfect crew to do the relaunch" and were "going to do it right."

Although this was an unplanned stopover, it is exactly what the Miniboat Program is all about–engaging new people along each new boat's voyage.  The Bay Area community rallied around our students' miniboats, and only with their help were we able to get these boats back out to sea.  Like the song "Destiny," written by our Eisenhower Elementary students says… "It might not work today, but we will try another way, and we will get through with pride. We learned that very day that you can't decide your fate."

December 2, 2021 - Relaunched by USCG

On December 2, 2021, SECOND WIND was relaunched into the Pacific thanks to the crew of the USCG ASPEN. More details and photos will be posted here when they return to port.
The Columbia River Maritime Museum Miniboat Program provides a global, multidisciplinary STEAM learning experience for 5th- to 7th-grade classes in the Pacific Northwest and Japan by empowering them to cooperatively design, build, launch, and track seaworthy GPS-equipped boats on a journey across the Pacific Ocean. The program was developed in partnership with the Consular Office of Japan in Portland and Educational Passages and is supported by Pacific Power, Northwest Stem Hub, West Marine BlueFuture Fund®, the U.S. Coast Guard, and many others.
Since the program's start in 2017, 1,513 students on both sides of the Pacific Ocean have been involved in the launch of 31 miniboats, traveling a total of 70,000 nautical miles (and climbing). These boats are tracked daily and students are still building on the skills they honed to launch them.