Updates:
Voyages 1-3
September 4, 2018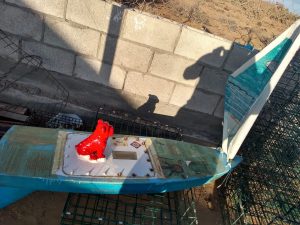 Boat-A-Lahti sailed for only 6 days down the Baja Peninsula. Thanks to a plea on the Friends of Scorpion Bay Campground and Cantina Facebook group page, we discovered that the miniboat was found and recovered! Special thanks to Fernando Aguilar Meza for his efforts and the photo confirming BAL's recovery!
August 2018
Boat-A-Lahti has spent her summer in Guerrero Negro on the Baja Peninsula, near to where the whales calve and the salt water evaporates in North America's (maybe the world's?!) largest open-air salt production facility.
One of the tugboats that pushes the huge barges full of salt out to the Island of Cedros to be loaded into ships' hulls and then head out around the world also loaded up Boat-A-Lahti earlier this week, and delivered her to the Captain of the Port on the Island of Cedros.
The Captain of the Port on the Island of Cedros was kind enough to visit with the boat captains with boats currently anchored nearby and getting ready to head out to the open sea, and a tuna boat named the Maria Isabel II agreed to take Boat-A-Lahti along with her!
The pictures are of her loading onto the tugboat for her ride out to the island, and then the transferring of her to the Maria Isabel II.
June 20, 2018
We received news on June 20th that the Boat-a-lahti is ready to be deployed between June 30 and July 5!
Gerardo Hernández reported to Melissa Reid: "Good day Teacher Melissa Reid and third graders. After greeting to,  I would like to let you know that we have Boat-A-Lahti's launch ready to go for approximately June 30 to July 5. That is when there is a boat leaving for Western Asia.  Of course, the tricky part is figuring out where they can drop her so that she can make her own way. We have recently taken her out of the office so that she can get her solar panels all charged up."
To which Melissa replied: "Excellent news! Thank you a thousand times over!" with a note of thanks to him, Don Mario, and says "We feel a connection between our communities that will never be forgotten. We remain in debt and grateful."
April 2018
The Daily Astorian published an article on April 6 about the Boat-a-Lahti titled "In One Ear: Go west, young boat, go west – The misadventures of Boat-a-Lahti".
March 2018
Boat-a-Lahti has been recovered from a beach in Mexico. More details to follow!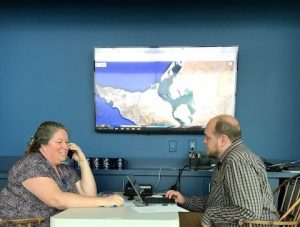 February 28, 2018
Melissa Reid and project leader Nate Sandel spent the afternoon making recovery arraignments (in Spanish)​ with the Captain of the Port and Mario of Mario's Eco Tours.  Just another fun day of miniboating!
February 23, 2018
After being redeployed, she traveled down the coast and landed on a fairly remote beach outside the Guerrero Negro Baja.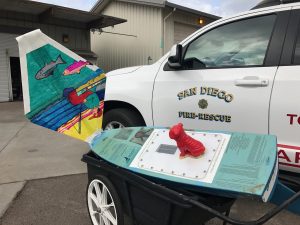 February 14, 2018
Relaunched with help from the lifeguards.
February 12, 2018 – Ashore already!
After only 10 hours at sea the Boat-a-Lahti washed up on Mission Beach in San Diego at dawn and was picked up off the beach by lifeguards on their morning patrol. After Museum staff made a few phone calls they were on the phone with Brian Zeller in the lifeguard tower who informed us that not only does he have our miniboat, but he owns a house in Astoria, Oregon and has visited the Columbia River Maritime Museum. Brian kindly offered to relaunch S/V Boat-A-Lahti 3 miles offshore as soon as wind conditions are favorable.
At Sea: 10 Hours | Traveled: 14 miles
February 11, 2018 – Launching Day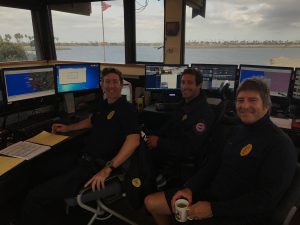 The Boat-a-Lahti was deployed 9 miles SW of the New Point Loma Lighthouse in California Waters via the USCG Cutter Alert. The Alert's home port is Astoria, Oregon and a common site to visitors of the Columbia River Maritime Museum as she is moored directly in front of the Museum. One of the student's in Mrs. Reid's class dad, CSC Adam Greenwald, arraigned the launching during their current patrol off the coast of North America.
After the launch, CSC Greenwald sent us a message with the following report:
Boat-A-Lahti is underway as of 2115 PST 11FEB2018!  
She was launched at position 32*35.89N 117*22.36W. 
On scene wind was 140* true at 6 kts.
Sea swell was 250* true at 2ft and no wind wave was noticed.
October 2017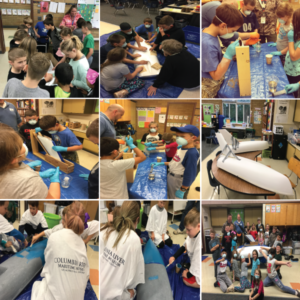 As the students got to know their miniboat and began prepping her for a sea adventure, an article was published in the Daily Astorian about the program at CRMM, and highlighted their work. Read the article here, dated October 9, 2017: "Knappa students build miniature boats in exchange with Japan" – "I believe that peace is only achievable if we know each other, and this is an incredibly important and meaningful project in those terms… We are a tiny community with lots of fishermen. We should be connecting across the ocean, right?" – Melissa Reid, Grade 3 teacher
Pictures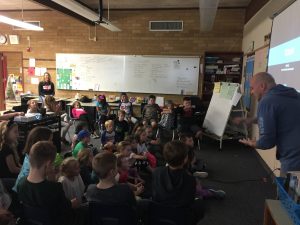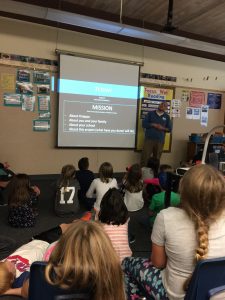 About Us
Misty Lindstrom and Melissa V. Reid's 3rd grade classes prepared this little boat.