Updates:
2nd Voyage
A few weeks later it was trucked up to Delaware with Captain Wes and then loaded on a supply ship called "Somers Isles" which was headed to Bermuda.  The plan was to re-launch her off the ship on their way to Bermuda but the rough weather prevented that so it spend the weekend in Bermuda.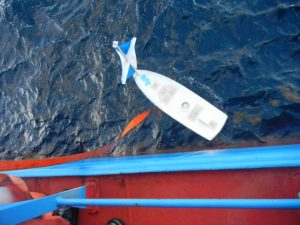 It was finally relaunched a few days before Xmas near the Gulf Stream. Those pictured in the group photo are front row, FLTR: Captain Hendrik Pak, Chief officer Hielke Hoekstra and back row, FLTR: Cook Ambrocio Fabros, Chief engineer Mark Gubinskiy, Second officer Reylan Lagumbay, Able seaman Noel Eballe, Trainee Hidde Hazekamp, Able seaman Jerwin Abejo. The captain reported in an email "Once the boat got wind in her sail, she sped off to the north at about 4 knots or so. I overtook her once and gave her a salute, before continuing our voyage to Newalk, NJ."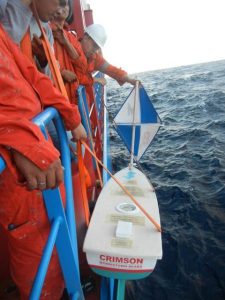 While it was retained east of the Gulf Stream initially, the students are hopeful it will finally take the northern route to Europe along with several other boats.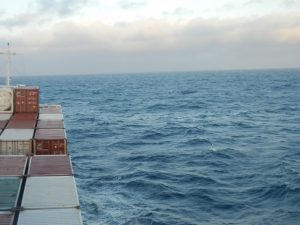 1st Voyage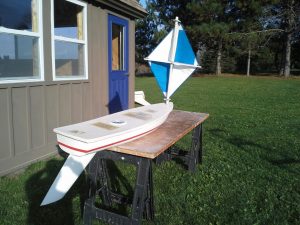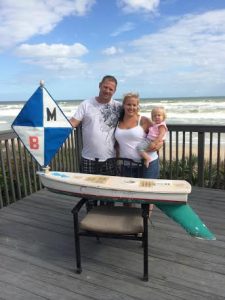 The Crimson Cruiser was launched on November 8, 2013 off the Mid-Atlantic states. While it started failing to report GPS fixes just a few days into its journey, it did finally report from a few miles off Daytona Beach, Florida on the morning of 13 Nov. Later that day, two German tourists found it on New Smyrna Beach, Florida. They reported that "Crimson Cruiser" was in good shape.