Updates:
1st Voyage
February 6, 2018
The Midnight Moon was launched at 0745 local on Georges Bank on as seen in the video provided by Captain Marc Palombo on the F/V Terri Ann. Click here to watch the launch video on YouTube!
February 5, 2018
The Midnight Moon is now aboard the F/V Terri Ann and ready to be launched on February 6 off George's Bank along with another miniboat, the Nequasset.
January 2018
CISF Director Meg Myles drove Midnight Moon up to Sandwich, Mass. so it can be launched off George's Bank by fisherman Marc Palombo.
The project was also highlighted in the news: "School children to leave mark on Atlantic" in the Jamestown Press (a local Rhode Island newspaper). These boats are the first boats out of Rhode Island for Educational Passages!
December 2017
CISF and the Melrose School assembled their miniboat in December and January, see pictures below! CISF also built a miniboat with the Lawn School (the Jamestown Drifter) which is being fitted with a sensor package to record air and water temperature.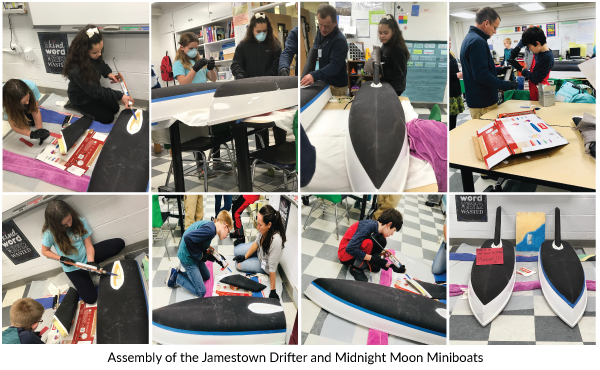 About Us
Conanicut Island Sailing Foundation (CISF) has a goal to spark student curiosity through hands-on learning and expose them to their local marine ecosystems. They were awarded a grant from 11th Hour Racing to run in-school programming during the 2017-18 school year with miiboats (and other projects) at Jamestown, Rhode Island public schools (elementary and middle schools).