Updates:
1st Voyage
The Raven Kaster was launched on the Grand Banks off Newfoundland on Canada's east coast during November 2018 by Maersk Supply Service.
In February, only 3 months after deployment, the Raven Kaster was approaching Ireland. Thanks to @tomshepp on Twitter for providing updates to its followers!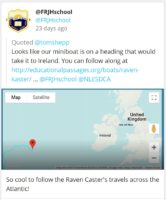 —
The School of Ocean Technology at the Fisheries and Marine Institute challenged Grade 8 students to create a 90-second video on the theme "How Oceans Affect Climate Change." Here's a link to the video challenge. A Grade 8 class at Frank Roberts Junior High in Conception Bay South, Newfoundland, won the video challenge. You can view the winning video here and here:
"Raven" is the school mascot of Frank Roberts Junior High. "Kaster" is a spin-off of "cast" – to throw something out in hopes of catching something. Also "Kaster" contains the first two initials of each of the three students who created the winning video. Such creativity in these junior high students!
This miniboat was prepared by the Grade 8 students with help from the Fisheries and Marine Institute of Memorial University of Newfoundland. The students visited the Marine Institute for a day of activities. Together, the students learned about oceanography and currents, and took part in activities focused on boat building and ocean mapping. They also spent time preparing, naming and personalizing their miniboat. Prior to setting sail, the vessel was filled with letters and pictures from the students.
COLLABORATIONS
Maersk Supply Service – Twitter @MaerskSupply / Facebook @MaerskSupplyService
Marine Institute – Twitter @marineinstitute / Facebook https://www.facebook.com/ marine.institute/
Journal of Ocean Technology – Twitter @jotnfld