Updates:
1st & 2nd Voyage
June 2018
It turns out that the finders in France did not locate miniboat Boot in Gravelines, they had found a large cylindrical instrument of VLIZ which was lost at sea! As Evy said, "the saga continues. Boot is still somewhere in Dakhla."
April 2018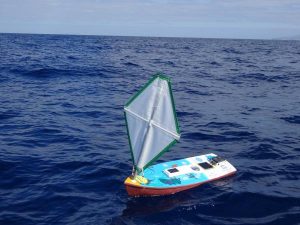 Long after we had lost hope of hearing from Boot again, the 6 April 2018 email from Evy reports:
"Hello everybody, We have just received news that our 'Boot' has been found at the coast of Gravelines in France. Our friends at the Canary Islands from PLOCAN launched the mini-boat in June of 2017. Only 10 days at sea and it was taken out of the water and brought to the naval base in Dakhla (Western Sahara). After that, there was no more GPS signal. We thought we lost it forever. We were wrong. Somebody put the boat back in the water. And it travelled back to us, landing just 1 hour from where we are. I have no pictures yet and don't know I what condition it is. The presents were still inside.  We will retrieve it the 20th April."
So, technically, this could be considered Boot's 2nd voyage although we do not know the route it took.
June 2017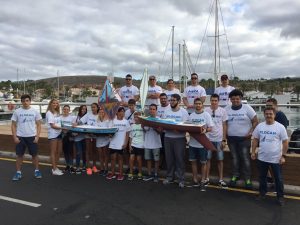 On June 14th 2017, with the help of PLOCAN , Boot was to be  launched alongside Canarias IV  but ended up on its own.
A little more than a week later it was reporting from the Western Sahara port of Dakhla. Emails written multiple languages were sent to PLOCAN colleagues in the area including a Mr. Hilmi is, the Head of Oceanography at INRH institution, with headquarters in Casablana and regional facilities Laayoune, Agadir and Dakhla.
About Us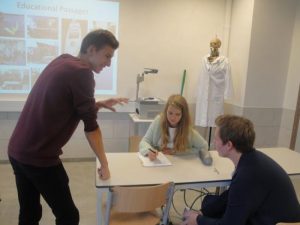 Boot was prepared by 18 students from the Sint Franciscus Evergem School enrolled in the Science@Sea project at the Flanders Marine Institute (VLIZ).  The partner in this project, the EMBC+ Master Programme, installed an Arduino module and sensors linked to a second GPS. They also developed a GIS environment where you can see different layers (under Content) to predict the MiniBoat's journey.