Updates:
1st Voyage
June 2017
It appears the transmitter stopped sending a signal just east of the Caribbean on 06/11/2017.
November 2016


"Canary Islands as of  30th of November 2016 another educational miniboat unit on its way sailing Atlantic waters as new member of the Educational Passages fleet.  Under the name of "Canarias III", students from IES-Garoe Secondary School in El Hierro Island, with support and coordination by PLOCAN, have worked hard to make it and get ready for deployment in La Restinga, a beautiful fishing harbor located in the South coast of El Hierro Island. 
More than a hundred students joined the event to launch and say "see you" to the miniboat. As usual, prior to the deployment, a very profitable Skype session was conducted between students from IES-Garoe (El Hierro Island) and Kennebunk High School (Maine).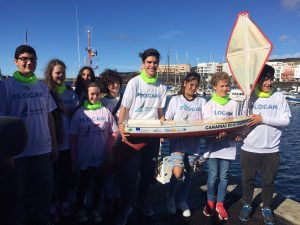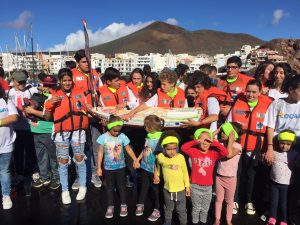 Now is time to enjoy the "Canarias III" sailing-path through the AssetPack3 transmitter reporting GPS-data daily to the Iridium satellite system. New ideas and goals are under development to be implemented in further miniboats aiming to engage more secondary schools and community collaborators to expand cooperation worldwide. More to come soon!!!"