Updates:
1st Voyage
February 2017 - Launched

After an unusual long series of winter storms in February of 2017, the Ginger Judge was finally launched east of New Jersey in about 100 meters of water. It was deployed off a fishing boat out of Point Judith, RI. The trawl fisherman's name is Steve Arnold. He has been an active participant in NOAA's Northeast Cooperative Research Study Fleet Program for several years. There is a transmitter mounted on the superstructure of his boat (F/V Elizabeth & Katherine) exactly like Ginger's which is connected to a computer in his wheelhouse. Each time he hauls his gear, the bottom temperature and depth are automatically uploaded to the NOAA server in Woods Hole. These fishermen are helping oceanographers understand what's going on!

Captain Steve taking her down below.

February 2017 - Approaching Rhode Island

For four days after deployment, Ginger witnessed a historically warm series of February days with a summer-like wind driving her north, as if she was headed back to port.  But, at 7pm on the evening of 25 February, when she was within one hour of crashing on the Pt. Judith rocks, the wind suddenly came around strong from the NW and sent her back out to sea. Her sensor package may have suffered some water damage after the close call near Pt Judith but she still reported her position for the following week.

March 2017 - Reported out to sea

In Mid-March 2017, we thought she went down several miles east of Pollack Rip (northeast of Nantucket) but then suddenly reported hundreds of miles offshore! She is alive.

June 12, 2017 - Last report from GPS

We last heard from Ginger Judge on June 12, 2017.

April 6-9, 2018 - Landed and recovered in France

Information came in on April 6, 2018 that the Ginger Judge has washed ashore in France! The French ETEL MRCC – Maritime Rescue Coordination Center just notified Endicott College based on placards on the boat. Deidre Sartorelli has reached out (in French) to see about retrieving the boat for forensics here. Congratulations to the Team at Endicott College!

Pictures were sent in to the Endicott Team, "Subject: mini- bateau expérimental". The Ginger Judge was stranded at Jard-sur-Mer (Vendée – France) and found on April 6. The GJ Team inspected the pictures and noted that the fore solar panel that they installed for the sensor package has been lost, but is there any data waiting inside?

VOYAGE STATS

On this first and only voyage of Miniboat Ginger Judge, she sailed for AT LEAST 7,929 km (from dropside to France) and was at sea for 409 days.
Students at Endicott college's Makerspace experimented with sensors for their miniboat, named Ginger. This miniboat is sponsored by Endicott, MOTN (Marine Oceanographic Technology Network), and the City of Gloucester. Miniboat Ginger is named for a prominent Endicott community member.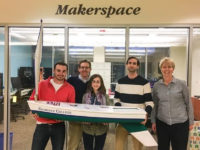 As noted on the Endicott website, Ginger Judge is "an exciting step forward in the North Shore's long and storied history of maritime exploration in the Atlantic Ocean".  Partnering with Gloucester Innovations group, Endicott's MakerSpace has created the first multi-sensor mini-boat to be deployed. Developed primarily by engineer Todd Rodgers, it is the first Arduino-based unit and has more than just temperature.