Updates:
1st Voyage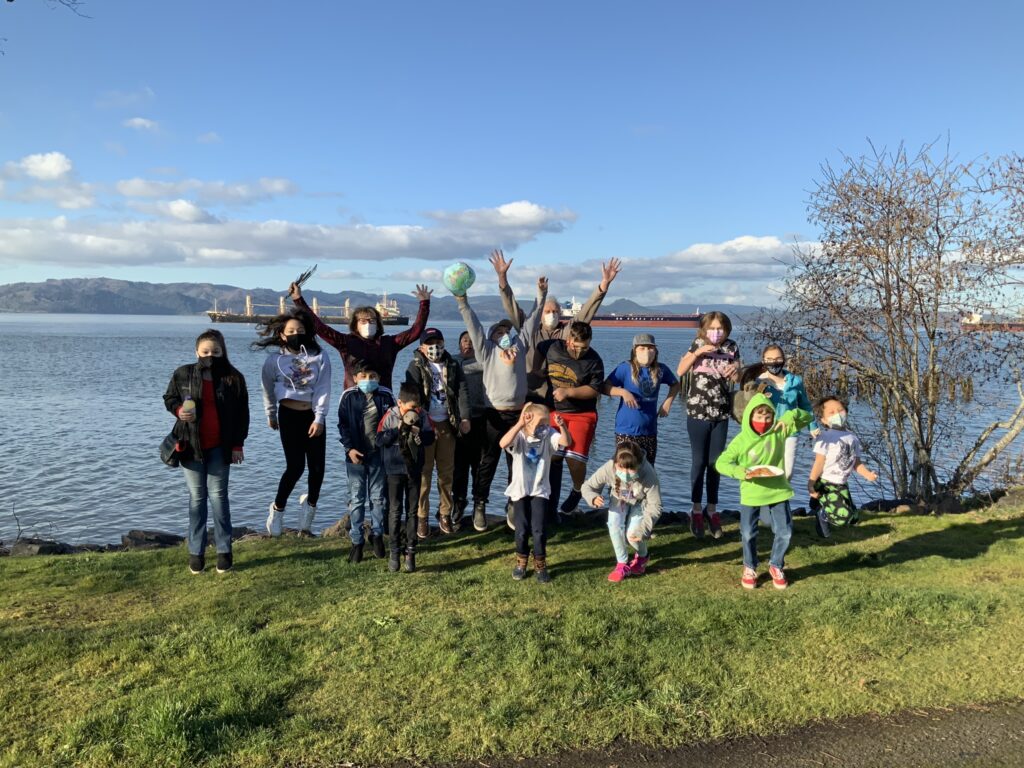 The 2020-2021 CRMM Explorers Club!
2020-2021 Preparations

     

April 13, 2021 - Christening Ceremony

On April 13, the museum hosted a Christening Ceremony for the Explorers Club members and their guests:

Here are some pictures from the ceremony, and preparations beforehand, which included a sushi feast, and practicing the bottle smash:

   

April 13, 2021 - Secured aboard the Coast Guard Cutter Swordfish

April 16, 2021 - Launched off the coast of Oregon

April 18, 2021 - Landed after 2 days
2nd Voyage
By April 19 at 2:02 GMT, she was up near the South Siuslaw Jetty at the mouth of the Siuslaw River! This makes it the second voyage.
It refloated in the river a couple times before the Coast Guard rescued it and brought it back to the docks.
3rd Voyage
The Great Northern was launched again for another quick trip back to land.
The miniboat is currently at the Hatfield Marine Science Center.
4th Voyage - Relaunched on July 9, 2021
The Great Northern will head out for its 4th Voyage thanks to Captain Clayton of the F/V Island Girl:
On July 9, 2021 she was relaunched and started sailing south along with the wind and currents.
She sailed south for a couple weeks and sent her last GPS report on July 31.
About the CRMM Miniboat Program
The Columbia River Maritime Museum Miniboat Program provides a global, multidisciplinary STEAM learning experience for 5th– 7th grade classes in the Pacific Northwest and Japan by empowering them to cooperatively design, build, launch, and track seaworthy, GPS-equipped boats on a journey across the Pacific Ocean. The program was developed in partnership with the Consular Office of Japan in Portland and Educational Passages and is supported by Pacific Power, Northwest Stem Hub, West Marine BlueFuture Fund®, the U.S. Coast Guard, and many others.
Since the program's start in 2017, 1,725 students on both sides of the Pacific Ocean have been involved in the launch of 28 miniboats, traveling a total of 70,000 nautical miles (and climbing). These boats are tracked daily and students are still building on the skills they honed to launch them.
About the Miniboat Explorer Club
Based on the popularity of the Miniboat Program, the Explorers Club was created this school year to engage local students during remote learning under the State Limited In-Person Instruction guidelines.  The students met every Tuesday at the Barbey Maritime Center (bus transportation provided) to build their miniboats along with other fun STEAM learning activities. Students took field trips to the Museum and had mentorship time with special guests from Pacific Power and the National Weather Service.
CRMM is grateful to have the S/V Great Northern be the 150th miniboat launched by Educational Passages and we thank them for their everlasting support!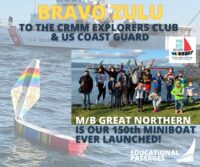 Special thanks to our amazing volunteers Renee Fruiht and David Paul, our student intern Sofia and CRMM Educator Julia Triezenberg. Without their help, this club would not have been possible.