Updates:
1st Voyage
The HVES Cruiser miniboat was prepared by these students in Charleston, SC in 2017. The project was led by Lisa Laughlin, a SAIL (Students Actively Involved in Learning) teacher at Harbor View Elementary School.
May 10, 2017 - Launched

The US Coast Guard helped launch the HVES Cruiser. Captain Tom O'Brien reported on May 11, 2017, the following: "Your boat has set sail in the great blue sea! Yesterday afternoon we made it 75 miles straight offshore from Charleston Harbor and released it in a nice south westerly wind of 10 knots, and 2-3 foot seas. She sailed straight and true with the wind and continued her course to the North east with the Gulf Stream current before we left her. I will send a couple pictures your way."

And sure enough he did! Here are the pictures:

July 2017 - Approaching Newfoundland, Canada

A few months later, near the end of July as she approached the southeast corner of Newfoundland Canada, emails were exchanged with our miniboat colleagues in that area but she sailed on by.

October 11-16, 2017 - Landed in Ballycroy, Ireland

In early October as landfall looked eminent, emails were exchanged with our colleagues in Ireland. On the morning of 11 October 2017, we saw she was apparently reporting from the shore of a remote island of "Duvilluan More".  With only one or two buildings on this rocky island, it seemed likely the story was over but later that same day, she reported underway and on route to the mainland and, the following morning of 12 October, she was reporting from a sandy beach in a sparsely populated area of Ballycroy! Later in the day, we saw she was several miles inland heading up Highway N59 and then, a few days later, started reporting from what appears to be a school!

We thought it might be the Drumgallagh National and, sure enough, we got the email on 16 Oct saying: "Hi all in Charleston. We just want to let you know that your HVES Cruiser has arrived safely in Ballycroy and we have examined the contents in our school today. All of the children are extremely excited. Best Regards Mary Calvey. School Principal".

October 18, 2017 - Update from Drumgallagh School

From the Drumgallagh School Blog: "U.S sailing vessel arrives: Small sailing vessel arrives from Charleston, U.S.A to the shores of Fahy, Ballycroy

On the 12th of October a small sailing vessel "The Harbour View Elementary School Cruiser" from Charleston on the south-east coast of the U.S.A was discovered on the shores of Fahy in Ballycroy. The boat is approximately one metre long with a small sail and arrived in great condition, despite the treacherous sea journey across the Atlantic Ocean as she travelled the Gulf Stream. Research on the internet indicated that the U.S. Coast Guard helped launch the boat on May 10th 2017. It had spent 154 days and 12 hours at sea. The boat had a GPS tracking system that followed its progress.

The vessel was taken to Drumgallagh National School in Ballycroy by Ethan and John Conway whose dad found the boat. All of the children were extremely excited to discover and examine the contents of the waterproof compartment. Inside was a painting of the Charleston flag, a keyring, some coins and some handwritten notes from children from the school. Drumgallagh N.S contacted those in America who had launched the boat to report its safe landing by email. The boat is at present on display in Drumgallagh National School."

News channels in Ireland quickly picked up the story:

November 2017 - HVES deemed Cool School of the Week

Congratulations to the Harbor View Elementary School which was deemed the "Cool School of the Week" from WCBD News 2. The school and its miniboat were highlighted in the celebration on November 10:


A full story was published on November 9 by Octavia Mitchell, News 2, "Harbor View Elementary's SAIL project helps students make international connections" and the video of the story is below. An excerpt from the article: They now have a new view that extends beyond the harbor to around the world. Fifth-grade student Cole Fritz says, "I think it's really cool that it actually almost hit cliffs in Canada and took a sudden turn and landed in Ireland. I find it very cool that we might be able to communicate with other students across the world."
2nd Voyage
February 2018 - Ready for repairs

Thanks to miniboat enthusiast Mike Mcglynn from Boston, Massachusetts (who happens to be a relative of one of the students that put the boat together), it was decided to set the HVES Cruiser on a second voyage! To accomplish that, the boat needs some repairs to damage done when it came ashore.

April 2018 - Transported to Cork for repairs

On April 3-4, 2018, the HVES Cruiser was transported from County Mayo in the northwest of Ireland to Cork on the south coast with travel updates brought to you by @HalpinCentre on Twitter (see pictures). It will undergo repairs under the direction of Cormac Gebruers, Head of Research at the National Maritime College of Ireland, in Ringaskiddy, County Cork.

Once repairs are completed, it is expected that the HVES Cruiser will be set to sea off the coast of Portugal by an Irish Naval Services vessel on a scheduled deployment to the Mediterranean Sea in mid-April, 2018.

Below are pictures from the Halpin Centre that also highlights the visit of Mr. Mike Mcglynn, who traveled to Ireland and visited the Drumgallagh School. The school highlighted his visit in a very nice blog post (click here to read).

December 2019 to March 2020 - Repairs at Walsh Boat Works

The HVES Cruiser is now in the capable hands of Jim Walsh of Walsh Boat Works in Nohoval in County Cork, who will continue with repairs.

In March, Jim sent us some pictures of his repair in the works, and then of the repairs completed!

Plans are underway to find a deployer. Stay tuned…

August 2020 - Ready for its second voyage

Mike Mcglynn continued to help facilitate repairs of the HVES Cruiser and by August 2020, plans were underway for Voyage #2 of the HVES Cruiser! Special thanks to all who have helped with repairs, and especially to Jim Walsh of Walsh Boat Works for the incredible work on the hull, deck, and keel. Here is the HVES Cruiser ready and waiting for transport:

Here is Jim Walsh with his daughters in front of the HVES Cruiser after repairs were completed.

We put out a call for potential deployers, including in Noonsite.

2021: Coming together to get the HVES Cruiser back to sea

After attempting to make launch arrangements for the HVES Cruiser during the summer of 2020, and multiple options that didn't work out, EP Director Cassie reached out to her colleague Cushla at the Marine Explorers Education Programme in September. She immediately connected us to Mervyn at Old Cork Waterworks Experience, an experienced Explorers Program lead and Center. Once it was safe to do so, Mervyn picked up the boat from Walsh Boatworks and brought it back to Old Cork Waterworks Experience. Mervyn really took an interest and put together an amazing initiative to get the boat redecorated by students around County Cork in Ireland.

April 2021

The sail had been damaged during its first journey across the Atlantic, so a new sail was made with the Cork City Council "coat of arms."

May 2021

The redecoration project for the HVES Cruiser was named the "Cork Mini Boat Atlantic Adventure," where Old Cork Waterworks, Cork City Council and Creative Ireland invited Cork primary school children to submit designs inspired by Cork and its special relationship with the ocean. The designs would be used to create a collage and placed on the boat. The artwork would also be converted into a virtual exhibition and feature in a mini boat pocket book to mark the project.

"This initiative creates a positive and memorable experience through the planning, co-ordination and delivery of a creative arts project centered around the launch of a mini-boat to sea. This project presents a fantastic engagement opportunity for school children to engage marine themes but also explore Cork City's cultural, historical and existing relationship with its maritime story," Creative Ireland said.

To launch the initiative, Lord Mayor of Cork, Cllr. Joe Kavanagh took the helm at Blackrock Pier with Abigail Horgan and Mervyn Horgan Old Cork Waterworks Experience (PC: Cork City Council):

They also took a video and sent it to the students at Harbor View Elementary, where Lord Mayor Cllr. Joe Kavanagh said, "Hopefully we can all get together someday and meet face to face. Well done to everybody and thank you so much for this wonderful initiative. You should be so proud of yourselves."

This then sparked interest back in the US, and at Harbor View Elementary School. On May 25, the school published a media release,

Students in Ireland plan to relaunch Harbor View miniboat,

which was picked up by the Post and Courier by Libby Stanford on May 27, 2021:

Students in Charleston, Ireland connect through transatlantic voyage of 'miniboat'

and then shared on

USNEWS.COM

.

All the submissions were then incorproated into a special "wrap" and placed on the boat, surrounding it with messages from Cork.

The keel is even designed with both flags of US and Ireland, representing how the two come together around this boat.

"The Marine Institute's Explorers Education Programme is delighted to have been able to work with the Old Cork Waterworks connecting them with Educational Passages in the USA, to help get this little mini-boat back into the water.  As part of this project, the Explorers Education Programme has supported the mini-boat project with the Old Cork Waterworks team delivering the Explorers project module with children in their class.  This has enabled the children to work on marine themed projects and create artwork that reflects their connection with the ocean and the marine heritage in County Cork. The Explores programme is also supporting the production of a mini-art booklet. This includes a collection of the amazing art work completed by over 300 children that took part in this project. This shows incredible examples of the children's ocean literacy in Cork," said Cushla Dromgool-Regan, strategic education and communications manager, Explorers Education Programme.

September-October 2021

By September, the HVES Cruiser was ready to go, and back to Walsh Boatworks it went for Jim to install the GPS with a fresh set of batteries for the voyage ahead.

Jim then met Mervyn and others at the Port of Cork to hand off the boat for the next step in its journey. Joining them were: Conor Mowlds, Chief Commercial Officer, Port of Cork; Cormac Gebruers, Head of College, National Maritime College of Ireland; Brian Dooley, Business Development Manager, Port of Cork; Mervyn Horgan, Old Cork Waterworks Experience; Lord Mayor of Cork, Cllr Fergal Dennehy; Jim Walsh, Walsh Boat Works Ltd and Mary Walsh, Cork City Council.

What is the next step in its journey? According to the article, "With assistance from the Port of Cork, the completed mini-boat will be put to sea mid-Atlantic by the crew of the Independent Horizon, an ICL cargo vessel and regular visitor to Cork."

Read the full article, Cork Mini-Boat Returns To Sea This Weekend and Sail-ebrations as Cork mini-boat to return to sea for another spin on the news announcement.

October 24, 2021

The HVES Cruiser was loaded on board the M/V Independent Horizon in Cork on October 24, 2021 and was safely stowed (as shown).

The expected date of launch into the Gulf Stream is November 7. Thank you to M.Maciejewski, Master, and the entire crew for taking such good care of the little boat on its continued journey!

November 7, 2021

We received news the morning of November 7th that the HVES Cruiser had been relaunched by the Crew of the M/V Independent Horizon when M. Maciejewski emailed us the following:

"Please be informed that we successfully launched mini boat today, Sunday, Nov. 7th / 1340 UTC, in position: Lat – 37.14,1 N; Lon – 071.33.7 W, over Gulf Stream ocean current. Please see attached pictures."

Thank you to the crew and all involved who helped get the HVES Cruiser set on its next voyage across the Atlantic!

November 9, 2021

At 9:07 GMT, the first GPS report from the miniboat at sea came in at -71.650343, 36.416835.

July 7, 2023

Unfortunately the GPS stopped reporting on July 7, 2023 with battery levels too low to continue to report. Hopefully, HVES Cruiser is found one day and we can install a solar powered GPS transmitter for its next voyage!
In 2017 the 1.5m long unmanned miniboat was built and launched into the Atlantic with a GPS tracker as part of the Educational Passages Miniboat Program. After 154 days at sea and traveling over 10,000 km, it landed on a beach in Fahy, Co. Mayo, Ireland and was brought to the Drumgallagh National School in Ballycroy. After connecting classrooms, the boat was brought down to Cork where it was repaired by Walsh Boat Works. It was re-decorated with student artwork submissions during 2021, and relaunched back into the Gulf Stream on November 7.
HVES in Charleston, South Carolina in 2017: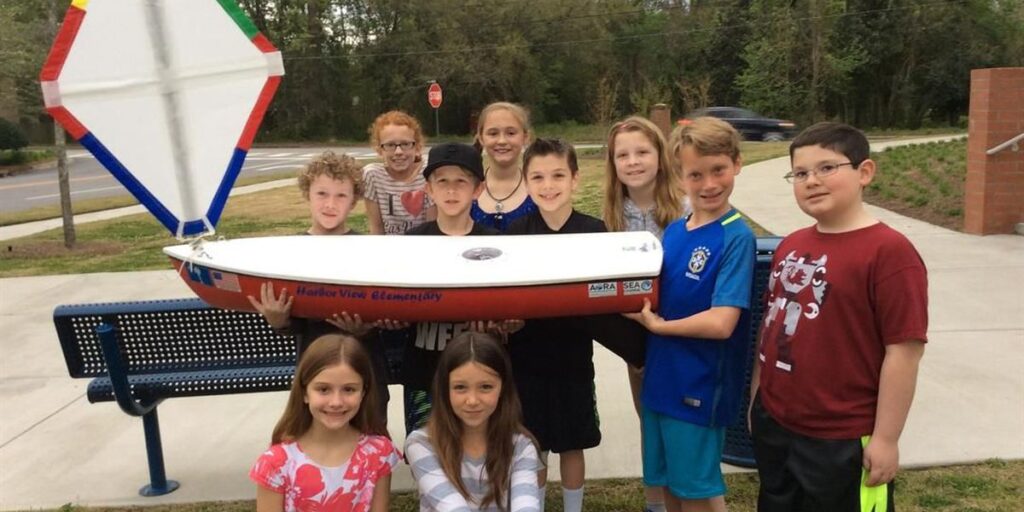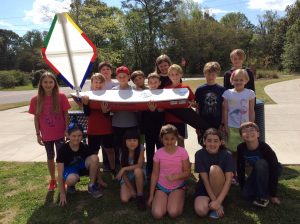 HVES in Ballycroy, Ireland: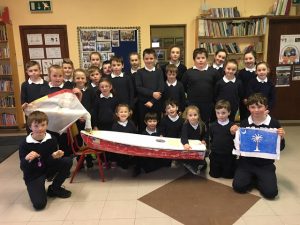 HVES repaired by Jim Walsh, Walsh Boat Works in 2020: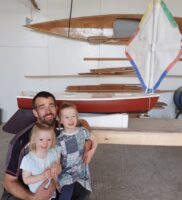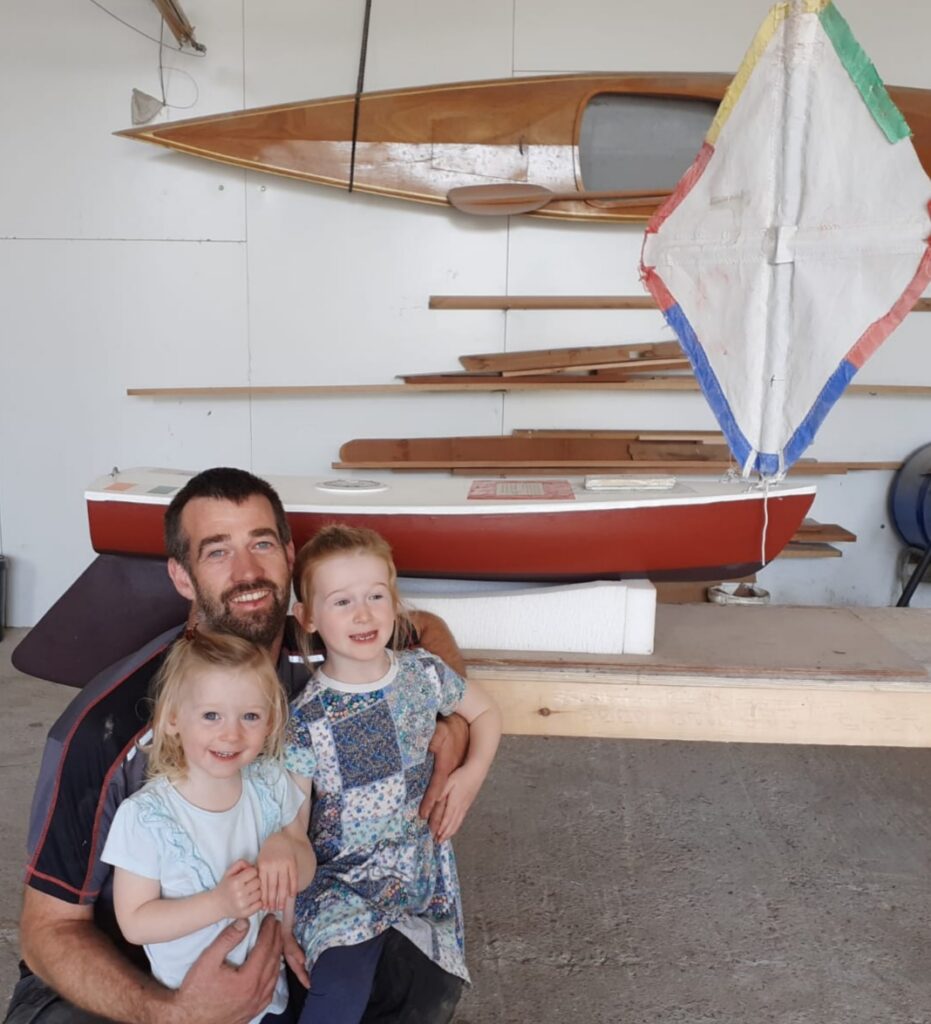 At the Port of Cork, ready for relaunch October 2021: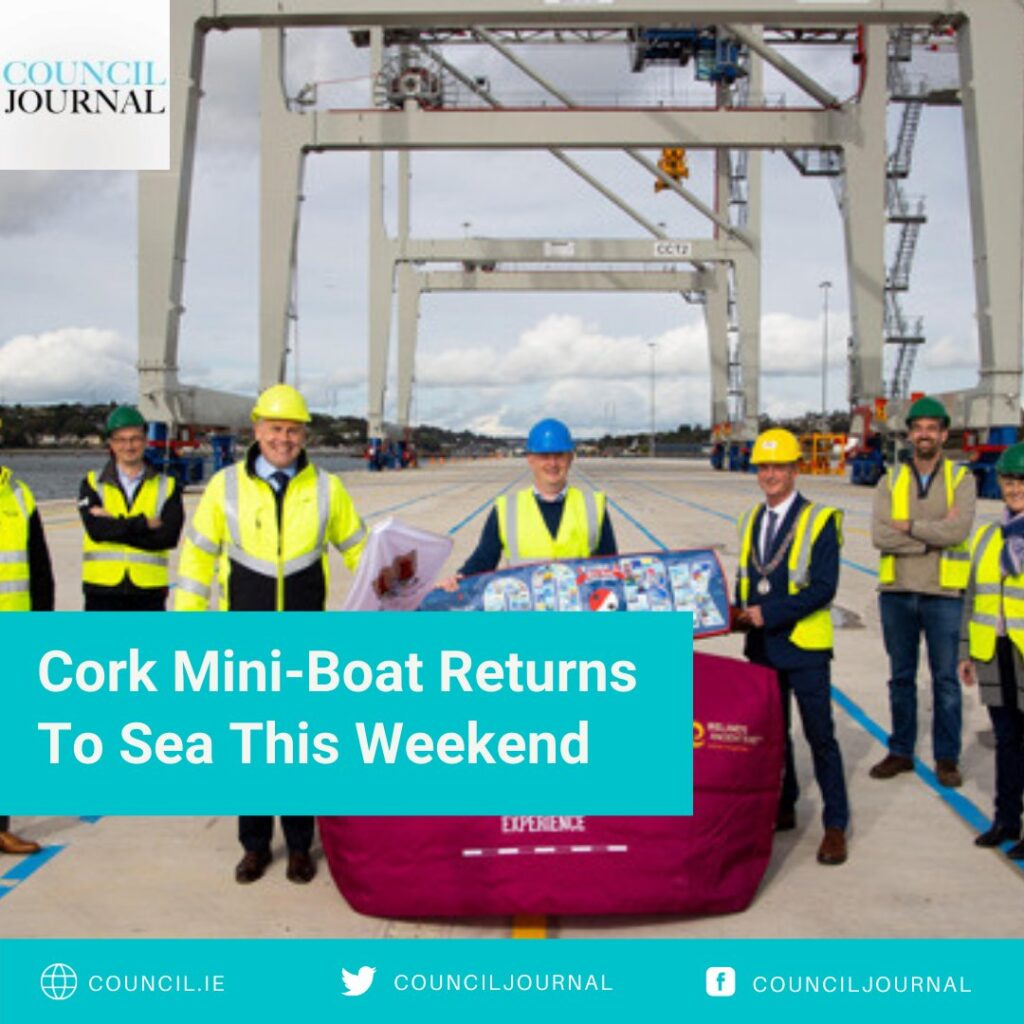 Launched back into the Atlantic on November 7, 2021: