iFADO IV (El Hierro – Mar, Salitre y Lava)
Updates:
1st Voyage
This boat was built by students at IES Garoé, from El Hierro island (Canary Islands). The action is running under support of the iFADO project (Interreg Atlantic Program) and led in the Canary Islands by the Oceanic Platform of the Canary Islands (PLOCAN). This is the fourth iFADO miniboat from the Canary Islands.
Here are some pictures of student work, including of a sail exhibition at the school of student artwork.
On Friday, May 5, 2023, students from IES Garoé, from El Hierro island joined students from IES Eusebio Barreto in Los Llanos de Aridane, La Palma, to launch the miniboat named Buche salado II with the Canary Islands Ocean Platform (PLOCAN) and other partners into the sea in the waters of Tazacorte (La Palma). The boat was launched at 10:23 UTC, about 3.5 nautical miles offshore.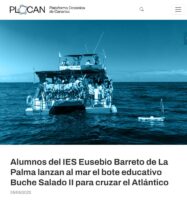 To read more about the activity hosted by PLOCAN and iFADO: Alumnos del IES Eusebio Barreto de La Palma lanzan al mar el bote educativo Buche Salado II para cruzar el Atlántico (Students from the IES Eusebio Barreto de La Palma launch the Buche Salado II educational boat into the sea to cross the Atlantic).
On May 19, the El Hierro – Mar, Salitre y Lava was launched off the island of El Hierro. Here are some pictures from the event:
And the news coverage of the launch: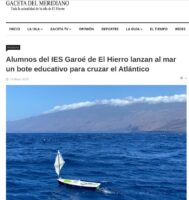 Sensor Data
This miniboat has two GPS systems installed. The reports from the main GPS will show on the map at the top of this page here (which updates hourly with new positions if available). Here below is where you can see the data reporting from the second GPS which is connected to the sensor package. In addition to reporting location with a secondary GPS tracker, this system is also collecting air temperature, water temperature, and orientation of the boat. Please note that the map below will only the last 7 days of data and may include invalid points and data. If you are interested in looking at the data in a different format from the whole voyage, contact us.