Updates:
Voyage 2
December 7, 2018 Update - Will be refurbished!

Students at the University of Wyoming have painted a new sail, and sent a number of trinkets and gifts with it and a new GPS to the Solomon Islands. Check out the full update in an article published by the University here. We especially enjoyed reading the last quote, "but wouldn't it be cool if it could get passed along — school by school — and made its way back to the East Coast of the United States?"

August 2019 - Repairs begin for relaunch

Students from Kukum SDA School repairs and prepare the miniboat for relaunching. Photo: George Kaola

George Kaola continues to help get the Jackalope miniboat ready for relaunch… in August of 2019 he had in hand a new sail and GPS thanks to the U.Wyoming group. George noted on August 6: "I will introduce to my class tomorrow about this miniboat and our project on this. I am so excited already as we will finally begin what we been longing for. Pass the good news to your students."

We are just as excited as George and all those following the Jackalope… the journey continues!

October 2019 : Painting!

The final moment of these Kukum SDA School students with the Jackalope before it was taken to relaunch.

December 2019 - Ready for relaunch

The Jackalope will sail again! Stay tuned for details.

January 23, 2020 - Set to sea once again

George Kaola, the teacher in the Solomon Islands and the lead repairer for the Jackalope, with a couple of children before relaunch. Kaola and some of his students repaired the vessel and launched it from the atoll out to sea Jan. 24. (George Kaola Photo)

The Jackalope was set to sea again from the Ontong Java Atoll in the Solomon Islands thanks to the diligent work of George Kaola who had rescued it and has been preparing it for relaunch for the last two years.

George posted pictures on Instagram stating, "Jackalope Miniboat finally launched on Friday 24th January at 7:30 am Solomon Islands time. Venue: Pelau Island, Ontong Java Atoll, Solomon Islands." [GMT time = January 23 @ 20:30]

The Jackalope sailed northeast past Nukumanu which was the last place on the flight path of Amelia Earhart before she and her co-pilot Fred Noonan disappeared forever. Where will the Jackalope sail to this time?

The University of Wyoming posted an article about the Jackalope on January 31, 2020 – "Jackalope Vessel Repaired, Finally Sails Again".

May 2020 - Landed on Hiu Island, Torres, Vanuatu

The Jackalope miniboat landed on Hiu Island, Torres, Vanuatu – a new country for Educational Passages! The boat was successfully recovered and we are awaiting full story and hopefully pictures, too. It is the Northernmost island in Vanuatu with only a few hundred people. Here is a video about the island and the people that live there:

VOYAGE STATS

On this second voyage, the miniboat Jackalope sailed for >5,837 km (3,151 nm) in 114 days from dropsite off Pelau Island, Ontong Java Atoll, Solomon Islands on January 24, 2020 (GMT) to Hiu Island, Torres, Vanuatu on May 16, 2010. In a straight line the distance was only 1,194 km (645 nm).

June 26, 2020

Mr. Kaola spent about a month connecting with people around the islands and arranging for a rescue mission. On June 26, Jonathan V Pitamama, Kino, and three other boys who live and work on Loh Island (south of Hiu also in the Torres Islands) headed for Hui Island, Vanuatu to pick up the Jackalope miniboat and they were successful!

Here are some pictures that Mr. Kaola shared with us on Facebook of the rescue mission:

Thank you to the Hiu Islanders and all the finders and rescuers involved!

January 24, 2022

George Kaola, who originally found the boat after its first voyage, and set it back to sea after repairs in 2020, posted a message on Facebook to Vanuatu community with the following note:

"A humble request to release this miniboat from Vanuatu still continues. This miniboat story is an interesting one. It begins it's journey from outside Easter Island and travel alone by wind and current. There is no human on board only a GPS, information documents about this boat.

The boat landed in Ontong Java Atoll, Solomon Islands where it was rescued and relaunched early 2020. It landed on Hiw Island and later taken to Loh Island in the Toress Islands in mid 2020. Until now we heard no further plans of relaunching this miniboat as it was meant to be. We those who somehow became part of this project do humbly request our good people of

Torres

Area

Council

to help us relaunch this boat. We the students of Kukum SDA Primary School and people of Ontong Java Atoll in Solomon Islands along with those students in Wyoming USA calls again. Please join us to repair and relaunch. Thank you so much."

And the community is responding! Once it is safe to do so, there are a few volunteers who have offered to help get the boat set back to sea. Maybe 2022 will be the year that Jackalope sails again!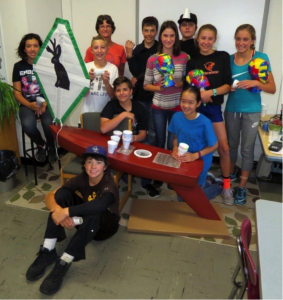 Jackalope is the first mini-boat to be deployed in the South Pacific, the first to include an Iridium transmitter with global coverage, and the first to be launched by a school from the Rocky Mountain Region (a 7,280 foot drop in elevation for the boat).
UW Husband-Wife Research Team to Lead Pacific Ocean Floor Research Expedition
Post Expedition Analysis of R/V Atlantis: Gess, Michelle (2017): Geologic Map of lower ocean crust at Pito Deep (S Central Pacific). University of Wyoming. Presentation. 
UW Scientists Discover Hydrothermal Vents on Deep Ocean Voyage
'Jackalope' Vessel Journeys 190 Days at Sea, Makes Landfall Near Solomon Islands
Jackalope Vessel Repaired, Finally Sails Again