Updates:
1st Voyage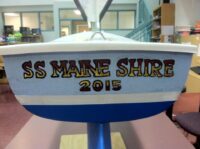 May 17, 2015 - Launched

The SS Maine Shire from Houlton, Maine was put on a training ship in Castine, Maine, carried to South Carolina in early May 2015, and then deployed along with another boat, the "Carolina Dreamer" on 17 May 2015.

The Coast Guard officials shown in the photo below not only inspected the The State of Maine Training Ship to make sure she was ready to go to sea but were very impressed with the little "SS Maine Shire" as well.

Landed in Bermuda a week later

Less than a week after being deployed, she and her sister ship, the Carolina Dreamer, both washed up on Bermuda. The SS Maine Shire was quickly adopted by the students of Jane Vickers class at Bermuda's Warwick Academy who plan to Skype with the students in Houlton Maine.  A nice article was published in Bermuda's Royal Gazette detailing the arrangements. Many of these students at the Academy have parents who are connected to the America's Cup Training "TEAM ORACLE" so the little Shire may be joining the big boys in Bermuda!
2nd Voyage
Relaunched

December 2015 - GPS went quiet near the Azores

On Decemeber 14, 2015, while just west of the Azores, the SS Shire went silent. She has not been heard from since but we are hope she comes ashore some day in the future.