Updates:
1st Voyage - Recovered after 102 days at sea (11/8/18 – 2/18/19) traveling 5,096 km
About the Raven KASTER

The Challenge

The School of Ocean Technology at the Fisheries and Marine Institute challenged Grade 8 students to create a 90-second video on the theme "How Oceans Affect Climate Change." Here's a link to the video challenge.

The Winners

A Grade 8 class at Frank Roberts Junior High in Conception Bay South, Newfoundland, won the video challenge. You can view the winning video here and here:

The Name

"Raven" is the school mascot of Frank Roberts Junior High. "Kaster" is a spin-off of "cast" – to throw something out in hopes of catching something. Also "Kaster" contains the first two initials of each of the three students who created the winning video. Such creativity in these junior high students!

About the Miniboat

This miniboat was prepared by the Grade 8 students with help from the Fisheries and Marine Institute of Memorial University of Newfoundland. The students visited the Marine Institute for a day of activities. Together, the students learned about oceanography and currents, and took part in activities focused on boat building and ocean mapping. They also spent time preparing, naming and personalizing their miniboat. Prior to setting sail, the vessel was filled with letters and pictures from the students.

Collaborators/Partners

Maersk Supply Service
Marine Institute
Journal of Ocean Technology

November 8, 2018 - Launched on the Grand Banks off Newfoundland

The Raven KASTER was launched on the Grand Banks off Newfoundland on Canada's east coast by Maersk Supply Service at 0830LT on November 8, 2018. The crew provided the following details about the launch position and at sea conditions at the moment:

Pos'n 46 29.4'N
048 27.5'W
Wind : 252 T speed 18Kts
Current: 243 T Speed 2.2Kts
Wave heights:
Significant 3.92m
Maximum 5.51m
Period 8.0s

---

Maersk Nexus supported the deployment of Educational Passages' mini-boat Raven Kaster off the coast of St. John's last week. The goal of the programme is to educate students about oceans using GPS-equipped mini-boats. #educationalpassages #stjohns #offshorenewfoundland pic.twitter.com/sqEFEPNLPW

— MaerskSupplyService (@MaerskSupply) November 15, 2018

The following week, The Weather Network shared a video and resources: Largest waves on the planet target Newfoundland. Looks like Raven KASTER will be getting a big push off the banks into the open Atlantic…


February 2019 - Recovered in Ireland after 102 days at sea

In February, only 3 months after deployment, the Raven KASTER was approaching Ireland. Thanks to @tomshepp on Twitter for providing updates to its followers!

February 18, 2019

After 102 days at sea, the Raven KASTER was recovered on a beach in Western Ireland! Sean Molloy, Manager of Achill Tourism contacted the School of Ocean Technology at the Fisheries and Marine Institute by email, noting that the boat had been found by a local fisherman Darren Kilbane (shown in the photo on the left) on Dookinella beach on the south side of Achill Island on the West coast of Ireland. Darren is a fisherman and was very surprised to see the boat washed up on the road following a big storm that we have had here in recent days. Sean kindly noted, "On behalf of Darren, myself and the people of Achill Island, I would like to send you greetings and congratulate you on participating in this exciting project."

The owners replied quickly as follows: "That's great news! Thanks so very much for reaching out. And many thanks to Mr. Kilbane for rescuing the mini-boat. The Raven KASTER was prepared by Grade 8 students and launched off Newfoundland) in November 2018. Further details can be found here. What we'd like to do is connect the students with a school in Ireland and, hopefully, get it relaunched. We think this would be a great opportunity to make connections and engage students in both countries. We'll be in touch again shortly! Please pass on our sincere things to Mr. Kilbane and thank you again for reaching out."

Sean then noted: "The Irish schools are currently in mid term break. I'll give your details to the local school and give them the memory stick with the letters too."

February 19, 2019

The story was quickly shared through social media (see Facebook post above), and local (both Canadian and Irish) news channels. The Marine Institute (@marineinstitute) shared the following on Twitter: "We are so excited the Raven Kaster landed in such welcoming hands in Ireland. Watch @NTVNewsNL's Beth Penny tonight as she interviews @FRJHschool, MI and Irish fisherman Darren Kilbane who found the miniboat."

From all of us at Educational Passages we'd like to say Congratulations to the School of Ocean Technology at the Fisheries and Marine Institute, Frank Roberts Junior High, and all the followers of the Raven KASTER for a successful voyage across the Atlantic!

—

TG4, Local Irish News Station reported the story on their evening news, and Sean Malloy from Achill Tourism shared with us about the video that, "It's basically about the project, that the local children will be getting involved and the second woman is talking about the irish link, that some places in Newfoundland have name that have Irish translations and that some of the surnames of the children are found in Achill."

Students in Newfoundland were interviewed the evening of February 19 about their miniboat that landed across the sea:

March 6, 2019

An update was announced on the Newfoundland & Labrador English School District website: FRJH's Raven Kaster Travels From NL to Ireland.

VOYAGE SUMMARY

Summer 2019 - Essay Published in Journal of Ocean Technology (JOT)

Sept. 26, 2019 Article in Memorial University Gazette

An article was posted in the Memorial University Gazette in the special Community Collaboration section: Trans-Atlantic learning: Junior high students trace mini-boat's voyage to Ireland's West Coast by Moira Baird. Here is an excerpt:

"We do it to raise awareness about the oceans and to get young people thinking about how the world's oceans impact their daily lives," said Paul Brett, head of the school. "They learn about oceanographic conditions, sailing routes across the Atlantic and ocean careers. The ongoing GPS signal gives the students the opportunity to follow the mini-boat's progress, see what it's doing each day and learn about weather and storms that affect its journey."

January 2022 - Update from Achill Experience in Ireland

We didn't hear much about the miniboat after it was recovered in 2019, but on January 21, 2022 it appeared on Facebook at the Achill Experience, Aquarium and Visitor Centre noting that the miniboat had been donated there. We can't wait to hear more and further connect people around this incredible story.

2022 - Next steps for Raven KASTER

Since the miniboat "resurfaced" in January, two of the original students Stephanie and Kaitlyn and their teacher Thomas Sheppard started working together again in hopes to see their miniboat sail once more. They are interested now in visiting Ireland in 2023 to help get the miniboat go back to sea, but first they want to share their story and pass on learning opportunities to other students.

Educational Passages is pleased to name Stephanie and Kaitlyn as Ambassadors for this project.

Here is more information about the project, both history and goals for the next voyage. To download more info with links, click here (.pdf).

March 25, 2022

Stephanie and Kaitlyn were interviewed by Beth Penney at NTV News at the Manuels River Center where another miniboat, the BHS Roweboat, was on display. Beth actually first interviewed them back in 2019 when the Raven KASTER first landed in Ireland!

Thank you @bethpenneyNL for talking with us today @ManuelsRiver about our @miniboat projects. Please tune in tonight on the @NTVNewsNL to hear about efforts to relaunch BHS Roweboat and plans to relaunch our own boat Raven Kaster in Ireland! @science_pwells @NLESDCA @nlta_mssic pic.twitter.com/QgV9Y1zJLx

— tomshepp (@tomshepp) March 25, 2022

Here is the produced piece that aired on NTV News Your Community segment on March 25:

May 17, 2022

The Town of Conception Bay South hosted a wonderful Reception Luncheon at the Manuels River Interpretation Centre where Kaitlyn and Stephanie shared their story to His Excellency, Ambassador Eamonn McKee, Ambassador of Ireland to Canada, and others in attendance.

Read more from the article posted on the Town's website: Ambassador of Ireland to Canada visits Conception Bay South – Meets Town Council and students Kaitlyn & Stephanie to hear inspiring miniboat story.

Here are some pictures of the event thanks to Robbie Lee from Lee Creative.

And here is some feedback about the event from the Irish Embassy Canada on Twitter:

Wonderful to hear from Stefanie and Kaitlyn about their mini boat launch. The @miniboats project encourages deeper engagement with schools and between countries on our oceans. Their boat, Raven KASTER took a 3 month trip from NL and ended up in Achill. pic.twitter.com/8fxbMKIGZn

— Irish Embassy Canada (@IrlEmbCanada) May 17, 2022

The students were interviewed by Marykate O'Neill from NTV News after their presentation, and were featured on the Your Community segment that evening. Click here or on the image below to watch the full segment.

In the interview, when asked what the students would consider for the relaunch, Kaitlyn said, "Just thinking about all that we've learned about the ocean and the data that gets collected from these miniboats into consideration when up there trying to relaunch our boat."

Also in the interview, the Ambassador of Ireland to Canada, Dr. Eamonn McKee said, "It's a really important project. They did it a few years ago when they were quite young. It's inspired them and their educational choices, but it's also inspired a lot of public awareness here in Conception Bay South about the oceans and about the health of the oceans and how we need to preserve them, but also educating a new generation about the importance of the ocean."

The broadcast was also picked up in Mayo, Ireland by Connacht News' Western People.

On May 19, 2022, Barry Petten, MHA at House of Assembly of Newfoundland and Labrador also recognized the project. In a Facebook post Barry Petten said, "a Members Statement the Raven KASTER miniboat project, congrats to these two young ladies and their teachers. I wish you much success!" Click here or on the image below to watch the video of the statement as read.

To hear all about the Ambassador's trip to Newfoundland, and specifically the reactions about the Conception Bay South visit and student presentation, check out this podcast:

Get Involved!

Reach out to Cassie or Thomas if you want to get involved in the Raven KASTER Relaunch Project in Ireland.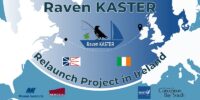 In 2018, a Grade 8 class at Frank Roberts Junior High launched a miniboat called the Raven KASTER on the Grand Branks off the coast of Newfoundland and Labrador, Canada. In 2019, after 102 days at sea the Raven KASTER landed in Achill Island, Ireland.
Now lead students for the project, Kaitlyn and Stephanie, from Conception Bay South are in Grade 12 at Queen Elizabeth Regional High School and want to visit Ireland to relaunch their miniboat.
Get Involved!
Reach out to Cassie or Thomas if you want to get involved in the Raven KASTER Relaunch Project in Ireland.
Donate now (CAD)
Donate now (USD)