Updates:
2nd Voyage
June 27, 2018
The pictures are in and the RWBC was rescued via helicopter from Augustine Island last week by Susan Saupe, Director of Science and Research at CIRCAC! Plans are in the works to return her to homeport for much needed repairs before she is relaunched next fall.
June 20, 2018
The RWBC is reporting from Homer, Alaska. We hope to receive updates and pictures to share soon!
June 14, 2018
Great news came in by email today from Susan who says they have recovered the miniboat! Her assessment: "It's pretty damaged.  It looks like it got beat up around the big boulders on the east side of Augustine, and the mast and sail came off…..but, they were still very near each other and we collected both the boat and the sail.  The boat barely fit in the helicopter and was definitely a little water logged – we drained most of it.  You'll have to decide if its repairable to deploy again. " Susan also reported that the "Augustine Volcano is fascinating, so I hope the class was able to do a little research on its history since it was home to their drifter for about two months."
Kendra Bush-St Louis, an education specialist for the Alaska Maritime Refuge, has expressed interested in bringing the boat to local schools before being relaunched. Looks like she'll need some time to be repaired this summer anyway so off to Homer she'll go.
April 22, 2018
After 18 days at sea, it appeared the RWBC landed on Augustine Island in Cook Inlet. Thanks to the Alaska Ocean Observing System (AOOS), which is part of the NOAA Integrated Ocean Observing System, we were connected with Susan Saupe, Director of Science and Research of the Cook Inlet Regional Citizens Advisory Council, who is now helping us with the rescue mission. They plan to be in the area in Mid-May and will attempt a recovery.
Researching the area is important when coordinating a rescue mission and AOOS suggested we look at what the beach is like where the boat ran aground using ShoreZone imagery. This link zooms into Augustine Island.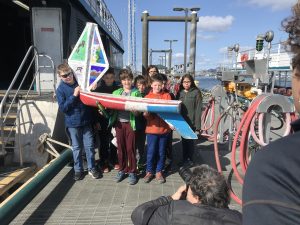 April 4, 2018
On April 4th at 12:27 p.m. the S/V Red, White, & Blue Crew was relaunched into the Northern Pacific with the help of the Ms. Golden's 6th graders at Blatchley Middle School. Check out the video below: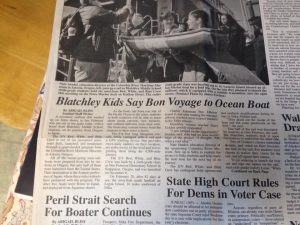 Ms. Golden was quoted in the Sitka Sentinel: "All of the sudden, they feel like they're part of something bigger." The story was also picked up by Oregon Live, "Sailboat built by Scappoose students continues journey to Japan." Now Ms. Golden wants to bring the miniboat program to Sitka High School where she'll be teaching next year. Local fishermen who have been involved recently also want to help.
April 3, 2018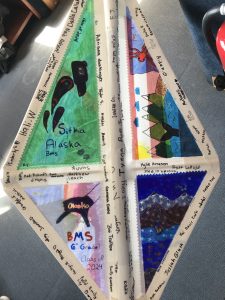 Nate Sandel, Education Director at the Columbia River Maritime Museum, arrived in Sitka, Alaska with a new sail for the miniboat, but this time only one side was decorated.  The 6th graders at Otto Petersen Elementary School left the other side blank so their contemporaries could put their own stamp on the boat they would relaunch the following day during their pre-planned field trip out into the Sitka Sound. Ms. Golden's students submitted design ideas and then voted on their favorite sketches. The top four were drawn on the sail.
March 2018
Over the last month Ben Johnson of Compass Rose Charter has been taking great care of the S/V Red, White, and Blue Crew.  The miniboat had some minor hull damage that Ben filled and ready for her visit to Ms. Golden's 6th grade science class in mid-March. After seeing the miniboat and finding out about the project, she proposed that her class relaunch S/V Red, White, and Blue Crew on their annual field trip!
1st Voyage
Thanks to The Johnaon Family and Compass Rose Charters for safely recovering S/V Red, White, & Blue Crew! They are planning on bringing it to a local Sitka school on Monday. 
March 1, 2018- Spotted by the USCG from the air
Spotted from the air! Below is the latest update from our amazing USCG at Air Station Sitka.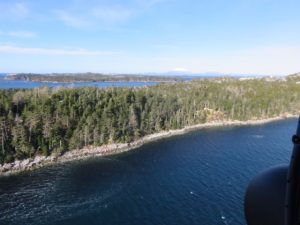 CDR Smith- "The S/V Red, White & Blue was located today high aground in the vicinity of Sitka Sound – pictures attached.  A salvage & refloat operation is being planned for the weekend, weather permitting.  Thanks to CDR Will Walker and his crew for locating the vessel!"
LT Sirokman- "Attached are some photos of the project vessel from Scappoose Elementary School.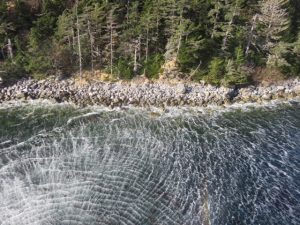 We were unable to pull it off the beach and refloat it because we did not have a rescue swimmer aboard, however, we got pictures and an updated location. Weather and time-permitting, I may take my whaler out there with Rhett this weekend on an adventure to find it and see if we can get it back in the water.  In the meantime, attached are some pictures that our ace photographer, AET2 Dart, took from the mighty MH-60T."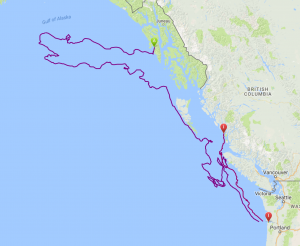 February 28, 2018 – Landing Report
After 82 miraculous days at sea, the S/V Red, White, and Blue Crew made landfall on the East side of Legma Island 16 miles SW of Sitka Alaska. USCG Air Station Sitka has been alerted and will be keeping their eye open for a potential rescue!
December 6, 2017
The 6 December 2017 sunset launch occurred 2 miles NNW of the CR Buoy (7 miles off shore) and was recorded on video (see below) thanks Captain Jordan, Captain Matteo, and the crew of the P/V Astoria.
s/v Red, White, & Blue Crew from Columbia River Maritime Museum on Vimeo.
The Boat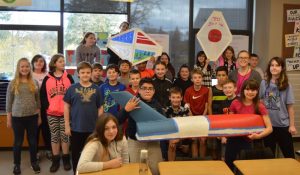 Laycee Kinsman's 6th grade class prepared this little boat for a December 2017 deployment off Oregon.
Even before it launched, it was reported in the press here. "This isn't just our ocean, it belongs to hundreds of thousands of people around the world," Kinsman said." It's about enriching our experience and working outside of our own community to discovery diversity and new viewpoints."
Pictures