Updates:
1st Voyage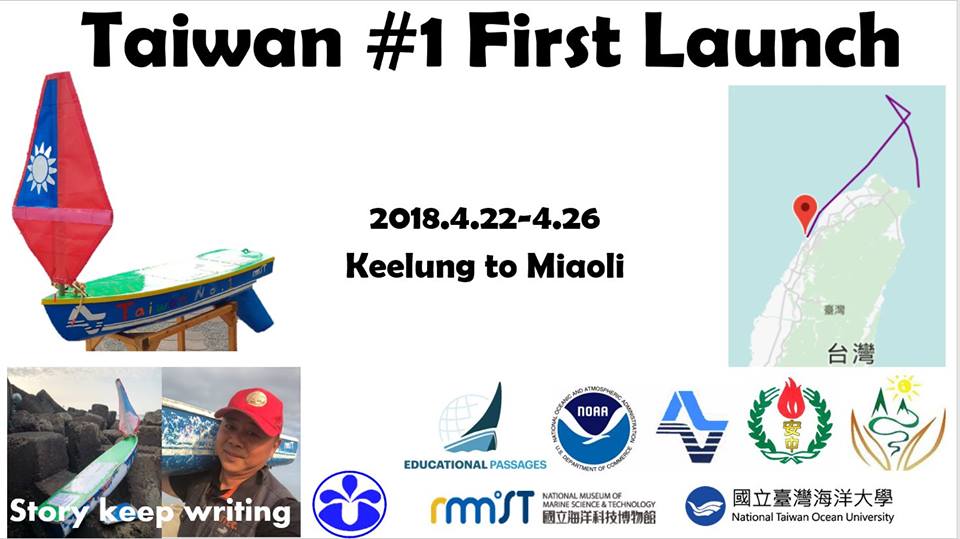 About us

The Taiwan #1, sponsored by National Museum of Marine Science and Technology, National Taiwan Ocean University, Everise Global Logistic Co. Ltd., is the first boat of the Taiwan Educational Passages Project started in Jun 2016 at the National Marine Educators Association (NMEA) conference in Orlando with Dr. Douglas Levin from Washington College. The Hsin Tien Senior High School is the first of what we hope to be many schools involved. The partnership team includes students and teachers, university professors, and marine museum researchers who inspire the high school student team to connect with professional marine science research. The project is the first educational passages project in Asia, and will be student focused to promote ocean literacy. This will be the benchmark for Educational Passages in Asia.   

March to April 2018 - Preparing Taiwan #1

We started painting the boat, designing the boat with pictures, and determining the things we will put into the boat, including postcards, and the postcard content by Hsintien students, that all Hsintien Senior High School's students can take a part in.

On April 2, students finished painting the boat. On April 4, they put the boat in the Keelung Museum and learned about ocean ecology and international communication to improve knowledge about the project.

The miniboat will be deployed on April 22 from a boat out of the Bisha Yacht Port.

April 22, 2018 - First miniboat from Taiwan set to sea

The first miniboat in Taiwan has been set to sea! Check out Facebook for more pictures and stories. Will she sail to Japan or across the Pacific?

April 25, 2018 - Strong winds from the North

April 26, 2018 - Recovered

June 2018 - At Waipu Primary School

Taiwan #1 spent some time at Waipu Elementary School where the students learned about its story and the ocean through fun activities. Thank you to all the teachers who made this possible!

The Taiwan #1 1st Voyage - Blog - 海洋行者計畫/Ocean Walker Program

The story of the Taiwan #1 is also written very well in this blog.
2nd Voyage
September 2018 - Ready to sail

The Taiwan #1 was repaired and is ready to sail again!

June 2019 - Ready for launch with Mahi Mahi

Taiwan No.1 of New Taipei Municipal Hsin Tien Senior High School will launch for the second time with MAHI-MAHI on June 29, 2019.

June 29, 2019 - Launched

The Taiwan #1 was launched with the Mahi Mahi on June 29, 2019!

October 7, 2019 - 100 days at sea

Taiwan #1 has been at sea for exactly 100 days now and is finally in the Kuroshio Current! It has been a long journey for this miniboat. Explore the track further at explore.educationalpassages.org.

October 20, 2019 - Potential landfall?

Taiwan #1 last reported 2019-10-20T17:13:00.000Z at 35.3386 °N, 140.4299 °E. Does anyone have any contacts in the area that can check the beaches for possible recovery?

Last known location

Last reported October 20, 2019 at 19:13Z near Misakichoizumi 岬町和泉 Isumi, Chiba, Japan. When it last reported it was traveling about 0.7 kts. It was less than 1 nm to land and winds were from the Northeast (38.6 degrees) at 11.4 kts. Red circle is estimated current location and suggested search area. Anyone with contacts in the area that can help search and recover please contact info@educationalpassages.org. It is an unmanned mini sailboat, "miniboat" and would be great for the students to see the boat again if it can be recovered!


VOYAGE STATS

The Taiwan #1 Miniboat sailed for 5,428 km (2,931 nm) in 113 days (June 29 – October 20, 2019). In a straight line the distance was 2,109 km (1,139 nm). The average speed was 1.06 knots.