Updates:
2nd Voyage
This is one of three boats for Gwynned Mercy Academy and the Black Pearl's second voyage. Her first voyage ended up washing up in Ocean City, New Jersey. Click below for the full story.
The Black Pearl was launched on February 27 out of New Jersey and is now in the Gulf Stream (February 28), as verified by a boater who found her and contacted Educational Passages to check in.
1st Voyage
The Black Pearl is one of three deployed in late November out of Barnegat Bay NJ. The school delivered her to the dock with  a live Facebook recording. She was launched off the Delaware shelf and quickly washed ashore after 5 days.
December 6, 2017
The Black Pearl has been recovered! She will be brought back home to GMA for repairs before set out on a new voyage. Special thanks to Michael Robles family; Diane McGovern and Terri Fithian (Ocean City Public Works).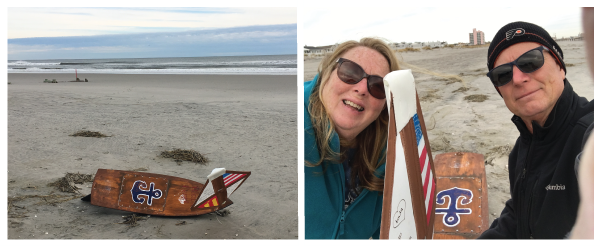 December 5, 2017
After only 5 days at sea, The Black Pearl sailed straight to a beach near Ocean City, NJ. Perhaps the winds were too strong?
November 30, 2017
The Black Pearl was launched with a northwind at 15-20 knots by F/V Ms. Manya, commercial scalloper out of Barnegat Light. Thanks to Captain Pete!