Updates:
1st Voyage
About Us

"Fifth grade students of Willapa Valley are participating in a mini boat project with the Astoria Columbia River Maritime Museum. The mini boat project is a program where students work in teams to build two real mini boats. Over an 8 week period of time students have been working on the hull, the keel, the deck, the cargo figure head , sail, etc. Our teacher Nate Sandel, from the Maritime museum, will be taking one of our boats to Japan for our partner school Tanesashi Primary, students there will be designing one side of our sail for the boat that we made for them to launch across the Pacific Ocean to us. The other boat we built will be launched from Pacific Coast by us. Each boat will have a GPS transmitter on board so when the boats are launch students can see where their boats are traveling. Students are trying to sail their boats successfully across the Pacific Ocean. No other schools have been able to accomplish this challenge. But we, the students of Willapa Elementary, have the confidence to complete this challenge." -Kylee from the Cargo Figurehead Team

Building the Miniboat

January 13, 2019 - Launch Day

January 21, 2019 - Landed

Miniboat Titantanic has landed on a remote island in British Columbia and needs help with recovery. She sailed 558 miles in 8 days!

Student Report February 2019 - At sea again!

The Titantanic washed up on a remote island in British Columbia on Jan 21, but stopped sending its location on February 13. But on February 21, it suddenly appeared at sea again!

The students shared the following update they wrote:

After spending over a month shipwrecked on Lanz Island the TitanTanic somehow made it back out to sea.  The students of Willapa Valley Elementary think that she was de-masted during her month of riding the tides up and down twice a day against the rocks.  However, those same tides, we believe also helped put her back to sea during the King Tides in Late February. We hope that she can ride the currents to safety so we can get her back, fix her up, and put her back to sea to continue her voyage to Japan.

March 25, 2019 - Quiet near Moresby Island

After she made her way back to sea with the King Tide, she appeared to have sailed for another month, making her way to Moresby Island in British Columbia. While her last GPS signal appeared a few miles offshore, we think she stranded somewhere nearby.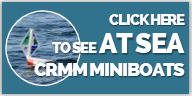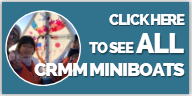 The Columbia River Maritime Museum's Miniboat Program was developed in partnership with Educational Passages and the Consular Office of Japan in Portland. Students in the Pacific Northwest build unmanned sailboats equipped with GPS transmitters, one to launch from the coast of North America and the other to send to their partner class in Japan for launching. While the boats are at sea, students on opposite sides of the Pacific Ocean will track their movements. Using real-time data on ocean currents and weather, students will share their predictions on where the boats will go next, and hopefully create lasting friendships.
The mission: to get the boats to cross the Pacific Ocean.
The outcome: through hands-on activities and meaningful opportunities, students are enlightened and empowered.