Updates:
4th Voyage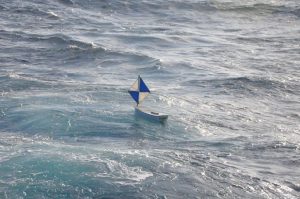 This is the fourth time the SS Upper has been deployed off the SE coast of the US.  This 4th voyage is sponsored by the school that originally sponsored the boat, the Summit-Questa Montessori School.
November 2017
The Upper went silent on November 3, 2017 on its way to what we thought would be an Ireland or UK landing. While we don't know the details of what happened, perhaps she'll wash ashore someday and still be recovered.
July 2017
It was returned to the Gulf Stream on July 14th, 2017 to launch this 4th voyage.
3rd Voyage
June 2017
On 18 June 2017, the SS Upper came ashore again.   We found her suddenly a few blocks inland in Morehead City, N. Carolina.  After a long Father's Day of email exchanges, texts, phone calls, tweets, and Facebook postings,  thanks to the quick response of  Jacqui Degan who heads up the Marine Tech program at Cape Fear Community College, we found the fishermen, Bill Farrior, who had taken the SS Upper out of the water and back to his home.   Jacqui's email reads "I just returned from Morehead City, with info on your miniboat. After walking the beach for a few blocks and speaking to a couple of locals, I decided to knock on a couple of doors, and at the second house I hit the jackpot! The GPS ping was pretty accurate! The miniboat was sitting in the back of a truck in the driveway of the house on the corner.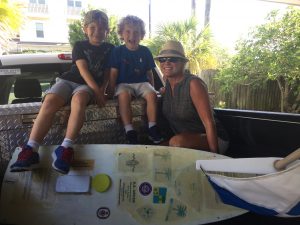 After it was picked up off shore N. Carolina on its 3rd voyage by a fishermen Bill Ferrior in late June 2017, it was brought inland for the purpose of sharing it with a local camp (Camp Albemarle) and the Boys and Girls Club. A photo of Bill's wife Wendy and Jacqui's two boys can be seen here to the right.
2nd Voyage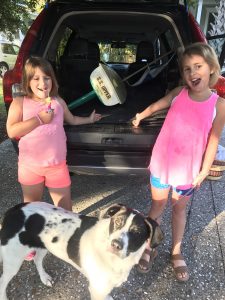 The Upper has an interesting story. Taken from a Dick Baldwin email in early 2017, "a miniboat named "UPPER" was one of 5 miniboats that landed during a storm in the immediate Charleston area 3 or 4 years ago (~2013). Captain Jay Stewart I rounded up 3 or 4 of them and had them relaunched. By pure chance a friend of mine  Holly Blair found the 5th one for sale in the  Charleston Goodwill store. She bought it and contacted me. She tried to get a local school to buy a new GPS and re-launch it without success. She discussed the possibility with the local chapter of the NMEA about re-launching but a plan never materialized. For this reason Holly and I are determined to get this boat launched in June out of the Charleston area."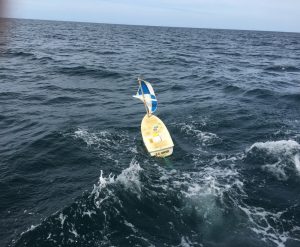 In mid-June 2017, Capt. Jay Stewart deployed her off S Carolina but she came right back to land the following morning.  Fortunately, it was a soft landing on a highly populated Edisto Beach.  Capt Jay reported in an email later the same day "Well Social Media is a wide net.  After arriving to a beach full of people and no upper, I started search Social media and it didn't take long to see a post by the Edisto Beach Police Chief. I called their dispatch office and he drove over to the access I was parked at with my wife. He had contacted the original launch school and they were confused and surprised by finding of her.  He was amazed at how many hits it got as soon as he posted it and there is going to be some fan fare on the beach about it.  I have her back in Charleston now and will send her out on a cargo vessel this week. "  There is a photo in the gallery of Jay with the Edisto Police Chief.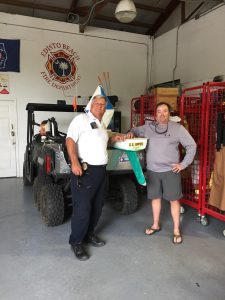 You can read a story in the local press at http://www.atlasobscura.com/articles/a-miniature-sailboat-has-washed-up-after-4-years-at-sea.
1st Voyage
This is the first voyage made by SS Upper.
The most interesting aspect of this boat is that it sat in a Goodwill store in Charleston SC for about three years between its 1st and 2nd voyage, refurbished and released multiple times before it finally headed across the ocean.