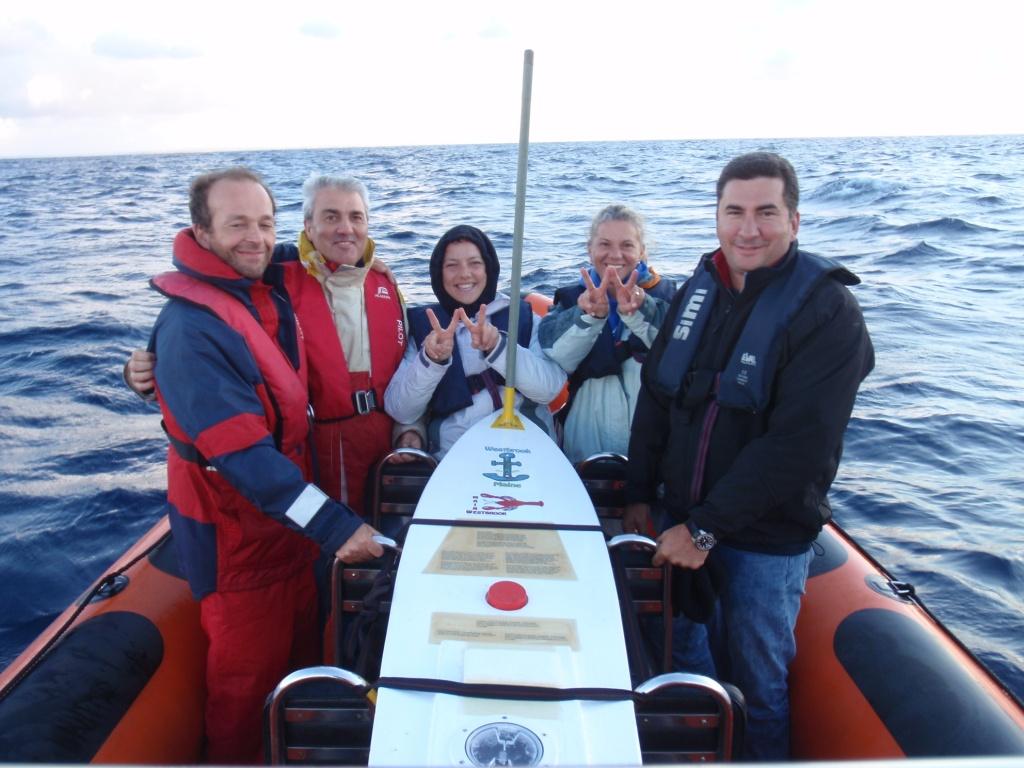 The Atlantic Regatta
Posted on
Schools and organizations in 9 countries around the Atlantic are launching miniboats in Fall 2016 for the Atlantic Regatta! Working together, students will have the opportunity to first hand participate in the historic sailing routes across the Atlantic. Miniboat are expected have 3 or 4 stops along the way. Students will have opportunities to work together, collaborating launching and retrieving miniboats. Community members are often involved, through surprise and interest! There are plans to add sensors to a few of the miniboats for data collecting and extra fun! If interested in getting involved, contact dick@educationalpassages.org
2016 Atlantic Miniboat Regatta
 "The Once Around Regatta"                  
REGATTA INFORMATION
This is a coordinated effort between Educational Passages and numerous professional marine organizations and institutions around the Atlantic seaboard (see list). Schools and colleges from 8 different countries are expected to participate in this regatta that uses miniature GPS-monitored sailboats to provide incredible learning opportunities in marine science and inter-cultural experiences to people of all ages. Miniboats have proven to be very capable performers, and this regatta will include at least one basic research boat with sensors allowing students real time data collection. We plan to add things like solar panels, steering capabilities from your computer, GoPro cameras, and perhaps hydrophones to monitor fish and whale sounds. We know this is possible and encourage students and universities to help us engineer these advances.
The Goals
The goals are for the participants to work together to see how many miniboats they can get to completely circle the North Atlantic Ocean.  We expect (and our history shows) these boats will follow the historic sailing routes with the American boats taking the northern route to Europe, the European boats sailing to South America or the Caribbean and then being re-launched in the Caribbean. It is predicted that they will sail back to America (fig. 1). History shows us that most boats will make landfall several times on their way (fig.2)).   Using GPS position reports participants will be able to coordinate recovery efforts as boats approach the coast and are about to make landfall. Boats then would be taken to nearby schools where the learning and international relations come into play. Messages and other items can be added to the watertight compartment and arrangements can be made for boat repairs and re-launching.
Regatta Course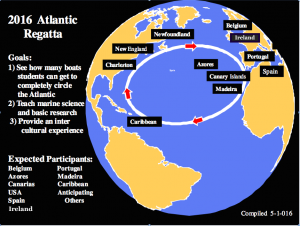 Fig. 1
Participants may start the regatta anywhere in the North Atlantic. We are encouraging everyone to try to launch their boats in mid-October as it will be more interesting and we'll learn more if the boats are all launched at about the same time.  Students will simply be sending their boats to fellow students for them to recover, add messages, repair & re-launch. By working closely together they should be able to get a few boats to completely circle the North Atlantic.
Work and Learn with the Professionals
Participants need to know that boats usually can't be re-launched from the same area they made landfall as the winds and currents that brought the boat to you will most likely bring it right back.  We have experts around the world ready to assist you. They can probably get your boat on a commercial ship and get her re-launched in a favorable spot where the probability of another major ocean voyage is very likely.  The boat shown below made it 80% of the way around the Atlantic and if participants communicate and help one another and seek professional advice we think you'll be able to get several boats all the way around.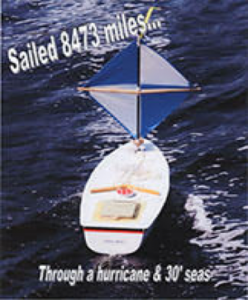 Notice this boat is sailing dead down win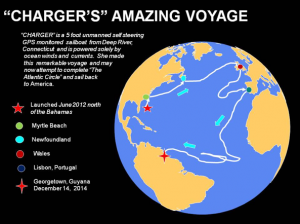 "Charger" Sailed 80% of the Way Around
"Charger" is from Deep River, Connecticut and made it 80% of the way around the Atlantic Circle. The school tried to get its boat shipped to Puerto  Rico for re-launching to sail back to America but they couldn't get it shipped out of the small town of Georgetown, Guyana. They are now planning to have it shipped back to their school showcase.
 "Charger" made 5 stops on its voyage
Marine professionals are amazed these boats are capable of making major ocean voyages and are ready to assist students. The boats simply follow the winds and currents around the Atlantic.  One boat has sailed over 22,000 miles, through a hurricane and over 30 foot seas. We have numerous professionals working in prestigious  marine research centers  around the Atlantic who are sponsoring school boats and are willing to advise students where and how to re-launch their boats after they have come ashore so that they may catch the right winds & currents for another major voyage and maybe end up back in their part of the world.
Teachers and students have found this a very exciting way for students to learn !  A South Carolina teacher just won 2016 Science Teacher of the Year for her state and is now in the running for national honors. With good communication and collaboration between students, teachers, and marine professionals around the Atlantic we believe you could get your miniboat to completely sail all the way around the Atlantic.
PARTICULARS
Anticipated Entrants
*Newfoundland (1 boat)                  *Spain (1 boat)                                           *Portugal (3 Boats Including)
*Belgium (1 boat)                               *Ireland (1 or 2 Boats                                      Azores (1)
*Canary Islands (3 boats)                 *USA (6+)                                                            Madeira (1)
We expect many boats will sail through the Caribbean and are thus hoping we'll get a
Caribbean boat to participate. We do have  people in the Caribbean to help recover boats that land or sail close by their islands.
About the Boats
Our boats were designed by Mark Fitzgerald, NA, and are built of molded fiberglass.  They are 56" long on deck, with a 16" beam, and draft of 15".  They have a hydrodynamic foil with 10 pounds of ballast and a displacement   of approximately 30 pounds, making them self-righting and good downwind performers.   These boats sail directly downwind and the hulls are filled with foam for positive floatation. Our sponsor Evolution Sails has developed a sail that stands up well in severe conditions. At least one boat will have a surface water temperature sensor and an accelerometer to show us wave height and other information.
Over 60 boats have been launched and they have repeatedly been shown to be seaworthy passage makers. They have weathered hurricanes and many have sailed over 10,000 miles and one successfully completed a 22,000-mile voyage with five landfalls
EASY TO PARTICIPATE
We now have a "Boat in a Box" program where we will ship you a completed boat and all you need to do is customize it with indelible markers or paint, add messages, instructions to the finders, add local items to the watertight container and simply ship it back to us for launching.  Your class or school then monitors the voyage and participates with other students in your country and abroad, through email and Skyping, in the hopes that your boat get as far around the Atlantic Ocean as possible. Or you could build one of our kit boats and launch it yourselves.
Launching Boats In Mid-October
We are encouraging everyone to launch their boats in mid-October as we believe it will increase the learning and excitement if we all launch at about the same time. Boats launched off North America are expected to take the northern route to Europe while the European boats will take the old, historic route to the Caribbean and then on to the U.S.  There is an advantage to launching boats together as its fun to compare their courses and see how they spread out and land in different places.  You may consult Educational Passages  regarding good launching areas, or if you choose, we can launch your boat for you.
Recovering Boats
Several months after launching boats will begin making landfall in Europe, the Caribbean, or the Americas.  Students will then go to work on recovering boats. With GPS data and partnering with marine professionals, students will work to recover boats at sea or actually meet the boats as they come ashore.
As long as the sail is up these boats will continue sailing month after month
It is suggested all boats have instructions asking the finders to take the boat to a local school where a new group of students can now engage. Boats have watertight compartments where students have added messages, flash drives, and local items.   Students will Skype plans to repair boats, add messages, analyze data from the sensors, and send the boat back out to continue its voyage around the Atlantic.
Timeline
July 31:                             Last day to order your boat
Early September:           Boats arrive at your school.
Thru early October:       Students paint & customize boats, stow items on board
Oct 15:                              Suggested launch date
Institutions and Professionals are Ready to Assist                                                             
* School of Ocean Technology, Newfoundland * Flanders Marine Institute, Belgium * Maine Maritime Academy *   University of Maine, Marine Science School * The College Of Exploration, Virginia *  PLOCAN Platform Ocean Research Center in Canarias * Washington College, Delaware * Research Oceanographers * Ship Captains * Solo Sailor *
Order Your Boat Now
Use the attached order form to order your boat. We will process orders as quickly as possible. Order before August 1st to ensure availability.
Further Information
Check our website at educationalpassages.org.
Email Richard Baldwin, Founder, Dick@educationalpassages.org / cell # 207-322-1901
Sponsored By
Thank you to Evolution Sails for signing on as our initial sponsor.
For additional sponsorship opportunities, contact Dick@educationalpassages.org
Evolution Sails
Endorsements
University of Maine                                    The College of Exploration                             PLOCAN – State of the Art Research                                                                                                                                                                                                                                                                                                                                                                                                                                                                                            
School of Marine Science                              Potomac Falls, Virginia                                       Facility in the Canary Islands
 Marine Institute & Memorial                         Washington College                                        Flanders Marine Research Center
 University of Newfoundland,                      Chestertown, Maryland                                                   Belgium
              Canada
                         Educational Passages is a 501 (3) (c) non-profit organization