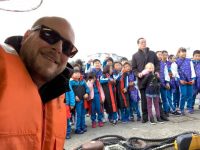 Miniboat Hero Highlight: Nate Sandel, Columbia River Maritime Museum
Posted on
Written by Erin Pelletier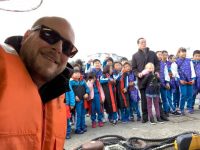 Nathan (Nate) Sandel is currently the Director of Education at Columbia River Maritime Museum (CRMM) in Astoria, Oregon. CRMM is a private nonprofit museum which offers classes and workshops to demonstrate the skills and trades relevant to the maritime culture and the museum has the largest collection of Pacific Northwest maritime artifacts in the country!
Nate has worked with CRMM for over 11 years graduating from a field educator to the head of the large education department. He has many responsibilities including administrative duties and overseeing dozens of volunteers, but his favorite is working directly with students in the classroom. The Educational Passages miniboat program has allowed Nate to pursue his passion for teaching by engaging the same group of kids over the school year and help them fully experience the program.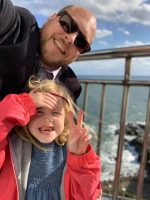 It's not surprising that Nate was drawn to the miniboats, he has always had a passion for exploration and ocean adventures, in fact he named his daughter Hudson, after the explorer Henry Hudson!  After seeing a miniboat presentation at a STEMposium Nate was immediately hooked. He developed and was able to get funding for a new curriculum where he can bring the miniboat program to local schools in order to provide maritime expertise and support to the teachers, and connect them across the Pacific.   
The CRMM purchased 11 miniboats for 2017-2018 and 10 for 2018-2019! For all details and tracks of the boats, visit http://educationalpassages.org/events/crmm/.
Why Japan? Debris from the Japan Tsunami of 2011 was washing up on Oregon beaches and a local school recovered a Japanese torii, which is a gate that marks the entrance to a Shinto shrine.  Nate has always had a sense of wonder and exploration (including his fascination with pen pals as a kid) and feeling a connection to Japan, he brought 5 miniboats in 2017 (and 5 more in 2018) to local Japanese schools to be launched on the opposite side of the Pacific Ocean. Using real-time data on ocean currents and weather, students from Japan and Oregon share their predictions on where the boats will go next, and have created lasting friendships.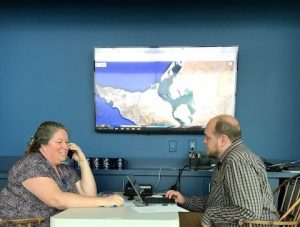 Nate says there are several fun aspects of the miniboats, like watching their tracks, and the worry it creates when they get close to shore (for fear of crashing), the excitement of seeing the boats turn around and around and discovering new things like a coral atoll on the map. So far CRMM has engaged dozens of teachers and over 1,000 students along the US Northwestern coastline and the coast of Japan and Nate says the best part of the program is bringing communities together for rescue and relaunch, which continues the story on and on.  
Thank you to Nate Sandel, Columbia River Maritime Museum and all the participating teachers and students. Good luck to your miniboats!