Updates:
3rd Voyage
June 26, 2018
The Crimson Voyager is still in the Center for Environmental Education of the Ribeiras de Gaia on the Miramar beach, Vila Nova de Gaia, Porto, with Cristina. They are trying to organize transport to bring it to Lisbon, and are investigating the GPS signals. The team there noted that, "Crimson Voyager seems to be in good condition (it's only missing the hull compartment cover), but we want to verify its condition before thinking about its new deployment."
April 9, 2018
An email came in to Educational Passages from Cristina Chaves noting, "We would like to inform you that the Crimson Voyager boat was found by the Center for Environmental Education of the Ribeiras de Gaia on the beach of Miramar, Vila Nova de Gaia, Porto, Portugal on April 8, 2018." We will post updates as they arise, hopefully including a picture and plans for more of the Crimson Voyager's story!
December 11, 2017
The Crimson Voyager stopped reporting on December 11, 2017. We hope someday she'll still wash up and we can see what happend.
November 20, 2017
The Crimson Voyager was deployed again off on Nov 21, 2017 thanks to Manuel Biscoito. This time she skirted around the island and headed north.
2nd Voyage
November 2017
Thanks to our colleagues in Portugal, the Crimson Voyager went on another adventure in November 2017. After being deployed off Madeira on 13 November 2017, she was on her way. She was deployed alongside a few other boats that have had deployments in the past, the Nada and the West.
A broadcast of the deployment was streamed live and is now available to watch:.
The triple deployment was arranged by "Take Portugal to the World", an educational project coordinated by the Portuguese Directorate-General for Marine Policy in partnership with Instituto Superior Técnico (ISR – Lisbon), and with the international support of Educational Passages and NOAA. The triple launch also had the support of the Funchal Marine Biology Station, the Portuguese Navy and the Funchal Naval Club. The track of all three boats can be seen here.
While the Crimson Voyager reported on schedule the first few days, she did not report after that until the morning of 16 November from a beach on the island and, with help from a rescue team, was recovered a few hours later.
April 2016 – November 2017
The Crimson Voyager spent some time at the University of Cadiz where she was repaired and repainted but local students.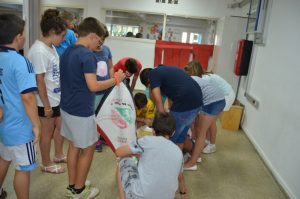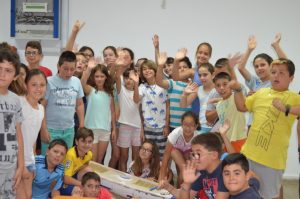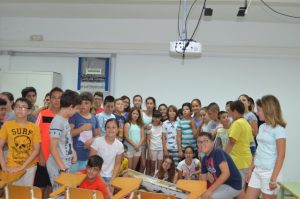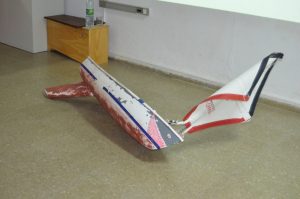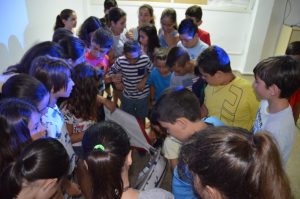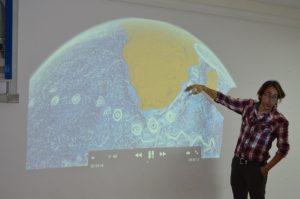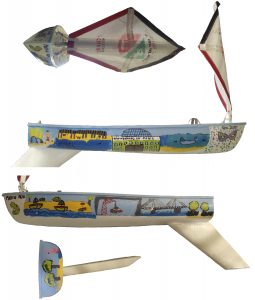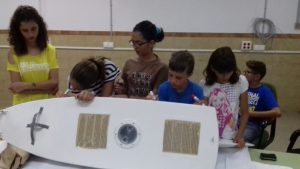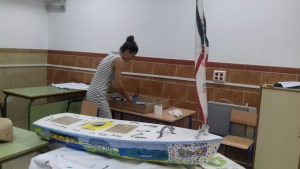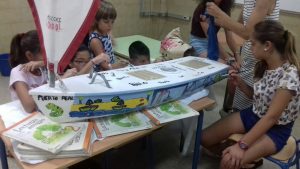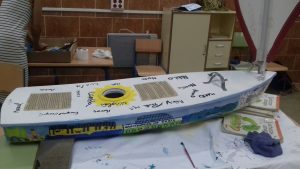 1st Voyage
December 2015
The mighty Crimson Voyager, another boat from the 6th grade class at the Morristown-Beard School in New Jersey, was deployed off a freighter headed to Bermuda a few days after Christmas 2015.
April 2016
In early April 2016, we heard from our Portuguese friends, Hilda de Pablo (Marine, Environmental and Technology Center – Instituto Superior Técnico), Rachel Costa (Task Group for the Extension of the Continental Shelf – Ministry of the sea), and Luis Sebastião  (Institute for Systems and Robotics ISR – Instituto Superior Técnico) who reported: "we have been looking at Crimson Voyager 'invasion' of our territory :)",  generated some model trajectories of where the boat might land, and prepared a rescue team.  Sure enough,  a few weeks later (17 April 2016), we were very excited to heard back from them as follows:
"It is with great enthusiasm that we share with you that Crimson Voyager was rescued this morning at the Bay of Cadiz by a Spanish wonderful team!. Shortly after knowing the last GPS position (5:50 a.m. GMT) we sent the position and just over an hour later the team rescued the little boat! Luis, Hilda and I watched Crimson since she approached the Iberian Peninsula. She passed at 20 NM near the Portuguese coast and Luís had put a rescue team in stand-by for three days, but Crimson wanted to continue her journey and explore a little bit of the Mediterranean 'gate'…so we decided to look for someone to take care of her in Spain. Hilda activated her contacts and could easily found a great and enthusiastic team of Cadiz University. During this days Hilda used the MOHID numerical model for the Portuguese Coast to get more information. The model calculated the possible trajectory of Crimson during the periods in which we had no information. With the relative position Luís and Hilda discussed and drew the rescue plan (two times! when Crimson passed near Cascais and yesterday ). We are glad to be a part of this new story that Educational Passages promotes, as always. Once again those little boats connected new people, created new stories and Educational Passages reached another region of our planet approaching the two sides of the Atlantic. We are very happy to participate in another charming episode, this time with Crimson Voyager! We are also very excited for having another little boat to participate in the transatlantic regatta. Now it's time to present her to Andaluzia children and engage them to take part in Crimson's story new episode like we are doing with our little boats… it's amazing how children embrasse this projet, we will see that happens in Andaluzia."
After traveling a total distance of over 10000 kilometers at an average speed of approximately 100 cm/s (~two knots), it got in the hands of the heroic rescuers, Miguel Bruno, Miriam Hampel, Marina Bolado Penagos and Juan Jesús Gomiz Pascual (Center for Marine Sciences and Technologies) with the latter two shown on the dock in the picture above. They reported their rescue at 36º 47′ 45.18" N – 6º 44′ 41.12" W at local time: 8:20 – 6:20 GMT on 17 April 2016.
About Us
See also lots of posts about the project done by "Kit do mar" on Facebook.