Updates:
1st Voyage
S/V BOAT TO FREEDOM was built over the 2021-2022 School year by Mrs. Toney's 5th grade STEM class at Wallace Elementary School in Kelso, Washington. Special thanks to Columbia River Maritime Museum's Board Member and philanthropist Terry Graff whose generosity made this program possible.
The CRMM Miniboat Program at Wallace was the recipient of the Washington State School Administrator's 2022 Community Leadership award.
Hull #034 was officially christened S/V BOAT TO FREEDOM at a ceremony at Kelso City Hall with a special poem created just for the event by Quartermaster Avery.
Miniboat Haiku
By: Avery
Left on the beach
Miniboat strong
A New Year begins
in utter simplicity
We are Nate's crew
learning to steer
Love our Miniboat
in Japan Next Year!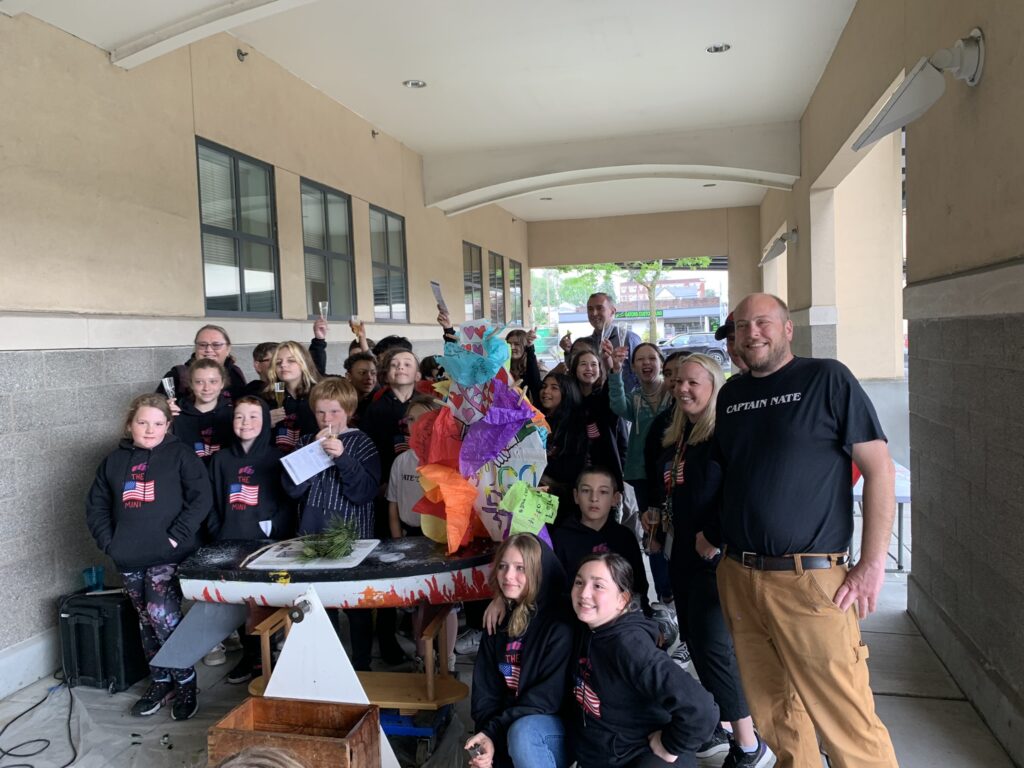 June 12, 2022 - Launched by NYK Line M/V Plumeria Leader

On June 10, the 2022 CRMM Miniboat Fleet was delivered to the docks and aboard the M/V Plumeria Leader. This LNG powered PCTC (Pure Car and Truck Carrier) will launch each miniboat at the locations requested by the Quartermasters of each crew. A huge thank you to Captain Suzuki, James Tully, and everyone at NYK Line!

June 11:

June 12:

Four miniboats were launched on June 12 – FLAMES UNITE, DONUT EXPRESS, BOAT TO FREEDOM, and WILD-LIFE.

October 2023 - Recovered in Hawaii!

BOAT TO FREEDOM reported for 176 days, traveling south in the Pacific Ocean after being launch in June 2022. After this, the GPS went silent.

We did not get another location report until October of 2023 when it was found and recovered in HAWAII! Details to be posted soon, and a connection with the schools is already planned for October 19.
The Columbia River Maritime Museum Miniboat Program provides a global, multidisciplinary STEAM learning experience for 5th- to 7th-grade classes in the Pacific Northwest and Japan by empowering them to cooperatively design, build, launch, and track seaworthy GPS-equipped boats on a journey across the Pacific Ocean. The program was developed in partnership with the Consular Office of Japan in Portland and Educational Passages and is supported by Pacific Power, Northwest Stem Hub, West Marine BlueFuture Fund®, the U.S. Coast Guard, and many others.
Since the program's start in 2017, 1,513 students on both sides of the Pacific Ocean have been involved in the launch of 31 miniboats, traveling a total of 70,000 nautical miles (and climbing). These boats are tracked daily and students are still building on the skills they honed to launch them.