Updates:
1st Voyage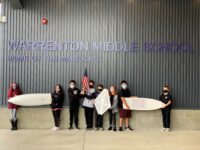 S/V WILD-LIFE was built over the 2021-2022 school years by Mrs. Lent's 6th grade STEM classes at the brand-new Warrenton Middle School. Ana, from the Sail Department explained that. "We named our miniboat the "Wild-Life" because it represents the state of Oregon, and our town. It also shows the nature here in Oregon; the forests, the rivers, and the animals. These are all things you can see in our town. We chose the Bald Eagle to be our figurehead to guide her on a safe journey.
CRMM Miniboat Hull #032 was official christened S/V WILD-LIFE at the Barbey Maritime Center at the Columbia River Maritime Museum on June 9th, 2022. At the ceremony, Social Media Department member Ashlyn read a poem she wrote just for the christening.
The wind she whistles,
The  water she leaps,
The boat she sails,
Over the waves,
'Cross the sea,
Following the tide.
Always moving,
Never resting,
For sailing is her purpose.
Special thanks to the Northwest STEM Hub for their support and making this program possible in Warrenton.
June 12, 2022 - Launched by NYK Line M/V Plumeria Leader

On June 10, the 2022 CRMM Miniboat Fleet was delivered to the docks and aboard the M/V Plumeria Leader. This LNG powered PCTC (Pure Car and Truck Carrier) will launch each miniboat at the locations requested by the Quartermasters of each crew. A huge thank you to Captain Suzuki, James Tully, and everyone at NYK Line!

June 11:

June 12:

Four miniboats were launched on June 12 – FLAMES UNITE, DONUT EXPRESS, BOAT TO FREEDOM, and WILD-LIFE.

Stay tuned for pictures and details!
The Columbia River Maritime Museum Miniboat Program provides a global, multidisciplinary STEAM learning experience for 5th- to 7th-grade classes in the Pacific Northwest and Japan by empowering them to cooperatively design, build, launch, and track seaworthy GPS-equipped boats on a journey across the Pacific Ocean. The program was developed in partnership with the Consular Office of Japan in Portland and Educational Passages and is supported by Pacific Power, Northwest Stem Hub, West Marine BlueFuture Fund®, the U.S. Coast Guard, and many others.
Since the program's start in 2017, 1,513 students on both sides of the Pacific Ocean have been involved in the launch of 31 miniboats, traveling a total of 70,000 nautical miles (and climbing). These boats are tracked daily and students are still building on the skills they honed to launch them.