Updates:
1st Voyage
Starting in February 2022, GSO graduate students and staff provided hands-on activities with Central Falls elementary, middle and high school students.
Third grade students at Raíces Dual Language Academy and Veterans Memorial built the miniboat while learning about ocean topics. Once completed, middle and high school students in an after school program worked together to install sensors on the miniboat so it can be tracked and collect data such as air and surface water temperature.
Click on the titles below to read the full story.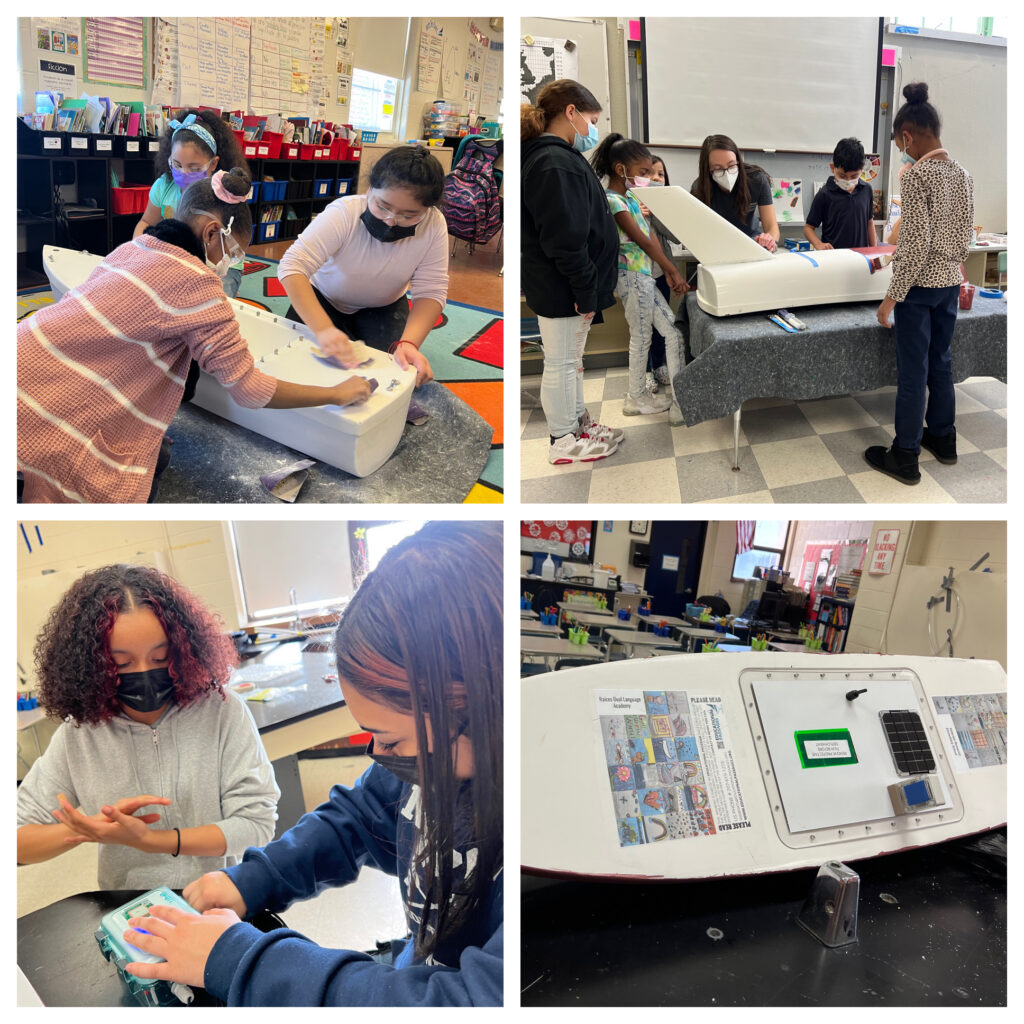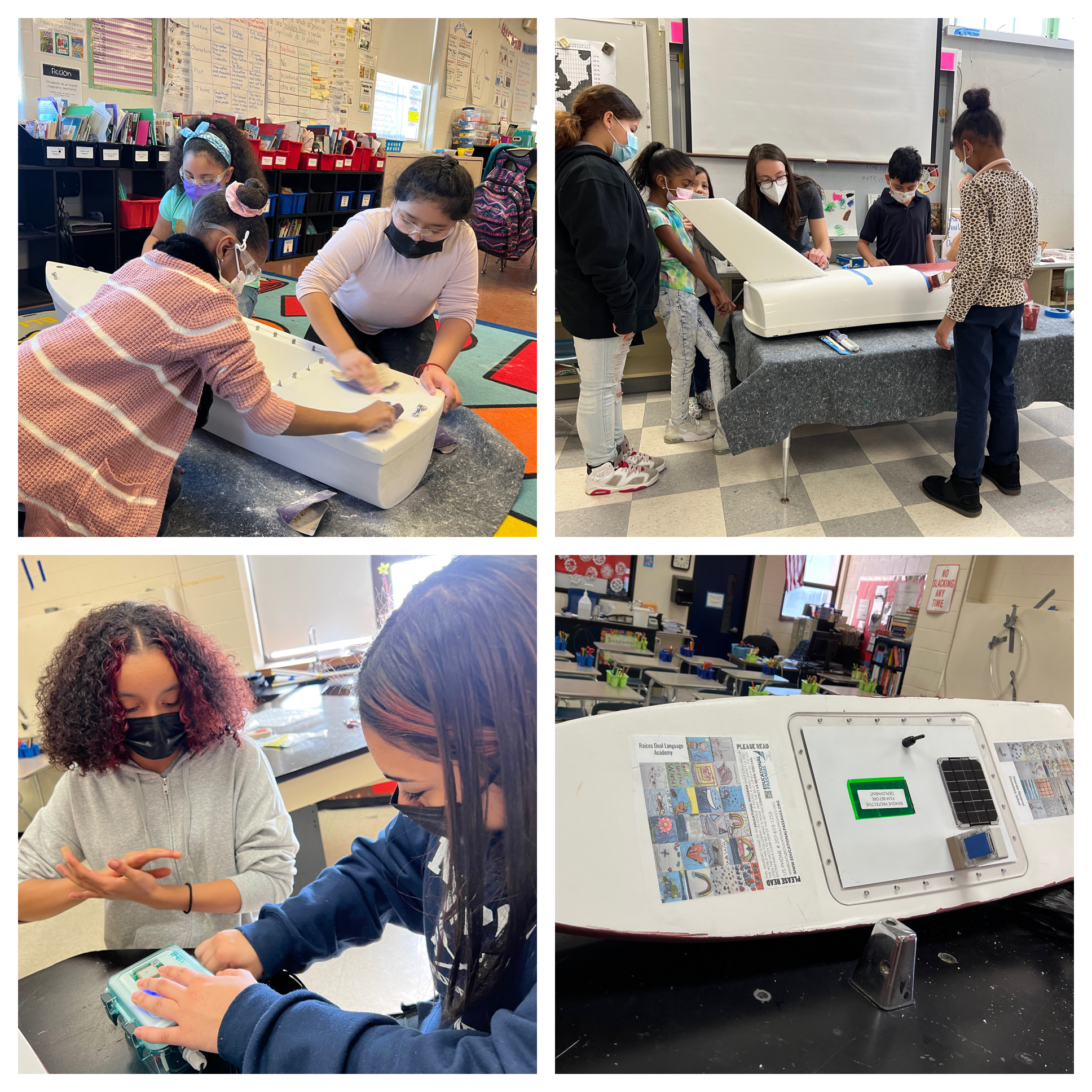 2022 Miniboat Preparations at Central Falls

Governor Dan McKee was on campus on March 21 touring the University of Rhode Island's Narragansett Bay Campus and stopped by to learn more about the miniboat program:

I joined President @MarcParlange for a walking tour of @universityofri's Narragansett Bay Campus to hear how students and educators are innovating in and out of the classroom. pic.twitter.com/qb2vHKsRA6

— Governor Dan McKee (@GovDanMcKee) March 21, 2022

March 24, 2022 - Miniboat Inspiration Launch Preview

URI GSO and Educational Passages co-hosted a pre-launch event celebrating Miniboat INSPIRATION on March 24, 2022. Watch the video of the event to learn more about miniboats, hear from those who were part of the program at Central Falls, RI, and learn how you can follow the journey after it is launched off the R/V Endeavor. The launch preview was supported by the Inner Space Center as part of the Endeavor Live! events.

March 26, 2022 - Launched off R/V Endeavor

The boat was launched on March 26, 2022:

Sensors

The boat has two GPS systems onboard. One is the main GPS, which reported at the map on the top of the page here until February 10 (the unit is still active but not currently reporting). Here below is where you can see the data reporting from the second GPS which is connected to the sensor package. In addition to reporting location with a secondary GPS tracker, this system is also collecting air temperature, water temperature, and orientation. The sensor package was installed by Central Falls middle and high school students.
This is the second project with URI's Graduate School of Oceanography (GSO) who partnered with the Central Falls School District and Educational Passages to offer a hands-on opportunity for students to build a miniboat which they named Inspiration.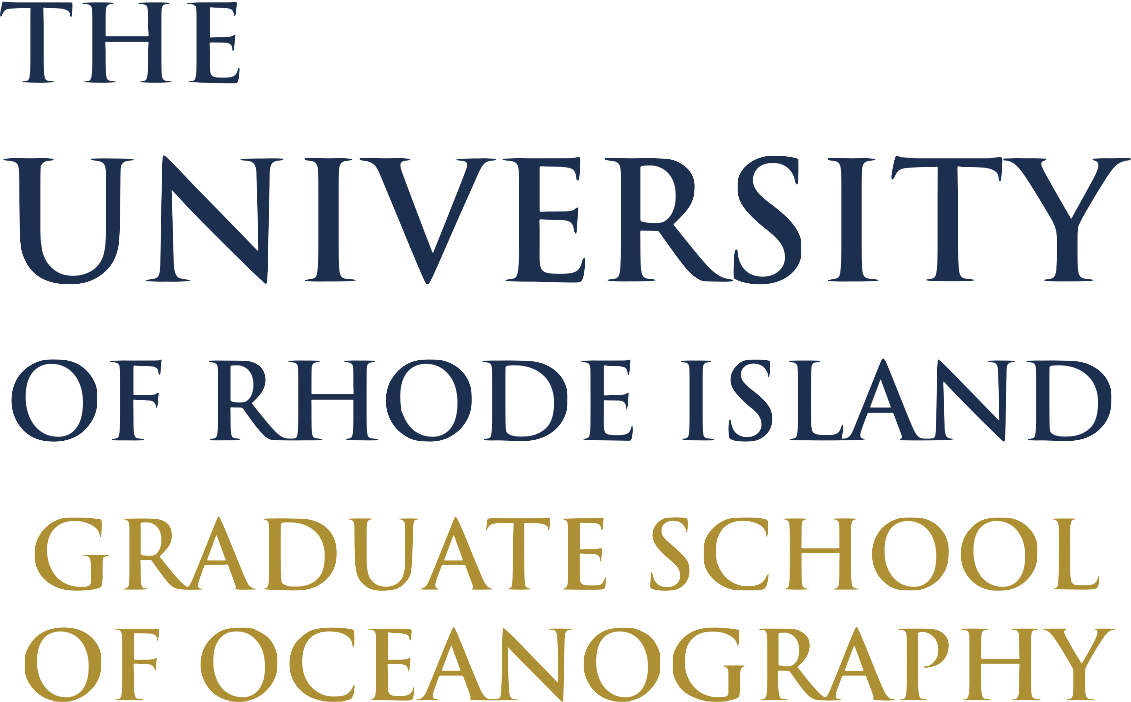 Learn more about the GSO miniboat program here. 
The GSO Miniboat program is made possible by the Devereux Ocean Foundation, Inc.