Updates:
1st Voyage
Starting in February 2022, GSO graduate students and staff provided hands-on activities with Central Falls elementary, middle and high school students.
Third grade students at Raíces Dual Language Academy and Veterans Memorial built the miniboat while learning about ocean topics. Once completed, middle and high school students in an after school program worked together to install sensors on the miniboat so it can be tracked and collect data such as air and surface water temperature.
Click on the titles below to read the full story.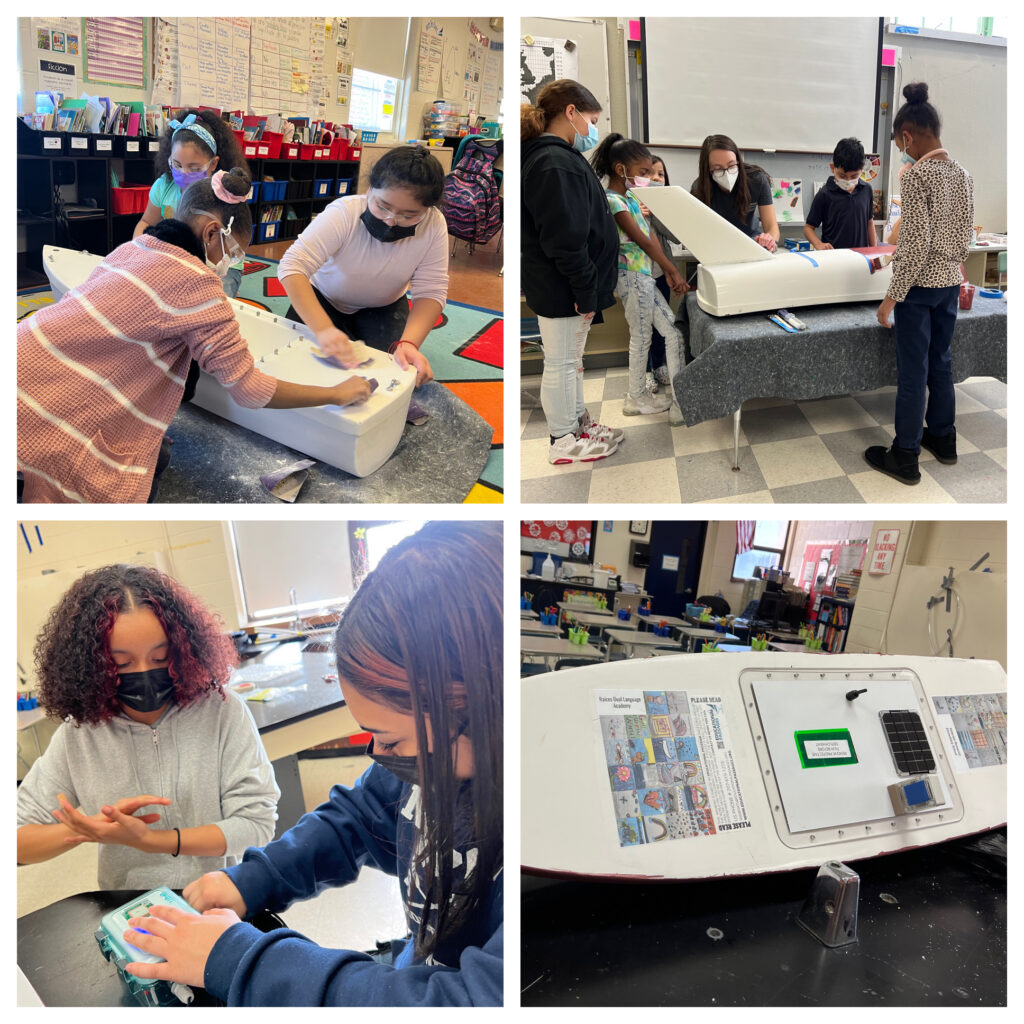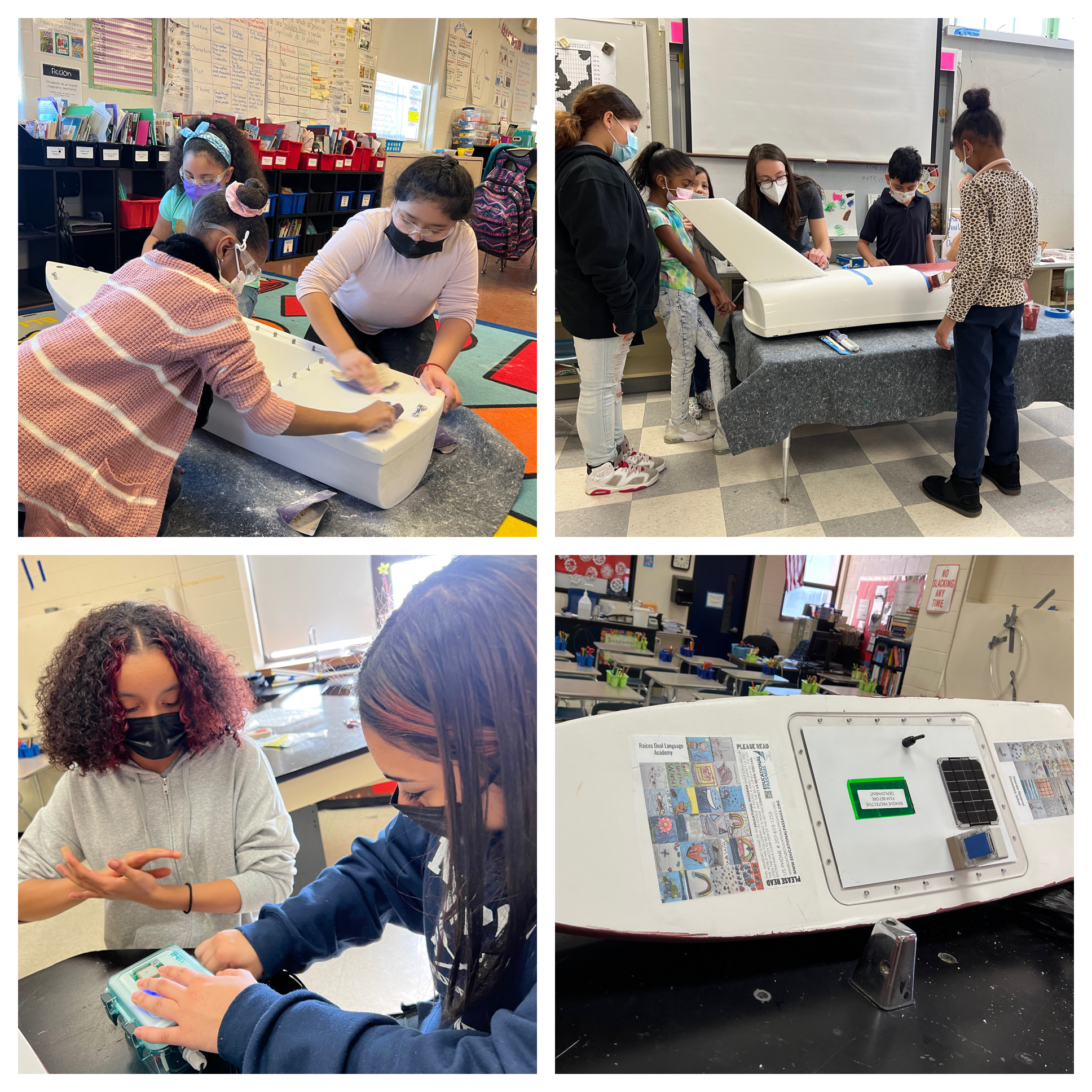 2022 Miniboat Preparations at Central Falls

Governor Dan McKee was on campus on March 21 touring the University of Rhode Island's Narragansett Bay Campus and stopped by to learn more about the miniboat program:

I joined President @MarcParlange for a walking tour of @universityofri's Narragansett Bay Campus to hear how students and educators are innovating in and out of the classroom. pic.twitter.com/qb2vHKsRA6

— Governor Dan McKee (@GovDanMcKee) March 21, 2022

March 26, 2022 - Miniboat Inspiration Launched

URI GSO and Educational Passages co-hosted a pre-launch event celebrating Miniboat INSPIRATION on March 24, 2022. Watch the video of the event to learn more about miniboats, hear from those who were part of the program at Central Falls, RI, and learn how you can follow the journey after it is launched off the R/V Endeavor. The launch preview was supported by the Inner Space Center as part of the Endeavor Live! events.

The boat was launched on March 26, 2022:

Read more about the launch and story so far: Students build a small boat for a big voyage on the URI GSO website.

March to June - Ocean Science Data from Onboard Sensor System

The boat has two GPS systems onboard. One is the main GPS, which reported locations to the map at the top of this page. Here below is where you can see the data reporting from the second GPS which is connected to the sensor package. In addition to reporting location with a secondary GPS tracker, this system was also collecting air temperature, water temperature, and orientation. It reported until June 12.

The sensor package was installed by Central Falls middle and high school students.

November 2022 - Approaching English Channel and Recovered!

By November 13, 2022, the INSPIRATION was about 100 nm west of the English Channel, and traveling north. The wind shifted and it started traveling east. It went about 0.3 kts south of the Isles of Scilly (where the Spirit of Ashley Hall miniboat landed back in 2019) but kept going. For a few days after that, we watched it travel up the English Channel in a zig-zag, which we think has to do with the tides.

By the evening of November 26, 2022 the INSPIRATION had made land on a sandy beach at Friars Cliff.

The next morning, we received multiple emails and calls about the boat!

The first was an email from Mark Ashley who said, "Your boat is at Steamer Point, Mudeford – that's Christchurch in Dorset, England."

We then got an email from Amelia who said, "Hello, I have found MB Inspiration washed up at Friars Cliff Beach, in Christchurch, Dorset, UK this morning. I'm sure others will be in touch as well but let us know what to do to help!"

She also posted on Twitter:

Found a special delivery this morning, @miniboats Inspiration is at Friars Cliff beach in Christchurch, Dorset, UK pic.twitter.com/hKaPyKQhuu

— seashorty (@seashorty) November 27, 2022

Tina sent us an email and pictures saying, "Washed up this morning on Highcliffe beach on the South coast in UK. (Post code BH23 on Dorset/Hampshire border) Disappointed that we were unable to open the hatch as no tools (on dog walk!)"

Glenda reached out by email, "Steamer Point, Christchurch, UK, 2022 Nov 27, 7,30am approx. Found your wonderful boat. Unable to open the hatch, as didn't have any tools. Was heading into the sea for a swim with friends." She sent us the following picture, and in a follow up conversation she said how there was lots of interest around the boat at the beach.

Wendy Smith also sent us some pictures (copied below) and a kind note saying, "Just came across this boat washed up on our beach located on the south coast of the UK. We've had bad storms recently so assume it came in with the high tide. It can currently be found on the beach at Steamer Point Highcliffe, Christchurch, Dorset, UK. We didn't relaunch it because we're expecting more storms this week. Hope you can find it via its tracking system!" So we responded and shared this webpage here so she could follow along, to which she replied, "It's been so exciting to read about Inspirations journey and was such a treat to find her on our little beach too!" Thanks, Wendy!

By the time we awoke in the US a few hours behind these messages, we started to reach out and make contact with these finders. We're now coordinating with Amelia to bring the boat to a nearby school so classrooms can connect.

This makes the first voyage of INSPIRATION a success! She traveled for 245 days and covered at least 14,958 km.

On November 30, the BBC shared the news. Read the article here: US school's miniature boat washes up at Christchurch or watch the clip here:

On December 1, the local news channel in Rhode Island, NBC10, shared the story, Unmanned mini sailboat designed by R.I. students reaches coast of England

The Boston Globe wrote about it on December 2: Miniature boat built by Central Falls students washes up on coast of England.

On December 5, 2022, URI News posted the following Press Release: URI Graduate School of Oceanography, Central Falls students find a little boat can go a long way

The Central Valley Breeze wrote a follow-up from their March launch story on December 7: Mini boat built by Central Falls students found on England coast.

On December 8, students from the US and UK virtually met thanks to the coordination of URI GSO. You can watch the full interaction here:

News about the story and the virtual connection continued to be shared.

R.J. HEIM of NBC10-WJAR was in one of the classrooms in Rhode Island for the connection, and here is the full report (click on the link to watch the video): Central Falls students meet British students who retrieved their trans-Atlantic boat

T.J. Del Santo of WPRI also reported: 'Miniboat' made by RI school kids lands in England which was picked up and further shared via UPI's Ben Hooper on December 9: 'Miniboat' built by Rhode Island students makes it to England.

Check back soon as the story continues to write itself!
Please consider supporting our program. Together we can continue to inspire students, support educators, and connect communities.
Donate now
This is the second project with URI's Graduate School of Oceanography (GSO) who partnered with the Central Falls School District and Educational Passages to offer a hands-on opportunity for students to build a miniboat which they named Inspiration.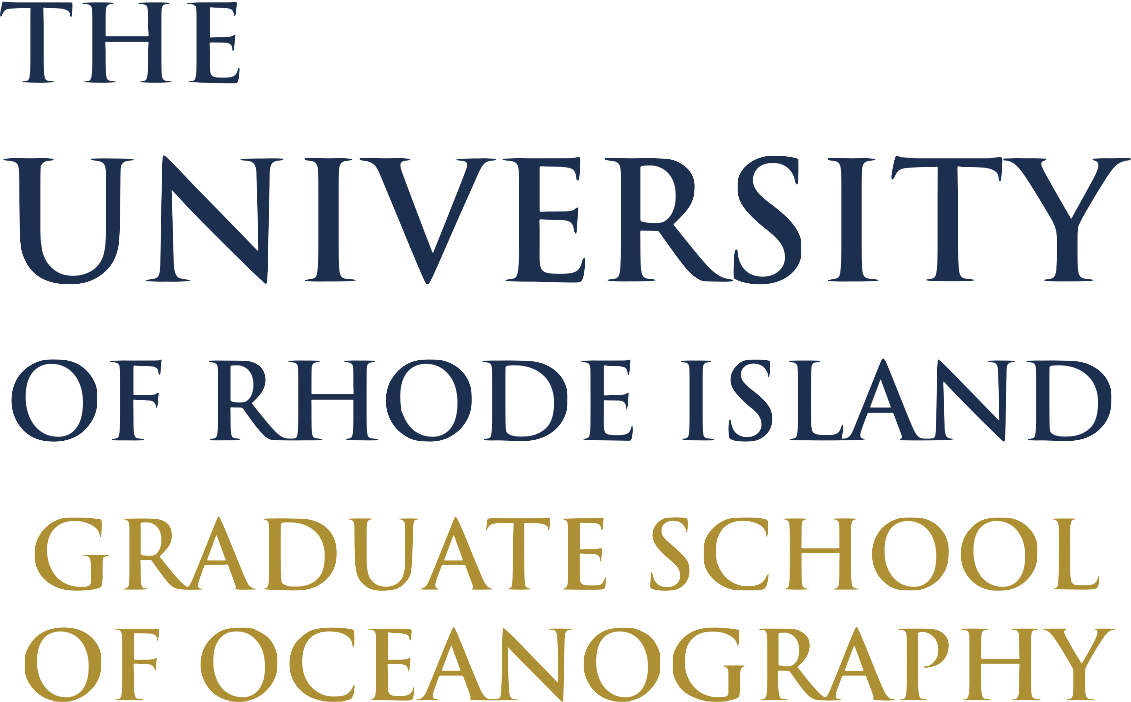 Learn more about the GSO miniboat program here. 
The GSO Miniboat program is made possible by the Devereux Ocean Foundation, Inc.