URI Graduate School of Oceanography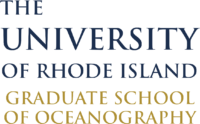 The University of Rhode Island Graduate School of Oceanography partnered with the Central Falls School District and Educational Passages to offer a hands-on opportunity for students to build a miniboat while learning about ocean topics.
GSO graduate students and staff, along with Central Falls students have built two miniboats, the MB (miniboat) Square Mile and MB Inspiration.
Both boats were launched into the Atlantic from the R/V Endeavor. The Square Mile in early October 2021 and the Inspiration in late March 2022. Sensors installed by students provide an opportunity for data to be collected and the boat's location to be tracked.
A third boat was built with students at Frank E. Thompson Middle School in Newport, Rhode Island, which they named the TMS Sea Challenger. In June 2023, the TMS Sea Challenger will be deployed into the Atlantic Ocean from the GSO Research Vessel Endeavor. Winds and currents will determine the miniboat's journey. The community will be able to track its path and make predictions about where it may land.
The GSO Miniboat program is made possible by the Devereux Ocean Foundation, Inc.