Updates:
1st Voyage
For the USS Constitution Museum's second miniboat project, we partnered with the Donald McKay school, a public school in East Boston. The miniboats Hope and Special were made by third graders in Ms. Feeny and Ms. Rosen's class over the winter of 2022.
November 2022: Ship Design Challenge at the Museum

The class visited the Museum for a field trip to kick off the project. Students did our 'Ship Design Challenge' program and learned the parts of a ship by touring USS Constitution and building their own sailboats out of household materials, then racing them in our water tank.

And fun fact! The Donald McKay school is named for a famous tall-ship builder who had his shipyard right in east Boston. His most famous clipper was The Flying Cloud, which set the speed record for sailing from New York to San Francisco in 1854.

February - March 2022: Boats are Prepared

Over six weeks, students assembled and decorated the boats in their classroom alongside educators from the Museum. They filled and attached the keel, sanded and painted, and designed the deck and sails. Throughout, they had mini-lessons on the connections to USS Constitution.

Filling The Keel

Attaching the Keel

Painting the Boats

Sail Design

March 17, 2022: Naming the Boats

March 22, 2022: Ceremonial Launch

US Navy tradition dictates a ceremony when a new ship is christened and launched. We did our own version at the dock by USS Constitution. Each student shared a wish they had for our boats, and then we did an apple cider champagne toast and a loud and spirited "Huzzah!" as the boats were dropped into Boston Harbor. The commander of Constitution stopped by and gave us special captain's coins to put in our boats for good luck.

March 24, 2022: Holds Sealed

March 25, 2022: Boats are Shipped to Florida

April 11, 2022 - Launched off Florida

The Sea Education Association SEA Class C-303, Marine Biodiversity & Conservation, took miniboats Hope and Special aboard the SSV Corwith Cramer and launched them into the Gulf Stream on April 11. Here's the report from Sarah Kingston, Chief Scientist:

"We launched them (amidst student song!) at 15:00. Here are a couple shots, the coordinates, and will make sure I remember to send along the two videos when we return. General Locale – Gulf Stream, just north of FL straights and NE of Miami. 15:02. 27 47.612 N, 79 44.641 W"

April 13, 2022 - Spotted at sea

April 16, 2022 - Picked up at sea

A fisherman named Jim Monroe picked up the miniboat off the coast of St. Augustine. Jim called the number on the deck which was to Educational Passages where he found out more about the boat and project. Jim's son happens to be a Marine Biology student at Flager College in St. Augustine so the boat was brought there, where a professor took interest!

Voyage 1: Complete

Click on the tabs above to explore the 1st voyage of Special.
2nd Voyage
August 31, 2022 - Relaunched off the coast of Florida

SPECIAL was repaired thanks to Flagler College (more details about this to be added soon).

Many thanks to the coordination and support of Mike Alyea, SPECIAL was reunited with its sistership, HOPE while arrangements were made to launch them back into the Atlantic.

Here is Mike delivering the boats to Captain Jimmy:

Thanks so much to Captain Jimmy Laidler, Legend Fishing Adventures, SPECIAL was relaunched into the sea on August 31, 2022! Here is the official launch info:

SPECIAL was relaunched at 1524 EDST on 8/31/2022 at N30 26.6 W80 20.8

Its sistership, HOPE was relaunched the next day.

September 11, 2022 - Landed on beach in South Carolina

Miniboat SPECIAL landed after only 10 days at sea on the northeast point of Bulls Island of Boneyard Beach in Awendaw, South Carolina. It was found by a beach volunteer who called the number on the boat. Here's what the finder, Wil Christenson, had to say (and pictures of the boat when he found it and recovered it):

"I was intrigued when you  mentioned your group is working with Sullivan's Island Elementary School.  As fate would have it, I am a marine biologist that has spent the last twenty years guiding and captaining ecotours into the Cape Romain National Wildlife Refuge (CRNWR).  On several occasions I have led environmental programs for groups of Sullivan's Island Elementary School students.  We focus on estuary and barrier island ecology.  Trips begin with an instructor narrated boatride from the mainland through the estuary to an undeveloped barrier island (Bulls Island).  Once arriving at the island, we begin an instructor led trek through the island interior eventually winding up on the beach side.  The walk is an excellent opportunity to compare and contrast the different ecosystems the students are exposed to including the salt marsh estuary, maritime forests, fresh water ponds, dune systems, and, of course, the beach.

Although I have retired from that work (when Covid hit), I still spend a large percentage of my free time volunteering in the refuge.  It was in this capacity that I happened across S/V Special.  I was working as a  volunteer on the beach of Bulls Island conducting inventories of sea turtle nests when I found S/V Special.  It appeared as a blue spec in the distance.  As I got closer, I realized it was a small sailboat.  I initially thought I had discovered a lost radio controlled vessel, but was pleasantly surprised to read the placard identifying it as a research vessel." 

Since Wil was already familiar with the SIES school, and they happen to be building their own boat this school year, we decided to connect them up! Wil brought the boat to the school on September 23.

Stay tuned for more!

2nd Voyage: Complete

Click on the tabs above to explore the 2nd voyage of Special.
3rd Voyage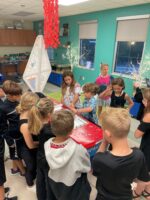 October 2022 - Hatch opened at Sullivan's Island Elementary in SC

 October 26th – Update from the Dream Sailor build

We also got to do something extra special today. In August, another school's boat landed near our school on Bulls Island. The boat, called Special, was created by the students at Donald McKay Elementary School. We got to open the hold to see what items they placed in it for us to find. We learned all about the USS Constitution, saw a neat coin from the USS Constitution, viewed a map of Boston in 1769, read their crew sheets, and looked at their ID badge lanyards. Their crew spoke four different languages: Portuguese, Arabic, Spanish, and English. That is amazing! We will seal their hold back up and launch it with our boat….wonder where they will go?

March 23, 2023 - Launched into the Atlantic again

After September 2022 when Special landed on the beach in South Carolina, it was brought to Sullivan's Island Elementary School in Charleston. There, students were getting ready to start building their own miniboat from a box, and this opportunity allowed the students to learn a whole lot more!

By March the boats were ready to sail.

After a trip onboard the M/V Colorado Express from South Carolina, to Savannah Georgia, and then to Norfolk, Virginia, the Dream Sailor (the new boat) and Special were launched into the Atlantic about 500 nautical miles east of Norfolk on March 23, 2023. Report from Ryan Guthrie, Navigation Officer on the transit, who has been helping the students with their project, reported the following by email:

"Launch time was 11:46am. The GPS position of the launch was Latitude 36-04.0'N, Longitude 066-20.0'W.  The ship was on a heading of 104 degrees @ 8.5 knots.  Winds were out of the SSW @ 21 knots.  Air temp was 70 degrees, barometer was 1021.4 millibars… I will follow up later with the videos and pictures."