Updates:
1st Voyage - June 9, 2009 to July 19, 2009
The first voyage of Zenith was June 2009 – sailed for 40 days, 927 mi – off Newfoundland to Nova Scotia, traveled 35 miles down dirt road in pickup truck located on Google Earth & reclaimed. 
About Our Boat — Zenith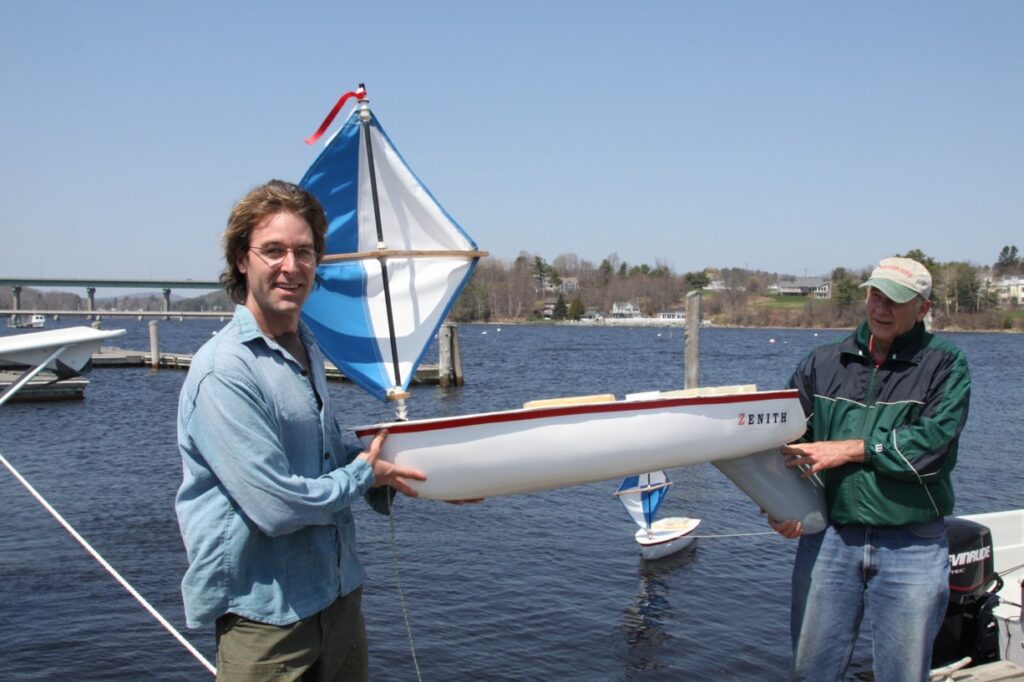 Our boat is GPS-equipped and relies solely on wind and current power and needs no outside assistance. The boat sails directly downwind month after month following the wind to distance lands. Students are able to monitor the course, position, speed, and wave height.
We'll be learning about ocean wind and current patterns, map reading, geography, oceanography, navigation, earth sciences, computer technology, and much more.
What is Zenith?
The Zenith Program provides alternative learners with a creative and unique educational environment that aims to develop within our students a strong sense of respect for self, others, and community.
These skills are fostered through experiential, community-based learning, student independence and responsibility, and the ongoing development of effective problem solving and group processing strategies.
Zenith Voyage 1
Zenith is sponsored by the Camden Regional High School Zenith Program. Zenith was launched at 4:00 PM EDT from TSSOM on June 09 approximately 268 nautical miles south-southwest of San St. John's, Newfoundland, Canada at Latitude: 43° 4'0.38″ North, Longitude: 53°50'16.90″ West.
June 10, 2009 Captain's Log
From Maine Maritime Academy's 2009 Cruise Log
We launched Zenith yesterday and as she was launching she slipped from the straps and launched upside down…..Yikes. Of course we were really worried but a few minutes later as she was back in the wake of the ship she flipped herself over and went sailing downwind. What a great testimonial to the design and to the builder "Dick Baldwin". Thanks Dick, your vision and skills were tested today and passed with flying colors. And YES…she is also transmitting flawlessly as she has been all along. We certainly hope that there will be a lot of kids benefiting from the lessons these boats can help with.
We have one boat left aboard with a faulty transmitter and we expect a replacement at St. John's. We will cut the old one out of the deck and install a new one for a launch on the way South to Baltimore.
The visibility remains good and the seas remain mostly calm, but the noticeable difference is in the air temperature. When we came out of the Gulf Stream the water almost immediately dropped 5 degrees C and that resulted in a drop in the air temperature. This morning it is 43 degrees F, something that feel pretty drastic to us coming from 80-90 Degree F San Juan. Today we will do a "drive by" offshore St. John's and go North a bit more to see some icebergs before turning West and then South to follow the same track back to St. John's as we were on when we came around the top of Newfoundland when we left Quebec a few years ago. That will put us right on time for our Friday morning arrival.
July 19, 2009 Update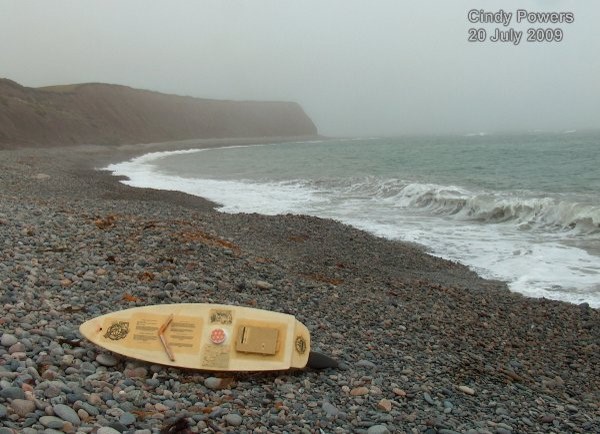 At 10 AM EDT on July 19, Zenith washed ashore near Fourchu, Nova Scotia, Canada. Within a few days, she was recovered by Cindy Powers and taken to her home in Louisdale, Nova Scotia.
On August 15, Cindy traveled from Nova Scotia to Corner Brook, Newfoundland, to take Zenith to the the Maine Maritime Academy Arctic Schooner Bowdoin for transport back to Castine, Maine.
After being turned over to CAPT John Worth, Bowdoin's skipper, Zenith was brought back to Maine and turned over to the Zenith Program at Camden High School. This mini-boat is now displayed in the school's show case.
Nate Larlee, the teacher for the Zenith Program, plans to use the Zenith's 40-day, 927-mile voyage (along with the voyages of the other four boats) to teach his earth science class.
Zenith was later was equipped with ultrasound receivers provided by NOAA to help study Atlantic salmon migratory routes to Greenland.
2nd Voyage - May 9, 2012 to May 11, 2012
In the fall of 2011 The National Oceanic and Atmospheric Administration (NOAA) approached EP with the idea of putting ultrasound receivers on the keels of a couple of our boats to help determine Salmon migration routes in the Gulf of Maine and the North Atlantic. Young salmon were implanted with ultrasound transmitters and released from several Maine Rivers. If a tagged salmon swims within a half mile of one of these boats it will be detected by the receiver and we'll have the time, date and location of that fish.
"Zenith" (Camden High School's boat was refitted from her previous voyage in 2009) and "Kapissillit" (meaning King salmon in Indoit) were thus properly equipped to detect salmon and set out twice during the summer of 2012 in an effort to help identify salmon migration routes.
The Kapissillit and Zenith were dropped off approximately 50 miles northeast of Cape Cod by the NOAA research ship Henry B. Bigelow on May 9, 2012. Zenith was found by Isle au Haut lobsterman, Greg Runge on May 11.
Both miniboats sailed across the gulf of Maine and came ashore in the Mount Desert Island area on the Maine coast and were taken to NOAA's Woods Hole Laboratory to see if they had detected any tagged salmon.
3rd Voyage - May 28, 2012 to ?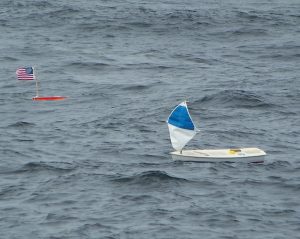 Unfortunately the first voyage did not detect any salmon, so both boats were taken offshore to Georges Bank where they were re-launched on May 28th.
The battery life on the GPS units are good for approximately 1000 reports and by 12/24/12 both the GPS units had stopped reporting.  Zenith was almost halfway across the Atlantic and if we are successful in recovering these boats we can download the data and perhaps learn a little more about salmon migration routes.