Letter from the Director | Charting New Waters | Miniboat Hero Highlight: Nate Sandel, Education Director | Ocean Literacy Toolkit | Boat Status | Quick Links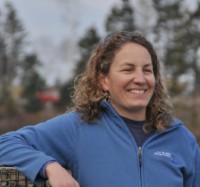 Greetings and Happy Holidays! The season of giving is upon us as well as the time to remember what we should all be thankful for. We all get caught up in the daily grind, the dark days, and of course the holiday shopping lists. I think it's important however to take time to reflect on the people and things we appreciate in our lives that we may take for granted on a daily basis. All of us at Educational Passages are so thankful for our supporters, educators and enthusiastic students who remind us of why we do what we do. Over the past year we have helped hundreds of students experience a unique opportunity by building, launching and tracking the EP miniboats and their amazing adventures.
While we are all able to watch their paths and even predict their trajectory, there is still a piece of the story that we may not ever know. What kind of weather are they sailing through? Do they see any whales breaching? I wonder if any seabirds land on the deck and take a free ride! Questions like these are part of what keeps our program exciting and engaging to teachers and students, and make our jobs worthwhile and fun. This level of wonder and curiosity engages the students' sense of exploration and appreciation for how vast and uncharted our oceans really are. Our goal is not only to achieve global ocean literacy and connect our many participants and partners but also to keep the magic of discovery and imagination alive in all of us.
We are excited to provide you with some highlights from our miniboat adventures in this issue of "Passages" and look forward to sharing many more. This program joins participants worldwide, supports innovative curricula and provides boundless opportunities for so many people and for that I am thankful. We hope you have a safe and healthy holiday season.
Be well and Sail On,
~Erin
Last month in JAPAN, five miniboats were launched by students hoping they would sail into the Kuroshio current and across the Pacific to their partner schools in Oregon. Check out the video below and visit the Columbia River Maritime Museum webpage for all the details.
In July, we launched a miniboat off Cape Town, SOUTH AFRICA. After a few weeks of sailing in the Agulhas current, she is now sailing steadily in the "roaring forties". You can watch the deployment video below, and visit the boat webpage for the full story.
Miniboat Hero Highlight: Nate Sandel, Education Director
Written by Erin Pelletier
Nathan (Nate) Sandel is currently the Director of Education at Columbia River Maritime Museum (CRMM) in Astoria, Oregon. CRMM is a private nonprofit museum which offers classes and workshops to demonstrate the skills and trades relevant to the maritime culture and the museum has the largest collection of Pacific Northwest maritime artifacts in the country!
Nate has worked with CRMM for over 11 years graduating from a field educator to the head of the large education department. He has many responsibilities including administrative duties and overseeing dozens of volunteers, but his favorite is working directly with students in the classroom. The Educational Passages miniboat program has allowed Nate to pursue his passion for teaching by engaging the same group of kids over the school year and help them fully experience the program.  
It's not surprising that Nate was drawn to the miniboats, he has always had a passion for exploration and ocean adventures, in fact he named his daughter Hudson (shown in the picture to the right with Nate on this year's trip to Japan), after the explorer Henry Hudson!  After seeing a miniboat presentation at a STEMposium Nate was immediately hooked. He developed and was able to get funding for a new curriculum where he can bring the miniboat program to local schools in order to provide maritime expertise and support to the teachers, and connect them across the Pacific. The CRMM purchased 11 miniboats for 2017-2018 and 10 for 2018-2019! For all details and tracks of the boats, visit http://educationalpassages.org/events/crmm/. 
Why Japan? Debris from the Tsunami of 2011 was washing up on Oregon beaches and a local school recovered and sent back a Japanese torii (see picture to the left), which is a gate that marks the entrance to a Shinto shrine. Nate has always had a sense of wonder and exploration (including his fascination with pen pals as a kid) and feeling a connection to Japan, he brought 5 miniboats in 2017 (and 5 more in 2018) to local Japanese schools to be launched on the opposite side of the Pacific Ocean. Using real-time data on ocean currents and weather, students from Japan and Oregon share their predictions on where the boats will go next, and have created lasting friendships.
Nate says there are several fun aspects of the miniboats, like watching their tracks and the worry it creates when they get close to shore (for fear of crashing), the excitement of seeing the boats turn around and around and discovering new things like a coral atoll on the map. So far CRMM has engaged dozens of teachers and over 1,000 students along the US Northwestern coastline and the coast of Japan and Nate says the best part of the program is bringing communities together for rescue and relaunch, which continues the story on and on.  
Thank you to Nate Sandel, Columbia River Maritime Museum and all the participating teachers and students. Good luck to your miniboats!
New miniboats deployed:
High Hopes (July 19 off South Africa)
Bessie (October 19)
Lil Jeff (October 30)
Raven KASTER (November 7)
Go Go Kanehama, Let's Go Friends Hope, Go Go Okuki (December 15)
Manmaru and Takagami Maru (December 20)
Vermonster (December)
Miniboats still sailing strong:
Maurick – 408 days at sea
Malachi – 351 days at sea
Crimson Fantasea – 268 days at sea
Intermittently reporting:
Nequasset
Midnight Moon
Nishikaze
No longer reporting:
Dirigo
The Dirigo stopped reporting her position in February of 2018 but suddenly reported again on April 15, only 467 km from the point where she started! In August we marked the Dirigo as "no longer reporting" but hope she washes up somewhere so we can recover her!
Voyage 1: 328 days at sea (5/21/17-4/15/18) traveling over 15,812 km.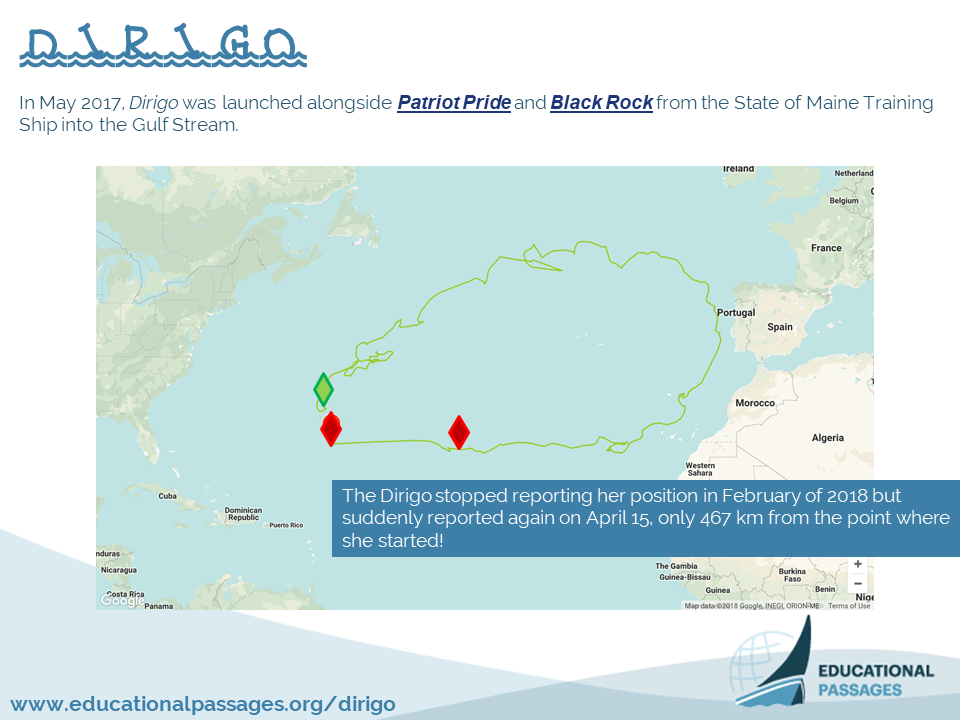 Recovered:
Red Storm (August) | Carolina Dreamer (December) | Mobile Goat (December)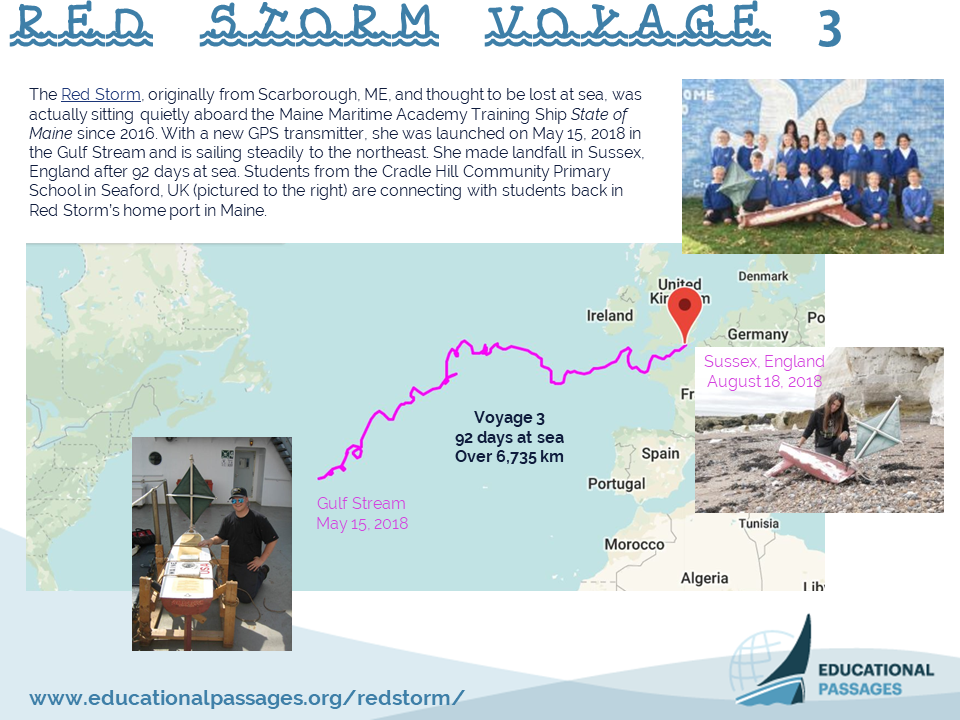 The Red Storm made it across the Atlantic for a second time. Making landfall in Sussex, England in August, it is now with students at a Primary School in Seaford, UK who are connecting with students back in Red Storm's home port in Maine.
Voyage 3: 92 days at sea (5/16/18 – 8/18/18) traveling over 6,735 km.
After traveling almost the same distance as the earth's circumference, the Carolina Dreamer went quiet on September 25 but washed up in the Azores on December 6!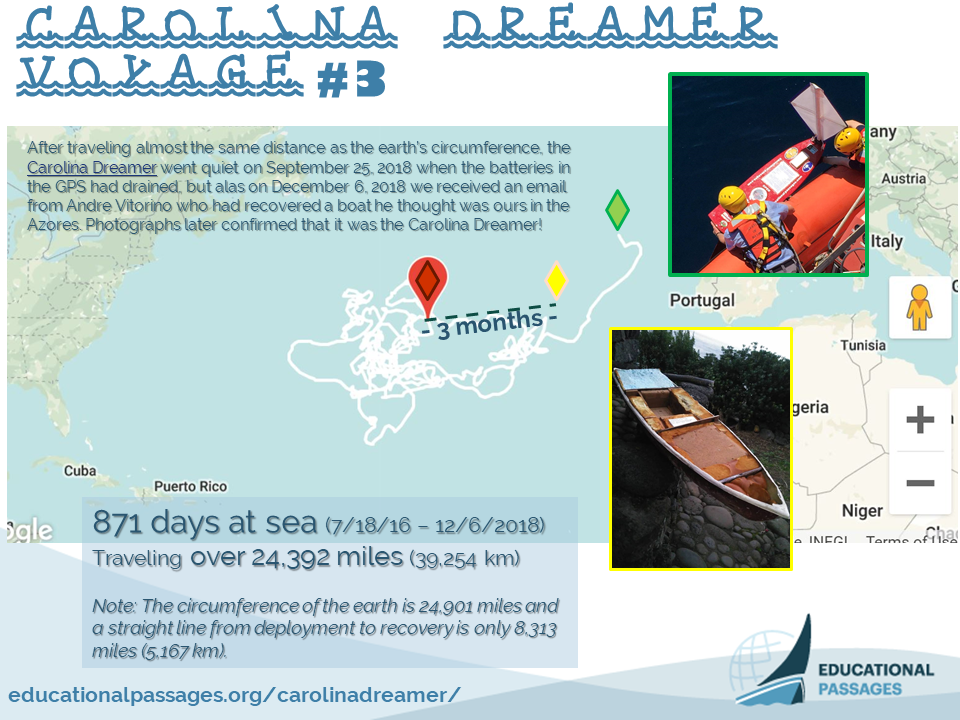 Voyage 3: 871 days at sea (7/18/16 – 12/6/2018) traveling over 24,392 miles (39,254 km) – and note here that the circumference of the earth is 24,901 miles! A straight line from deployment to recovery is only 8,313 miles (5,167 km).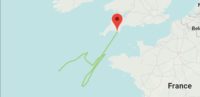 The 3rd voyage of the Mobile Goat, which went silent on November 9, washed on the shores of the UK on December 17. We are now awaiting word on who recovered the boat and for pictures of its condition.
Copyright © 2018 Educational Passages