The summer season is upon us, temperatures are on the rise, gardens are growing and beach days are here! It's been an exciting spring here with some incredible stories of our miniboats and the students that have been building and tracking them. We continue to be amazed at how long these boats sail around the world and how many people are captivated by their voyages.  

Speaking of temperatu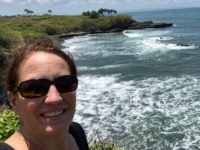 res… we have an incredible event to share with you in this newsletter regarding our latest development at Educational Passages: sensor packages! We will also share with you a new tool that you can use to bring global ocean literacy to your classroom.

I hope everyone enjoys the rest of their summer and remember that even though students are out of school we will continue to monitor the miniboats that are currently in the water and are available to work with teachers this summer to help prepare for fall deployments and projects.

Be well and Sail On,
~Erin
We are now sailing into the technology world with sensor packages that record air and water temperature when installed on the deck of a miniboat! We have been working over the last couple of years with some teachers to test them and they are now successfully sending data through our new Path Analysis Tool. 

A remarkable event we wanted to share with you all happened on June 28, 2019 at 16:38Z when the Spirit of Ashley Hall from Charleston, SC, and The Perry, from Glendale, CA sent a GPS signal with air and water temperature at the exact same time. What is even more interesting is that these two boats were 11,720 km (6,328 nautical miles) apart and on opposite sides of the world: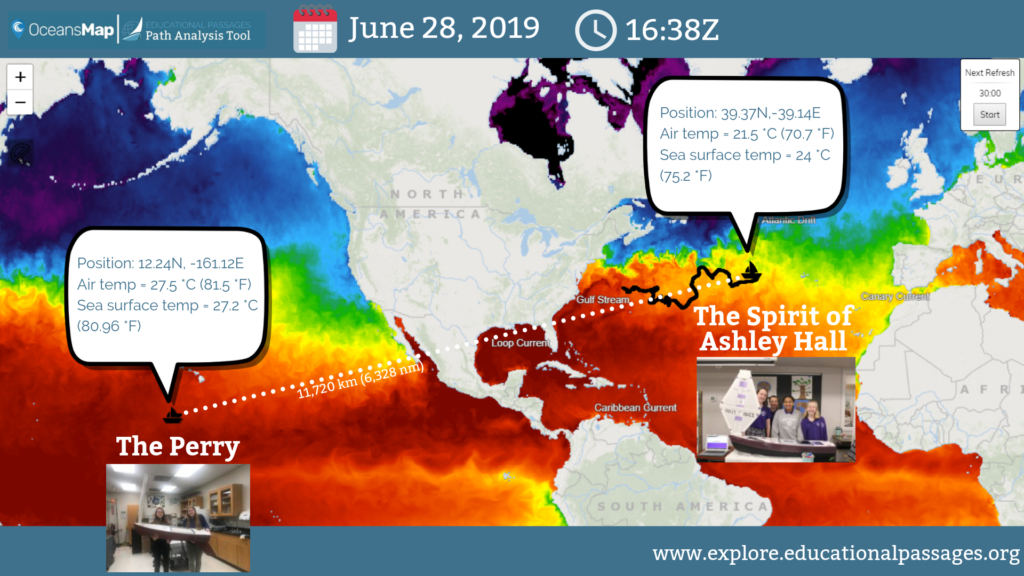 The Spirit of Ashley Hall, from the middle of the Atlantic Ocean, and The Perry, from the Central Pacific Ocean, reported air and sea surface temperatures (see map above) at the same time. They were thousands of miles apart with a small difference in temperature. How could that be? We checked the boats on our new Path Analysis Tool and clicked on "Temperature" which then showed the sea surface temperature with the miniboat tracks… and we could see the power of ocean currents at play.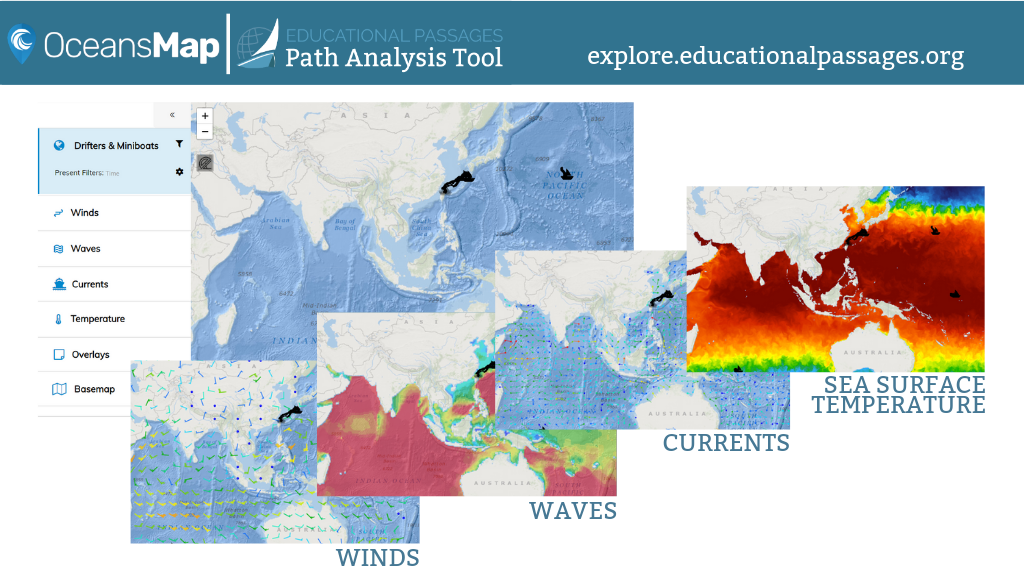 Miniboat Hero Highlight: Holly Blair, Educator
Written by Erin Pelletier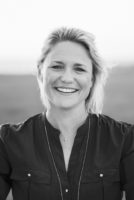 Holly Blair's interest in the Educational Passage's miniboat program started at the 2015 National Marine Educators Association (NMEA) Annual Conference. Her interest became a reality when a week later she found a recovered miniboat (The Upper) at her local Goodwill store and purchased it for $5 US! Over the next summer she worked with Educational Passages, her family, and Charleston Harbor Pilots to re-deploy The Upper  for her second voyage. Holly was hooked.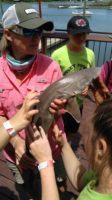 The interest Holly has for miniboats is not a surprise as she has dedicated her life to marine education and exploration. As a child she was a young naturalist at heart and was raised to appreciate all living things and how they interacted with our dynamic world. She achieved a Masters from USC Columbia and was drawn to a position to develop education programs for the up and coming South Carolina Aquarium and was a key player in creating their Education Master Plan. Throughout her career in marine science she worked as a Coastal Trainer with NOAA's Coastal Services Center as well as the PreK-5th grade Wet Lab and Coastal Program Developer and Coordinator for Sullivans Island Elementary School on one of South Carolina's most beautiful barrier islands.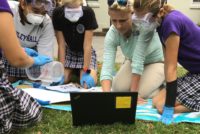 Holly is now an educator at Ashley Hall which is an all-girls day school in downtown Charleston, South Carolina, which prides themselves as being a school which produces educated women who are independent, ethically responsible, and prepared to meet the challenges of society with confidence. In January of 2018, Holly was ready to start building her very own miniboat with her students (about 35-50 every year) and by the fall she had the boat parts in hand. Students were given assignments within groups: Deck team, Sail team, International Relations, and Journalism and all got started building and preparing. For all the work they put in, it is no surprise that the miniboat was named the Spirit of Ashley Hall! By March 2019, the SOAH was ready to sail. Holly spent countless hours contacting everyone she knew with a boat or ship and finally made arrangements to get the boat down to Florida. But due to gale force winds, the miniboat was not launched off Florida… or Georgia… or South Carolina… she was transported all the way to the Bermuda Islander and was dropped at sea near the Delaware Capes. The story of the SOAH is a great one thanks to the tireless effort of Holly and her students. To see all the details, visit educationalpassages.org/boats/spiritofashleyhall/.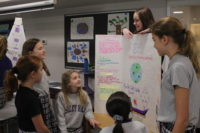 Holly says that the EP miniboat program provides students with the opportunity to deepen their knowledge and solidify concepts, such as "all things are connected and are related" (quoted from one of her students). Holly and her fellow educators engaged the entire K-12 school , travelling into each classroom with the "SOAH" in tow, providing tasks for all grade levels. The students investigated everything from the seafloor features to global atmosphere, winds, currents, and tides. They learned about navigation, geography, physical & chemical properties of the ocean, as well as learning a lot about themselves as individuals and as teammates.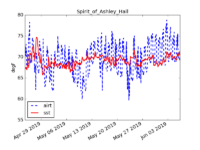 In addition to tracking the Spirit of Ashley Hall's GPS position, this miniboat has the longest air and sea surface water temperature dataset than any other miniboat. The students were able to see the sensor package first hand and now they can track the temperature as their miniboat reports its position every hour. Holly explains that it feels exhilarating to have the ability to not only share this with her kids but also with the Educational Passages community. She says to see the layers of sea state conditions has to be one of the most amazing experiences she has been able to provide for her students.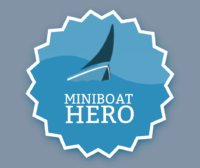 This summer Holly and her team will work with EP to continue monitoring the SOAH and work on lesson plans for the upcoming 2019-2020 school year. Holly has many ideas to not only work with her STEAM classes but will introduce the miniboat adventures into her other science classes as well. Holly says she would love to get another miniboat to launch this fall and have her school be engaged in the entire project. Hey, you never know, maybe the SOAH II will find her soulmate ❤.

We thank you, Holly Blair, for your dedication to education and our children. You are a true Miniboat Hero! 
Journal of Ocean Technology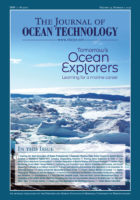 Have you seen the summer issue of the Journal of Ocean Technology (JOT), Tomorrow's Ocean Explorers: Learning for Marine Career? We are featured in their TRADE WINDS column – click here to read the article! Thanks to the Fisheries and Marine Institute of Memorial University of Newfoundland for featuring us.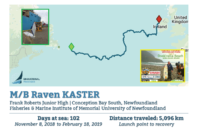 When you subscribe you can also read the essay The Little Boat that Could: Using Unmanned Miniboats to Teach STEM by Tom Sheppard and Dawn Roche, which tells the story of the Raven KASTER. 
January to July 2019
 
CLICK ON THE NAME OF THE BOAT TO SEE THE FULL STORY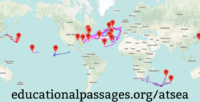 New miniboats deployed:
Thanks to Vivian Chen for sharing with us her drawing which was passed out on June 29, 2019 at the launch day of the Mahi Mahi and Taiwan #1. The caption means "The day we released our miniboats".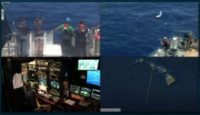 On behalf of Clark Magnet High School and all of us following along, thank you Nautilus Live for letting us join in for launching The Perry!

Relaunched: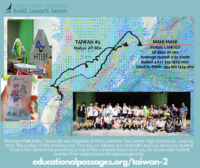 Landed but not recovered:

Copper Rose on the Southern Oregon Coast after 4 days at sea (2nd voyage)

Mahi Mahi on Nakanoshima in Japan after 18 days at sea (1st voyage)

Quiet at sea after amazing journeys:
Miniboats still sailing:
Recovered:

American Sunset on February 9 at the beach near Seaside, Oregon after 2 days at sea by Nate Sandel (129 km)

Raven KASTER on February 18 in Ireland after 102 days at sea by Darren Kilbane, a fisherman from Achill Island (5,096 km)

Dirigo on February 22 in Ireland after 642 days at sea by Elizabeth Murray (over 32,000 km)

Nishi Kaze on March 21 in Tarawa, Kiribati after 474 days by Monika Eeru (19,718 km with GPS until January 4, 1st voyage)

Copper Rose on April 1 on Seal Rock in Oregon after 2 days at sea by Jenny, Ruth, Evelyne, and the Seal Rock Fire Department (137 km, 1st voyage)

The Legendary on April 20 after the full moon tide brought it onto the rocks in Westport, MA after 2 days at sea by beachwalker Tim (188 km, 1st voyage)

Mini Maine on April 26 in Waterville, Co. Kerry Ireland after storm Hannah by Rosemary Hill after 2,338 days at sea (at least 38,685 km – 35,668 km with GPS until February 2016 and then another 3,018 km to recovery)

Velella Velella on June 10 after over 600 days at sea appeared to have been recovered and brought to the north coast of Spain (20,686 km)

Bobcat on June 10 just off the coast of Neah Bay, Washington after just a few hours (76 km)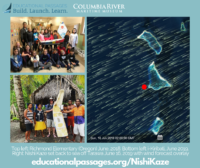 Nishi Kaze on July 13 after 28 days just 90km from where it started in Marakei, Kiribati (1,253 km, 2nd voyage)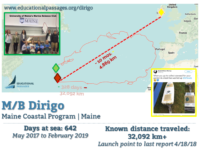 Remember the Dirigo? In the last newsletter we marked her as "no longer reporting" after she sent her last position in April 2018 only 467 km from the point where she started. Well… on February 22, 2019 she washed up on the shores of Ireland! New stats: 642 days at sea (32,092 km with GPS, then over 4,869 km from last report to recovery).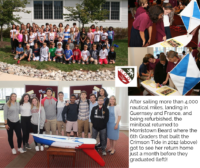 We were thrilled to hear that the Morristown-Beard School seniors who originally built the Crimson Tide (when they were 6th graders in 2012) got to see their miniboat's full circle journey across the Atlantic just in time before graduating!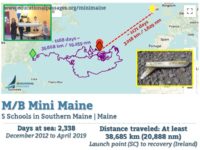 The Mini Maine was first launched in 2012, sailed for over 35K km over 3 years, and went quiet in 2016. In April, she was found in Ireland!

Next week (July 21-25) we will be in Durham, New Hampshire attending the National Marine Educators Association Annual Conference. Hope to see you there!
Copyright © 2019 Educational Passages