In honor of Giving Tuesday we are excited to share our most recent addition of the EP newsletter. I love to remind people that the Ocean is a very important and amazing part of our planet that give us the air we breathe and help with climate regulation. It is truly exciting to explore and we enjoy watching the students and teachers utilize our Miniboat Program to take part in the discovery, and that is what Educational Passages is all about.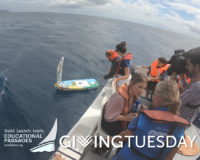 EP has coordinated 38 deployments this year, with 22 recoveries so far, and there are a dozen more getting ready to be sent to sea by many teachers and their students from all over the world. Speaking of all over the world, our Program Director, Cassie Stymiest, was in the Azores in September for EMSEA (European Marine Science Educators Association) conference where she connected with global partners and even helped launch a miniboat with students from Portugal (pictured above). This is one example of how we are trying to build global ocean literacy one little boat at a time.
Don't forget that each boat has their very own webpage so everyone can follow along! Check out all the maps at www.educationalpassages.org/maps/ and if it's easier to remember, try the link miniboats.org to share your story. As always we enjoy your interest and comments, please feel free to contact me anytime.
Be well and Sail On,
~ Erin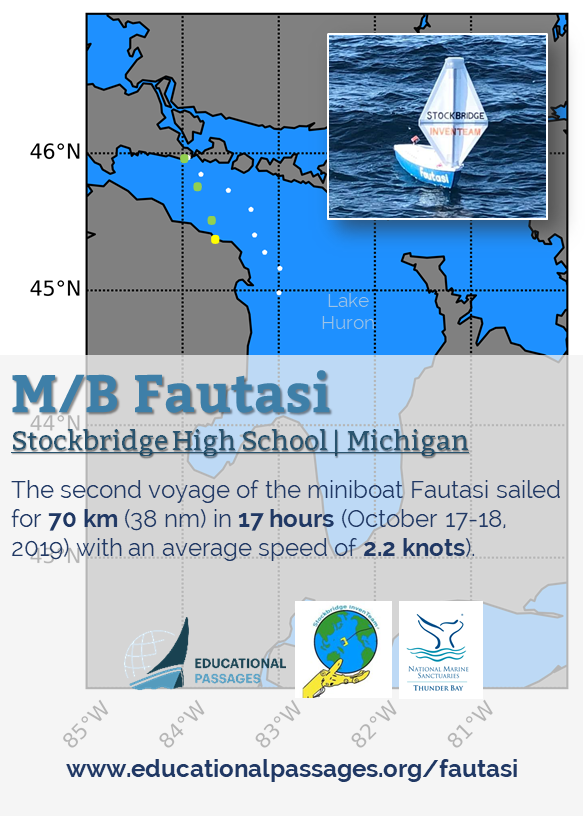 Congratulations to the Stockbridge Inventeam from Stockbridge, Michigan who launched the first miniboat ever in Lake Huron (and only second in the Great Lakes at all after Sconis in 2015 in Lake Michigan) in October.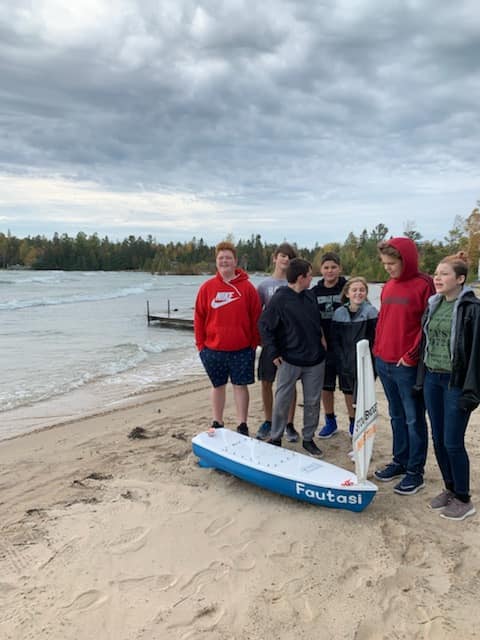 Having just returned from a trip to American Samoa in August, the students at Stockbridge High School aptly named it "Fautasi" which means boat in Samoan. Fautasi is a Samoan boat similar to a longboat, and while the students were in American Samoa we were able to watch a Fautasi race between teams from local villages.
Thanks to a collaboration with the Thunder Bay National Marine Sanctuary, the Fautasi miniboat was launched on October 8. After only 42 hours it was ashore in De Tour Village on the north side of the lake. The students at De Tour Area Schools (shown in the picture to the right) added some treasures to the hatch, and released her back into the lake. After only 17 hours later, it was ashore again, but this the students at Rogers City High School received it and added their own artifact.
The boat is now back in Stockbridge and has plans for more adventures in the near future with all of its new friends involved. Follow along at http://educationalpassages.org/boats/fautasi/.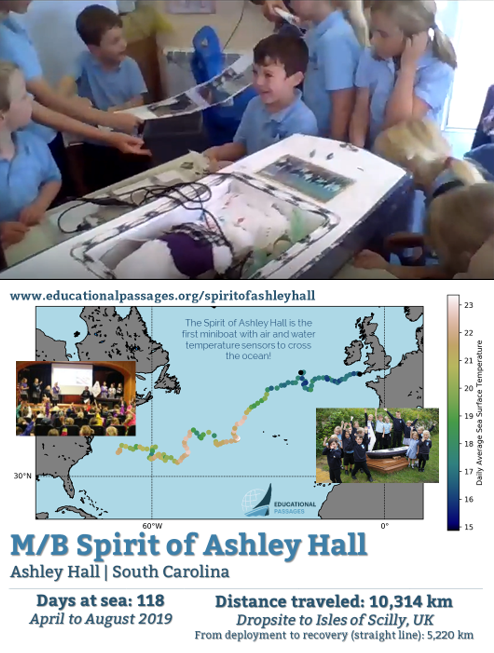 "Why did you build the boat?" asks Keith from the St Martins Base of the Five Island Academy in the UK. He is asking about the miniboat Spirit of Ashley Hall which sailed from the US to UK in 118 days with treasures stored inside from the students of Ashley Hall in Charleston, SC, who built the boat. This special "message in a bottle" was opened up over video conference and presented LIVE on Facebook on September 24.
Watch the full video at http://educationalpassages.org/boats/spiritofashleyhall/.
July through November 2019
 
CLICK ON THE NAME OF THE BOAT TO SEE THE FULL STORY
Deployments:

Miniboats still sailing:
Quiet at sea after amazing journeys:
Manmaru reported again in July but went quiet again a week later. Total travel: 248 days and 2,486 nm. 
American Sunset reported for 77 days sailing 1,830 nm off the coast of California. 
Sakura Tree reported for 181 days sailing 3,867 nm in the South Pacific. 
The Perry reported for 14 days sailing 717 nm in the South Pacific – and collected air and water temperature for 13 days.
Maverick Jr reported for 35 days sailing 1,128 nm in the South Pacific. It also had a sensor package.
Navis Stellarum reported for 192 days sailing 3,601 nm in the Atlantic Ocean. From start to finish in a straight line was only 135 nm!
Lester Bell reported for 1068 days sailing over 19,775 nm in the Atlantic Ocean.
Jack the Cat reported for 859 days sailing over 12,404 nm in the Atlantic Ocean. 
Landed but not recovered:

Taiwan #1 landed in Japan after 113 days at sea, traveling over 2,931 nm. And just after we celebrated its 100th day at sea! We think it landed in Isumi, Chiba, Japan, but it has not yet been recovered.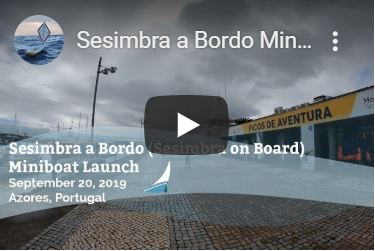 On September 20, exactly 500 years to the day after Fernão de Magalhães (Magellan) set out searching for trade routes, the Sesimbra a Bordo (Sesimbra on board) miniboat was launched from the Azores by the Escola Azul.
Recovered: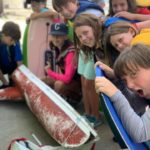 Aug 9 – Smith's Ocean Rider from a levy just outside Stonington, CT, USA by New England Science and Sailing – At sea 8 days | 198 nm | 1st voyage

Aug 10 – Maurick from Santa Maria Island, Azores, Portugal thanks to Jorge and the Escola Azul/Blue School team – At sea 640 days | 12,160 nm | 4th voyage 

August 18 – Nishi Kaze from Butaritari Island in the Republic of Kiribati thanks to Derek and Jacob – At sea 17 days | 513 nm (straight line start to finish only 65 nm)| 3rd voyage

August 20 – Spirit of Ashley Hall from the Isles of Scilly in the UK thanks to plea on Facebook and locals (see more below!) – At sea 118 days | 1st voyage

September 14 – Smiths Ocean Rider from beach in Virginia thanks to fisherman Elvis – At sea 13 days | 543 nm | 2nd voyage
September 20 – CT Rift Cruiser from beach in Washington state thanks to Chuck and park staff – At sea 7 days | 300 nm | 1st voyage 

October 10 and 18 – Fautasi from Lake Huron thanks to local beach walkers, Thunder Bay National Marine Sanctuary, Detour Schools, and Rogers City – 1st voyage 42 hours 76 nm | 2nd voyage 17 hours 38 nm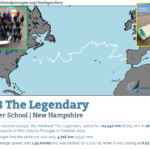 October 20 – The Legendary from Baleal Beach in Portugal thanks to Luis and friends – At sea 161 days | 6,015 nm | 1st voyage

October 31 – The Riptide from the shores of Cape Cod thanks to Audubon and others – Deployed multiple times for two weeks as a part of sea turtle stranding research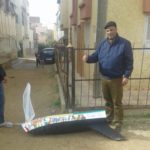 November 8 – Sesimbra a Bordo from Morocco thanks to Mohamed Hadani (pictured to the left) – At sea 48 days | 2,008 nm | 1st voyage

November 28 –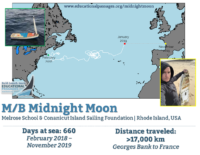 Midnight Moon from Sainte-Marie-de-Ré, France thanks to beachwalker Antoine. This little boat stopped reporting back in January 2019 but appeared in France over 315 days and 974 nm later! – At sea 660 days | 16,345 nm | 1st voyage
Resource Alert: Miniboat Path Analysis Tool
The Educational Passages Path Analysis Tool allows users to explore and analyze miniboat tracks with layers of winds, waves, currents, and temperature. Users can span the world ocean from the Atlantic to Pacific, explore the data behind each point, calculate distance using a measuring tool, and explain phenomenon behind the tracks. The tool is developed and maintained by the RPS Ocean Science Team. Take a look for yourself and let us know what you think!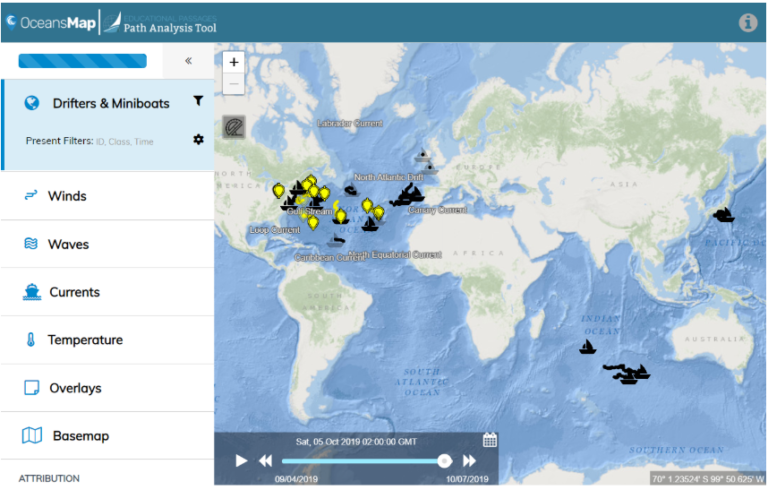 Copyright © 2019 Educational Passages